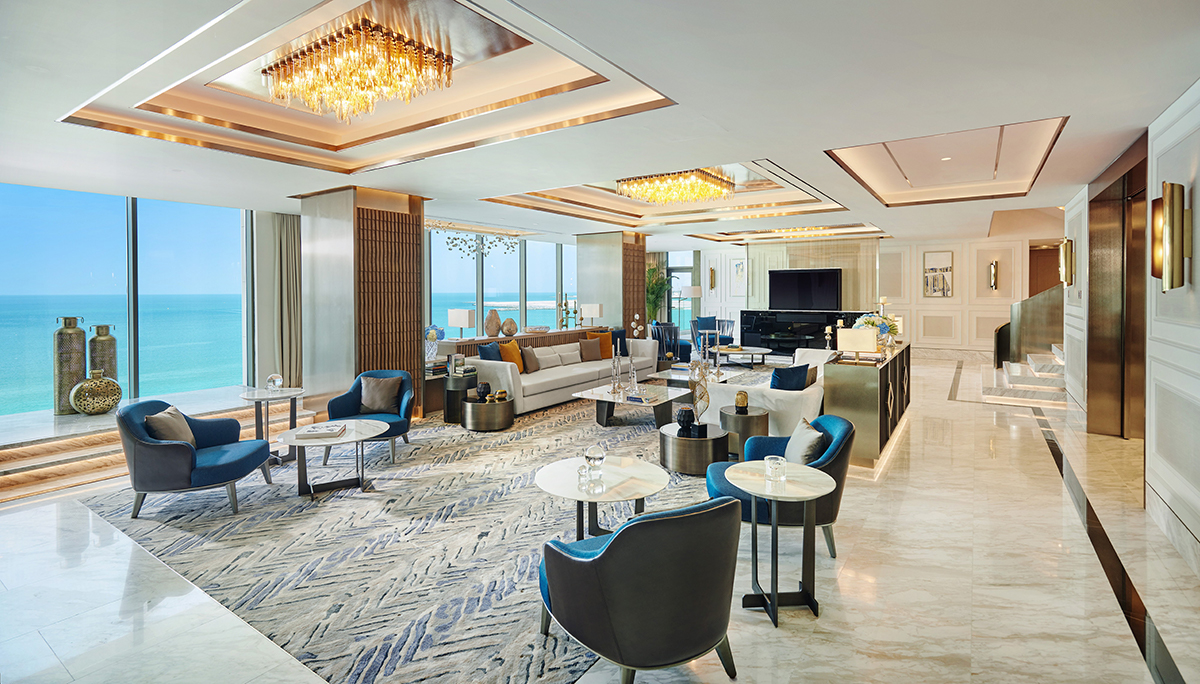 MANDARIN ORIENTAL JUMEIRA, DUBAI LAUNCHES LUXURY ROYAL PENTHOUSE AND NEWEST THERAPIES WITH THE ELIXIR CLINIC
MANDARIN ORIENTAL JUMEIRA, DUBAI LAUNCHES LUXURY ROYAL PENTHOUSE AND NEWEST THERAPIES WITH THE ELIXIR CLINIC
Mandarin Oriental Jumeira, Dubai has unveiled its palatial Royal Penthouse, a luxurious addition to its signature suites.
Taking exclusivity to new heights, the Royal Penthouse is secluded on the top floor of the luxurious beachfront resort. A private lift whisks guests to their 850-square-metre haven with sweeping views over the Arabian Gulf. The glamorous and lavishly appointed one-bedroom suite is complemented by a large, bright and generous living space with its very own chic bar area, dining room for entertaining up to 16 guests and full chef's kitchen, in addition to a private gym. At the top of a marble staircase, there's a private landscaped rooftop terrace with panoramic sea views, sunbeds for lounging and an al fresco dining area.
Guests will wake up to the endless blue vista of sea and sky from the spacious. An en-suite marble bathroom has a bathtub with sweeping sea views, an essence shower, and bath amenities by natural skincare line Subtle Energies.
For an absolute revitalisation, The Spa at Mandarin Oriental Jumeira, Dubai has also introduced a new intravenous therapy with world-leading The Elixir Clinic. Guests and spa members will now be able to refresh and recharge with VitaDrip® infusions specially formulated to promote wellbeing and boost energy.
The Signature VitaDrip® has been exclusively created for The Spa at Mandarin Oriental Jumeira, Dubai. Its rich, detoxing intravenous infusion with anti-aging properties is designed to improve energy levels, rehydrate the body, relieve jet lag and strengthen immunity. Other popular infusions include VIP Elixir, Diet & Detox and Immunity, all of which have been developed to address certain needs.
Address: Mandarin Oriental, Jumeirah, Dubai, Jumeirah Beach Road, Jumeira 1. PO Box 62092, Dubai, United Arab Emirates
Phone: +971 4 777 2222
Email: modub-info@mohg.com