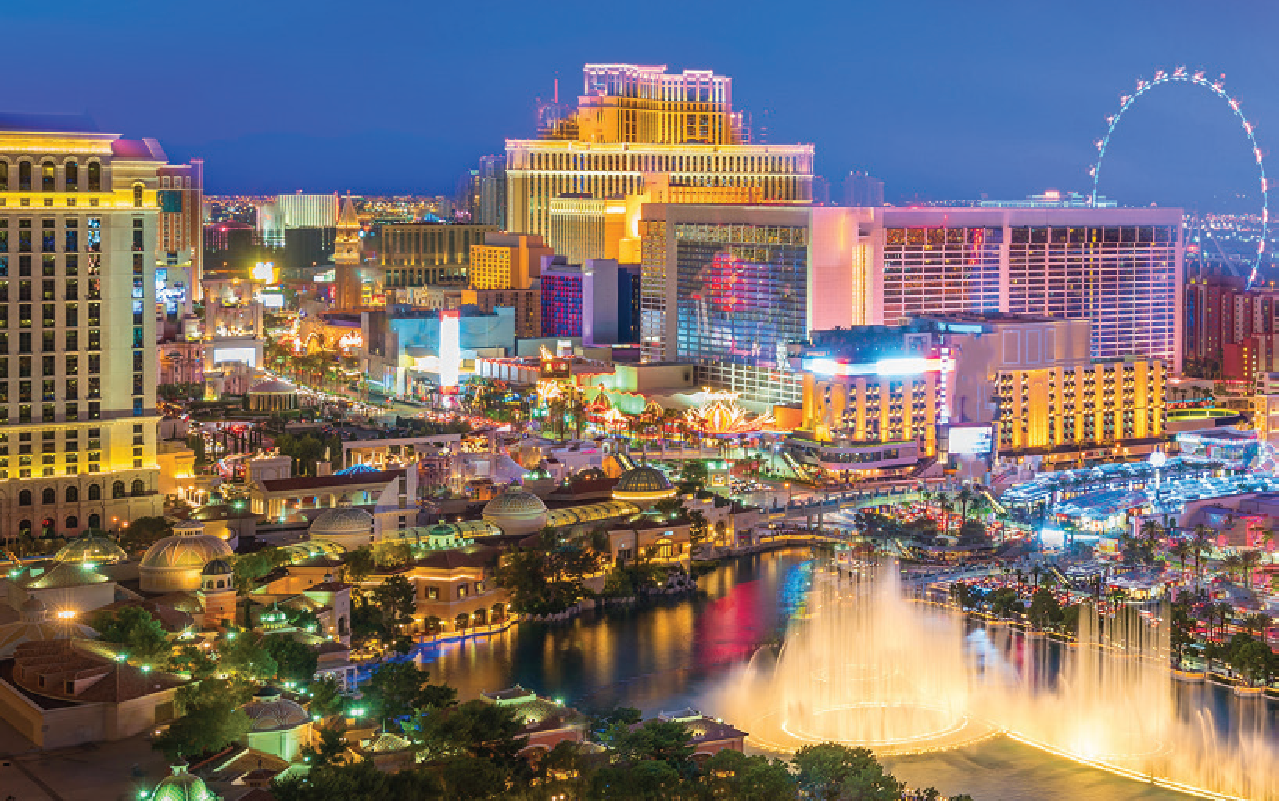 LAS VEGAS American's Playground
LAS VEGAS American's Playground
Las Vegas came a long way from a small town by the train track to a mecca of entertainment when the city blossomed with the construction of Hoover Dam and legalized casino gambling in the 1930s. The city is now the world's destination when it comes to nightlife, unparalleled dining options, and endless shopping which are constantly evolving to a new level of experience. High-end shops and celebrity chef restaurants made Las Vegas their home. Las Vegas has the tendency to overwhelm your senses; The lights, the sounds, and the people parading along the boulevard, all coming to get a taste of the legendary Sin City, are a feast all on their own.
MUST KNOW
The famous Las Vegas Strip may be only 4 miles long, but you actually need a map to help you navigate through dancing fountains, erupting volcanos, gondoliers in canals, the Eiffel Tower, and many more.
WHEN TO VISIT: WEATHER-WISE, SPRING AND AUTUMN (MARCH-MAY AND SEPTEMBER-NOVEMBER) ARE THE BEST SEASONS TO VISIT AS THE WEATHER IS MOSTLY MODERATE. WINTER MAY GET A LITTLE CROWDED WITH DOMESTIC VISITORS, ESPECIALLY DURING LONG HOLIDAYS, WHILE SUMMER WEATHER CAN BE BLAZING HOT. HOWEVER, IF YOU ARE LOOKING FOR THE BEST DEAL, SUMMER IS WHEN THE HOTEL PRICE IS AT ITS BOTTOM.
TOP 5 CASINOS IN LAS VEGAS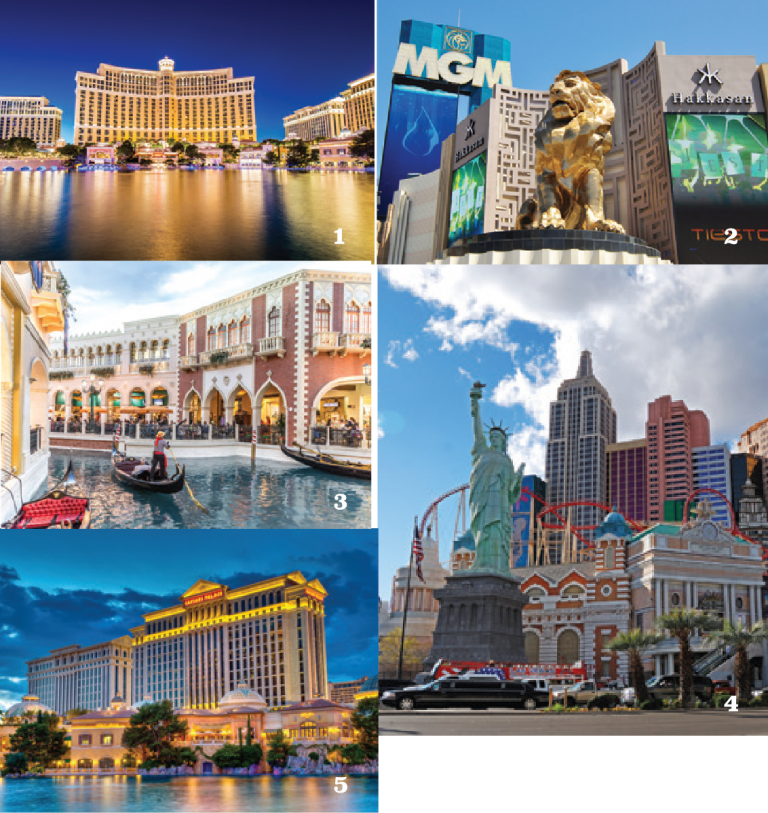 1. The Bellagio
Inspired by Bellagio, an elegant village by Lake Como, The Bellagio has the most notable feature that will wow most tourists on their first visit – the Fountains of Belligio. There is nothing like seeing the 8 acres lake and spectacular fountain feature first hand. Designed to romance your senses, the Fountains of Belligio performs a spectacular show of thoughtfully interwoven water, music and light. Watch the world's most ambitious, choreographically complex water dance where each performance is unique in expression and interpretation, meaning that you are always in for a new surprise every time you visit. In addition to the landmark fountain, this luxury casino resort also offers overwhelming choices of games and star-stud performances, including concerts and all kind of stage performances.
Address: 3600 S. Las Vegas Blvd., Las Vegas

2. The MGM Grand Hotel and Casino
Operated by MGM Resorts International just like Bellagio, The MGM Grand Hotel and Casino is without a doubt one of the most luxurious and famous casinos in the world. Its massive size makes it the largest single hotel in USA and the third largest casino resort in the world with over 5,000 hotel rooms and over 170,000 sq ft of gaming space. But if you aren't here for the casino, you'll still have a long list of facilities to explore, including 5 outdoor pools, rivers, and waterfall that cover almost 7 acres, as well as the famous MGM Grand Garden Arena, the Grand Spa, and more shops and restaurants than you could imagine.
Address: 3799 S. Las Vegas Blvd., Las Vegas

3. The Venetian
We have introduced The Venetian Macau quite a number of time now and it's time to meet the older sister! The Venetian, Las Vegas, is a five-diamond luxury casino resort by the leading casino resort operator, Las Vegas Sands which operates a list of luxury complexes in USA and Asia,
TOP 5 CASINOS IN LAS VEGAS
including The Palazzo, Marina Bay Sands, and The Venetian Macau. Your trip to The Venetian would not be completed without a graceful and romantic glide down the Grand Canal on an authentic Venetian gondola. The Venetian Las Vegas lets you experience the romance of Venice as you float beneath bridges, beside cafes, under balconies, and through the vibrant Venetian streetscape with your singing gondolier.
Address: 3377 Las Vegas Blvd S, Las Vegas
4. New York – New York
Wouldn't it be surprising to see New York's skyline, but suddenly realized that you are actually in Las Vegas? New York-New York's architecture evokes the views of 1940s New York skyline which includes New York's iconic towers such as the Empire State Building, Chrysler Building, and of course, the Statue of Liberty. Just behind the Statue of Liberty is an attraction that will have you scream at the top of your lungs. The Roller Coaster, sometimes called Big Apple Coaster, takes you 55 meters above ground before dropping down 20 meters and perform a 180 degree spiral. It's a fun ride for adventurous souls but if you are here for the game, there are plenty of machines and table games on almost 85,000 sq ft of space to try your luck.
Address: 3790 S. Las Vegas Blvd., Las Vegas
5. Caesars Palace Casino
Located on the western side of the Las Vegas strip by Bellagio, Caesars Palace Casino has been one of Las Vegas's largest and best known landmarks. The classic Roman themed casino evokes the opulence of the great Roman Empire and lets you taste the luxury of being an emperor. Of course there is an expansive space for gaming, but many visitors flock to Caesars Palace to watch live sport, especially boxing, and headline shows from world-renowned singers and performers.
Address: 3570 S. Las Vegas Blvd., Las Vegas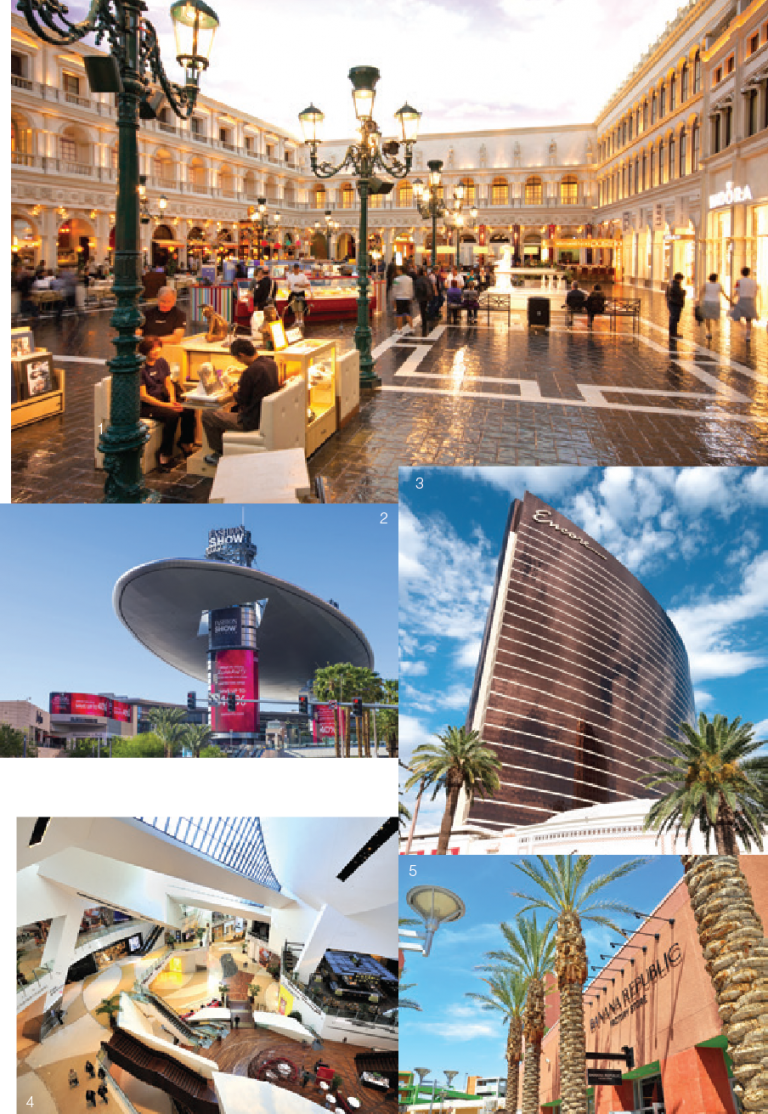 WHERE TO GO ON A SHOPPING SPREE
1. The Grand Canal Shoppes at The Venetian
A gondola ride through the Grand Canal of The Venetian would be dull without the luxury boutiques, shops, and restaurants that span through The Venetian to Palazzo Resort. Explore through the expansive 500,000 sq ft of retail and restaurant spaces, anchored by the high-fashion Barneys New York luxury shopping mall and over 80 upscale designer stores, restaurants, and nightclubs like Dooney & Bourke, Sephora, Canaletto and TAO Asian Bistro & Nightclub. Enjoy the lively vibe of The Grand Canal Shoppes's Streetmosphere where an international roster of classically trained singers, actors, and musicians light up the surrounding atmosphere. On any given day, there are approximately 30 small performances that unexpectedly delight and entertain shoppers.
Address: 3377 Las Vegas Blvd S, Las Vegas

2. Fashion Show Las Vegas
With approximately 2 million sq ft, Fashion Show mall is basically a city of luxury shops and shopping mall all in one place. Indulge in the heart of Vegas with 8 department stores, including Macy's, Dillard's, Saks Fifth Avenue, Nordstrom, and Neiman Marcus, 25 dining choices and 250 signature stores. The mall features a multi-million dollars venue with an 80 feet retractable runway for the weekly live New York-style runway shows with the hottest fashion brands, as well as "The Cloud", an architectural canopy which hovers 20 stories over the mall, shading an outdoor plaza during the day and acting as a projection screen for multimedia shows at night.
Address: 3200 Las Vegas Blvd S, Las Vegas
3. Encore Esplanade
Encore Esplanade connects two of Las Vegas' premier resorts, Encore Las Vegas and Wynn Las Vegas by a luxury indoor shopping space with an intriguing mix of world-class brands and chic boutiques. The exclusive shopping boutiques housed in exquisitely designed retail space provide guests fresh and unexpected offerings for women's and men's fashion, accessories and home décor, while its location offers the advantage of the best entertainment and nightlife at its neighbouring resorts like the Le Rêve – The Dream theater, Botero restaurant and XS nightclub.
Address: 3131 Las Vegas Blvd S, Las Vegas
4. Crystals
Located in the CityCenter mixed-use complex on Las Vegas Strip, Crystals is where your desire goes wild. With stunning architecture and 500,000 sq ft of high-end retailers, gourmet restaurants, art galleries, offices, and other facilities, as well as gardens and water display, Crystals is rightfully one of Las Vegas' premier shopping center and a day trip destination on its own. Prepare to be dazzled by the number of designer stores, including the largest Louis Vuitton store in the country and the 2-story Tiffany & Co. store, but don't worry if your legs get a little tired, just take a break at any pocket parks around the mall or even enjoy a meal on a tree house fixture!
Address: 3720 Las Vegas Blvd S, Las Vegas
5. Las Vegas North Premium Outlets
If you love shopping, you'll love it more with discounts! At Las Vegas North Premium Outlets, there are over 150 upper and mid-range international brands from Calvin Klein, DKNY, Guess, Lacoste, Reebok, Adidas, and Nike, to A|X Armani Exchange, Banana Republic, Dolce & Gabbana, Elie Tahari, Kenneth Cole, Michael Kors, Burberry and many more, all offering savings of 25 to 65 percent every day.
Address: 875 S Grand Central Pkwy, Las Vegas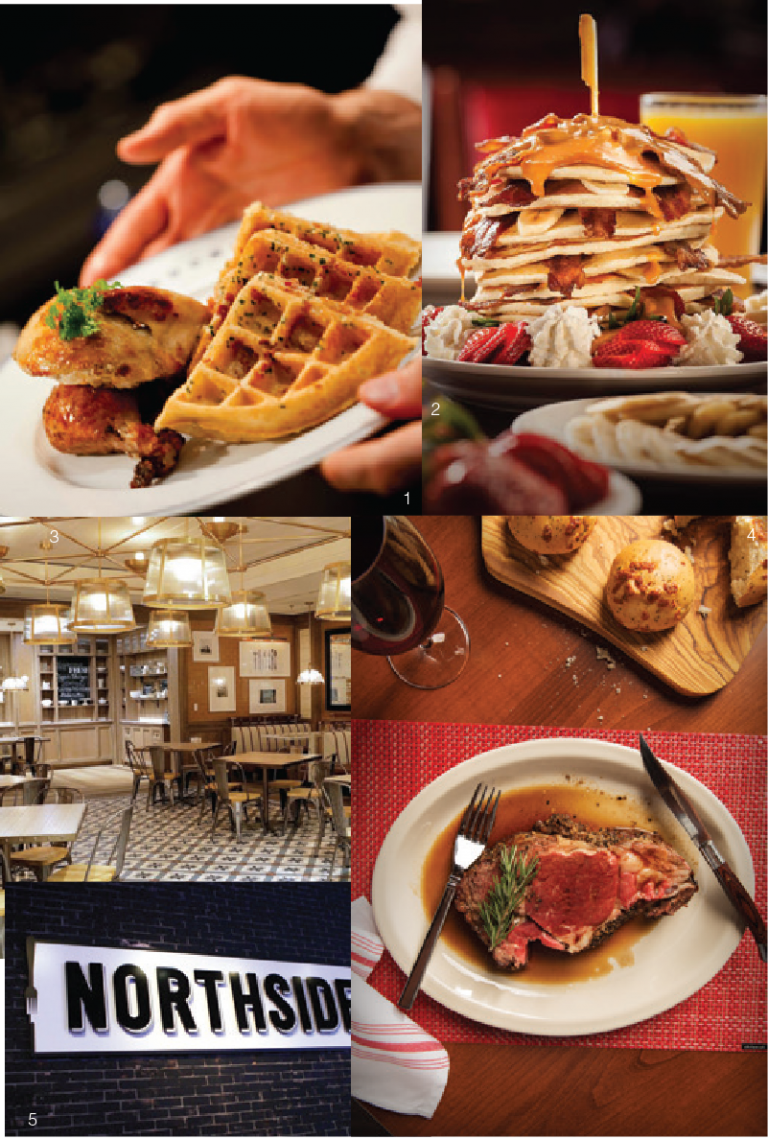 FUEL UP AT THESE 5 GREAT BREAKFAST AND BRUNCH PLACES
1. Bouchon at The Venetian
Bouchon has been a star restaurant at the Venetian since its establishment in 2004. Named "America's Best Chef" by Time Magazine, Chef Thomas Keller brought his award-winning cuisine to Las Vegas you don't have to go to French Laundry in Yountville or Bouchon Bistro in Beverly Hills to taste experience his ingenious modern French cuisine. Bouchon's Sunday brunch on the outdoor patio or the sunlit bistro is the standout here, and the menu changes with the seasons although some of Chef Keller's favorite dishes remain as fixtures on the menu throughout the year.
Address: 3355 Las Vegas Blvd S, Las Vegas
2. Mr. Lucky's 24/7 at Hard Rock Hotel
Whether it's breakfast, lunch, dinner, or late supper, or very early meal, you can always count on Mr. Lucky's 24/7. Of course there are similar 24 hours no-frills café all around town but Mr. Lucky's simply excels in the standard comfort food done right! Step in any time for some of the best burgers, snacks, sandwiches, pancakes, and milkshakes in town. For that sumptuous breakfast, try The King, which comes with 14 banana pancakes, 14 strips of bacon, peanut butter glaze and maple syrup, or try the Rehab Omelet, which includes three egg whites, crispy tofu, green onion, broccoli, tomato and mushrooms with a side of hash browns.
Address: 4455 Paradise Rd, Las Vegas
3. Pantry at The Mirage
The word "pantry" depicts a shelf full of regular home-cooked meal ingredients in a family home kitchen, and that's exactly what Pantry is great at! Featuring homespun recipes, Pantry serves wholesome homemade style dishes such as hot soups, hearty omelets and pancakes, crisp green salads, generously loaded sandwiches, and classic desserts 24 hours a day.
Address: 3400 Las Vegas Blvd S, Las Vegas
4. Siegel's 1941 at EI Cortez
Siegel's 1941 bring back the old Vegas vibe when the city began to boom. Expect wooden tabletops, dramatic leather booths and archival artwork that tell the stories of the bygone days, but don't expect the food to be boring! Siegel's 1941 offers extensive menus filled with modern twists on classic American dishes like Roast Prime Rib of Beef Au Jus, Seasonal Stone Crab and Matzo Ball Soup with Challah, Fat Irish Green Corned Beef Hash, the Seven Layer Lasagna Bolognese, the Classic Shrimp Scampi, and the Monte Cristo. Although the restaurant opens 24 hours a day, some menus are served within a given time of the day.
Address: 600 E Fremont St, Las Vegas
5. Northside Cafe at SLS Las Vegas
Inspired by classic Las Vegas coffee shop, Northside Café does not limit breakfast to just a morning meal. The restaurant offers all day breakfast alongside comfort food favourites from burgers, sandwiches, and authentic street tacos to steak and seafood 24 hours a day, so you can enjoy late night pancakes or a morning steak, perhaps. In addition to 24 hours menu, Northside Café also serves authentic Chinese dishes for lunch.
Address: 2535 Las Vegas Blvd S, Las Vegas