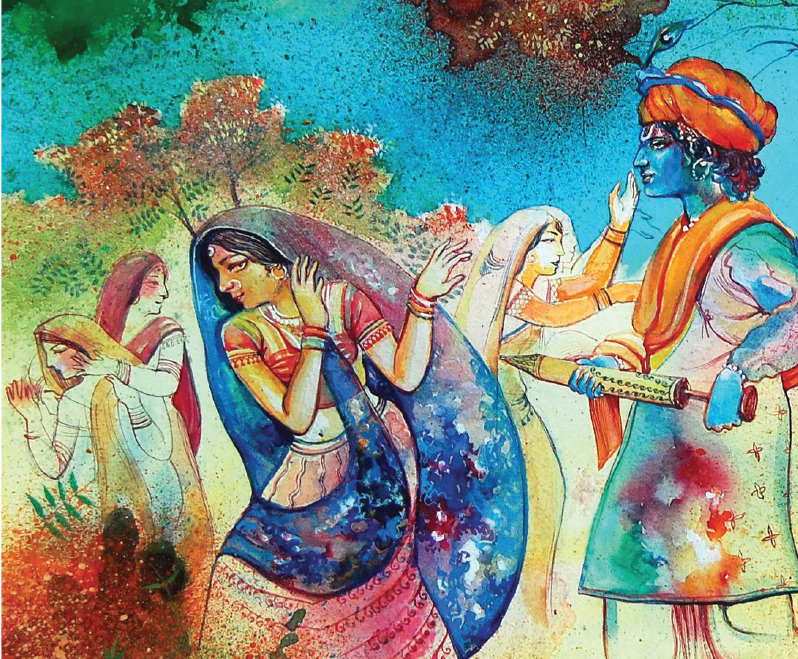 Holi Festival India
In more recent times, HOLI HAS CERTAINLY BECOME ONE of the more well known festivals of THE SOUTH
The rainbow battleields of the Holi celebrations engulf all who go outside, with people throwing brightly coloured powders at each other all day. Throngs of people take to the streets and the otherwise calm areas of India become wild with the sounds of shrieks, laughter, blessings and happiness. These days, the dyes are more than just powders, but often come in the form of colourful liquids and water balloons, adding to the arsenal of colourful projectile blessings that you can use to cover those even far away from you. Young and old, men, women and children all come out to enjoy the wild festivities, which often roll into enormous street parties.
Although celebrated country wide, there is some dispute about Holi's true beginnings. The word Holi itself comes from the world Holika, which is the name of the evil sister of the demon king Hiranyakashipu. His own son, Prahlada, was devoted to the Lord Vishnu which angered the demon king, so he devised a plan to kill his son with the help of his evil sister. Holika convinced Prahlada to sit on ire with her but she was protected by a magical coat. However, this coat was torn off Holika and protected Prahlada, who survived. When Holika died, Lord Vishnu appeared and killed the demon king Hiranyakashipu. The symbol of a bonire was then used to represent victory of good over evil, and after the ire cooled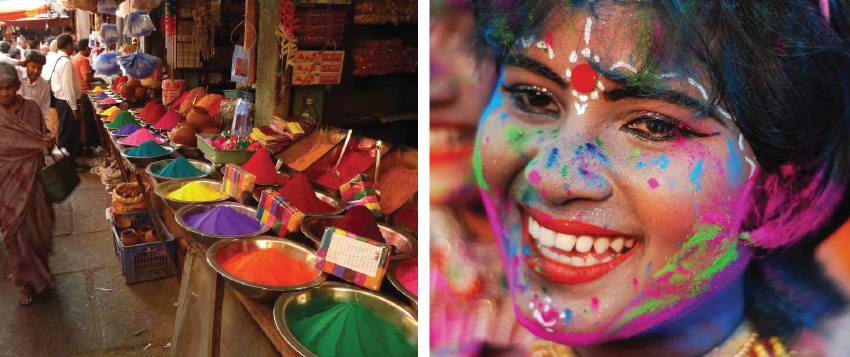 "THE RAINBOW BATTLEFIELDS OF THE HOLI CELEBRATIONS ENGULF ALL WHO GO OUTSIDE, WITH PEOPLE THROWING BRIGHTLY COLOURED POWDERS AT EACH OTHER ALL DAY. Throngs of people take to the streets and the otherwise calm areas of India become wild with the sounds of shrieks, laughter, blessings and happiness."
people applied ash to their foreheads – this ash slowly developed into the powders of Holi we see today. However, another belief suggests the colour powders come from another story. A story of the Hindi legends Radhu and Krishna, irst found in a 7th century Sanskrit manuscript. Krishna was at one point sad that his darker skin complexion was so dull compared to the lighter, more vibrant complexion of Radhu. The sadness overwhelmed Krishna and soon his mother found a way to help him overcome his feelings by applying beautiful colours to each others faces – rejuvenating their emotions and exploring new ways to express themselves.
Today, the people of India still follow the traditions of applying colour to each other to say goodbye to winter and welcome the spring, the season of love and rejuvenation. Many customs come hand in hand with Holi, as do most nationwide festivals across the world. On the eve of the celebrations, wooden sticks and old pieces of wood are collected and piled together in the centre of towns and villages and set ablaze to recreate the ire which killed Holika. Ears of corn, vegetables, coconuts, butter and lowers are all thrown into the ire to appease the gods. By the morning time, the ire is smouldering and people wake up as excited as westerners are for Christmas. Soon the powder and coloured water is thrown around and people are soon engulfed in plumes of incredibly photogenic dust of greens, yellows, blues and reds.
There is a phrase that many people use while celebrating Holi and that is "Never Mind, It's Holi!" This is a phrase you will hear throughout the country if you ind yourself enjoy Holi one year, and it basically translates to people excusing their bizarre behaviour, because its Holi day and they just want to let loose. Caste systems are ignored to a large degree and the colours serve as an equaliser between those of high status and low status, often seen playing and throwing powder together. The strange actions of throwing powder, hugging, splashing and just pure happiness can all be explained under the context of Never Mind, It's Holi. Musical instruments are common place, and you will often see troops of bands playing drums and other traditional musical instruments through town. In more modern times, some music performances have been replaced by sound systems, but the atmosphere is still just as exciting and wild.
While its is an exciting event, visitors who are not used to the celebration to take care while participating. Often the powders can have irritant affects to the skin and eyes, and in extreme cases can permanently change your skin colouration. The dyes are traditionally created from natural sources such as lowers, cumin and sandalwood, however today many are made with synthetic dyes which on occasion can be dangerous. Yet in the end, it is almost impossible to know where each person's dye comes from, so just enjoy yourself, get stuck in, but be aware if you begin to have an allergic reaction, to quickly wash the affected area and protect yourself. Warnings are also given to women each year, following the social relations between women and men in Indian society. Women must be especially cautious during the celebrations and the 'letting-go' atmosphere which can often be taken advantage of. Alcohol, colour, dust and intoxicants can encourage men to grope women or even go as far as sexual assault. Despite most revellers having no problem during the festivities, it is important to be aware of and to ensure you are in a safe situation at all times. With proper precautions, the celebration is always a happy one.
For irst time revellers, wear clothes that you plan to throw away as the dye never comes out fully. For those who have light hair colours and wish to keep it from going rainbow, it is recommended you keep your hair covered. Dyes can be brought across the country and sale of the dyes often begins months in advance as people begin to stock up early. Bring you own if you have sensitive skin, so you know at least your dye is safe for you. Holi is celebrated nation wide but often the bigger parties happen in the north. Rajasthan, Goa and the cities of Delhi, Varanasi, Mathura, Manipur and Mumbai (especially Juhu Beach and Colaba) are famous for having the wildest and most populated celebrations, with tourists and locals locking from far and wide. Jaipur often hosts elephant beauty contests and other cultural events and festivities in the days leading up to the Holi day for those wanting to see some real culture before the big day.
Although Holi day is oficially one day, celebrations in some parts of the country can go on for up to two weeks. Most places celebrate for at least one or two days. So regardless of where you celebrate it, Hoil is a festival that everybody should experience at least once in their lifetime. A true colour explosion, in one of the most vibrant countries in the world