Yosakoi-Soran Festival Japan
Yosakoi-Soran Festival Japan
"Japan is full of culture and traditional shows of art and power throughout the year in a multitude of fascinating events and traditions that sweep the nation, amazing both locals and tourists alike. One of these events is the powerful and energetic dancing based festival of Yosakoio Soran, most popular in the city of Sapporo, Hokkaido."
Yosakoi is a unique style of dancing from Japan that has now grown to be the focus of festivals and events around the country. The style of dancing is very energetic, combining traditional Japanese dance movements with modern music that bridges the gap between old and new, modern and tradition, style and art. The dances are often performed by large teams who have practiced year round to achieve a perfect display of dancing skill that is then judged, with the winners taking home a prize every year, being able to claim champion to the incredibly complex dancing competition.

Each team designs their own outfits, often following the traditional Happi and Yukata designs, but in more recent times, costumes have evolved to display a message along with the dance – with some teams opting for historical attire, and others going for more popular culture, fashion icons or celebrities.

Large flags are often waved as the energetic performances begin, with dancers in their chosen attire, adorned with lots of makeup, begin dancing, jigging and chanting to the loud drum driven music.

The original dance was based on a song called Yosakoi Naruko Dancing, written by Takemasa Eisaku, a revolutionary song that combined the elements of three type of songs, a yosakoi melody, children's music and traditional folk song. As the dancing became more and more popular, song author Takemasa Eisaku gave the copyright to the public – leading to an explosion of similarly crafted song styles to go along with more and more extravagant and powerful dance routines. Today, teams often compose their own music, but are often required to include some part of the original music, adding another element of intrigue to the festival. Over the last century, Yosakoio has become more than just a dance where teams compete, but has turned into a spectacle that is watched by locals and tourists, often traveling thousands of miles just to watch this unique dancing culture.

The Yosakoio Soran Festival in Sapporo, Hokkaido, began in 1992, but has quickly become one of the largest and most popular Uosakoio festivals in all of Japan.
The first year attracted ten teams, and over 1,000 dancers, but now has developed into a major international event attracting some 30,000 dancers from across Japan and from abroad to come and perform to roughly 200 million visitors every year.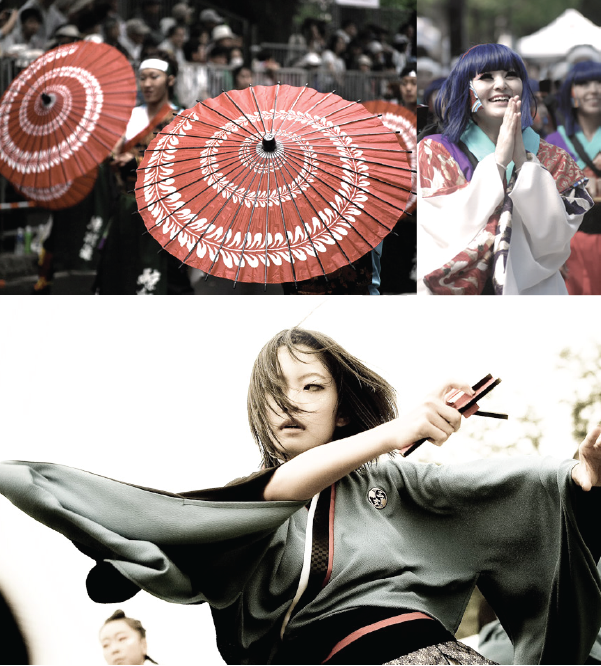 Now, in it's 24th year, the event is held in Odori Park in Sapporo from June 8 to 12 to celebrate the coming of summer.

Sapporo is Japan's fourth-largest city and the capital of the Hokkadio province with a wide range of temperatures throughout the year so be sure to check the weather before visiting. If you do decide to visit during the Yosakoio Soran Festival, expect reasonably warm weather in the daytime, reaching anything up to 20 degrees, but dropping down to around 10 degrees at night. The festival is held in June to celebrate the coming of summer, so expect that some days will be colder than others and to prepare accordingly.
The first three days of the festival are during regular weekdays so the festivities are restricted to late afternoon and early evening. However, the finales take place on a Saturday and Sunday, with events throughout the day from 10am to 10pm. The best part about the festival is that it is free to anyone who wishes to come and watch, and maybe even join in with some of the dancing if you so desire.
The festival is located in and around Odori park, a long elongated park in the heart of Sapporo. The park is so long it is located near a number of underground stations, but the best one to get off at is Odori station, with the entrance to the event right there as you walk out.
Sapporo is over 1000 kilometres north of Tokyo, so most people who fly into Japan to visit the event catch a connecting flight to Sapporo that takes around 1 hour 30 minutes. Flights depart many times throughout the day, but be sure to book early to get the cheapest deals, as during the event, ticket prices are bound to inflate. For those with some time to kill, why not take a ferry that goes from Tokyo to Sapporo, costing just 10,000 yen (100 dollars) one way, taking roughly 19 hours. Western and Japanese style cabins are available and is one of the better ways to get to Sapporo if you prefer not to fly. The views from the deck can be amazing, and it is always fun to take an adventure out to sea.

You may also prefer to jump on a train from Tokyo to Sapporo, which takes roughly 10 hours but with a few transfers in-between, it can be stressful if you miss your stop. There is also a direct sleeper train that takes around 16 hours, but is often more expensive than flying. The final option is to take a few days and slowly drive north towards Sapporo, enjoying the sights and culture of countryside Japan as you do. Most rental cars have sat-nav so just punch and go, or for the adventurous, why not buy a map and find your way old school. Don't forget there will be a ferry to take you across to Hokkaido too, so make sure you are with a few friends or family who can help share the costs of ferry and gas.