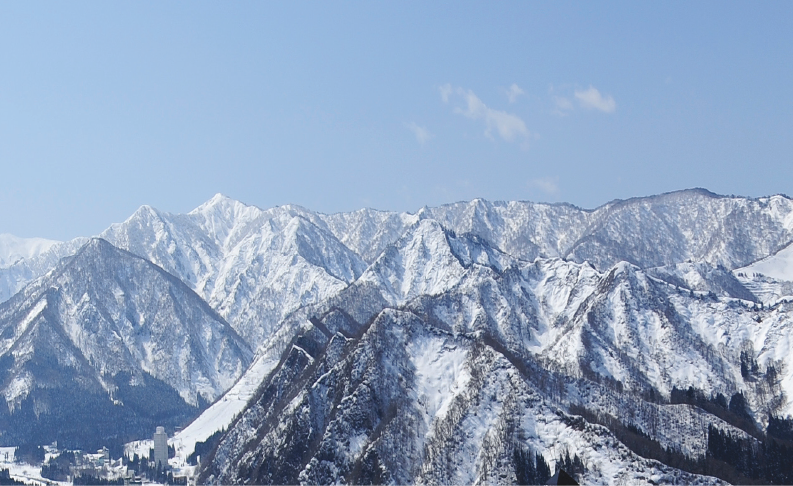 The Unforgettable Niigata
It is said that Japan is a country where someone visits at the first time, it will have the second, the third, the fourth, and so on. It isn't only Japan to be a large country, but this country is also full of charm in almost everything both beautiful nature, good will of Japanese people, cold weather, delicious cuisine, clean country, and comfortable accommodations where merges many kinds of travelling, it is comfortable as we are the king.This is a true story of everybody who has visited to Japan they impressed and wanted to visit there again.
The Unforgettable Niigata
I have visited to japan for several times, and it didn't have any time not to impress it to deposit good and pretty remembrance for me to remember as a travel trip at honshu island where is the main island of japan. Everyone may visit to the large cities as Tokyo, Kyoto, Nara, and so on. However, my friends and I like to carry our bags to travel to new city or new way where thai people don't know, or they seldom visit. we get pioneer's mood with our adventure at Honshu Island; we meet a pretty city "Niigata" where is a capital of Niigata province where is located in the central of japan, it is beautiful atmosphere all 4 seasons, and it is a formal city with ancient culture, japanese livelihood that merges the new age' s lifestyle divisibly. what does niigata have something? We are hurry to travel now.
Niigata is a province where is located the Central of Japan, or we have known as "Chubu Region". The landscape is almost mountains and plains that are parallel to the West coast of Japan, it is called "sea of japan". The Central of Japan's area has a heavy snow in the winter, but it isn't snow long as Hokkaido, the northern part of the country. The summer and the autumn's weather is sultry, but it is cold that makes this area to become the important rice-growing area. Niigata is the province where is parallel to the southwest coast, it has a length of 250 kilometers that can be divided into 4 main territories: the southern Joetsu, the central Shin'etsu, the northern Kaetsu, and Sado Island. Facilitating in effi cient travel, my friends and I go to with a direct fl ight from Bangkok to Tokyo, train by Shinkansen high speed train to Niigata, we tell that it is punctual which spends around 100 minutes. It's amazing from Tokyo to pass 4 main train stations:Ueno train station, Takasaki train station, Echigo Yuzawa train station, and Nakaoka train station. Then, the fi fth train station will arrive to Niigata city, we take a seat Shinkansen train of Japan, we feel like to sit a business class airplane because it is the most convenient and high-tech, quietly drives, and not to stumble like our ancient train, the seat is comfortable, and there are heaters and wide luggage shelf. Moreover, it has food and beverage trolley service that serves to the passenger's seat, but we don't buy it from this service because we have meal boxes that buy from the airport.When we arrive to Niigata city, we will be surprising, for this isn't a small town as we think, it is Niigata to become the large port where has Shinano River to fl ow through the city to the river entrance that combines with Sea of Japan, the two coasts are full of 10,000 houses. In the downtown, it has buildings, cars, people move busily with livelihood style of industrious Japanese people. After that, we check in at the hotel, the fi rst thing that we agree that is going shopping because we see that it has many major shopping malls, we guarantee that every goods in there will buy everything. I take lagniappe orders that my friends take note from Thailand. If I don't buy them, they will be angry. If you look for clothing UNIQLO, Onisuka Tiger shoe, including various delicious desserts, you will visit or buy at major department stores in this town as Niigata Station CoCoLo, Niigata Isetan, Niigata Mitsukoshi, and Niigata Furusato Village-Bazzar Hall, etc. The majority of shopping malls open around 10 o'clock in the morning, and they close about 2 or 3 o'clock at night, so you must check the best time for going shopping.
We are the taking a photo group, we try to look for a beautiful location from the view for collecting Niigata city's photo. Eventually, we go to the 34th floor viewpoint terrace of Nikko Niigata Hotel, it has a height of 125 meters from below street that makes us to see the freight harbor which have over 1,000 containers by having the giant crane to carry into the marine, it is further along the port where is Shinano River entrance that fl ows to Sea of Japan, we see the river's green water mixes with the ocean's indigo water. Do you believe that Shinano River is the longest and largest river of Japan? Fortunately, we visit to see there, and something extends serenely on the horizon, that is Sado Island where is fi lled with the ancient historical shrine sites and the natural reserve where has various scarce birds.
On the following days, we use small car rent service of NIPPON Company. Rent-a-car drives to travel many places because when we try to divide rent-a-car's cost, more people go together, it is more saving money by their car has GPS device to show navigation accurately.
How to go: go to the direct fl ight from Bangkok to Tokyo, to travel by the high speed train to Niigata city that spends 100 minutes, or if you go to a fl ight from Narita Airport, it spends around 1 hour 5 minutes. If you want to take a seat by express bus, it spends to 4 hours. Travelling in Niigata City, you can go by bus, train, taxi rent, or car rent with the GPS device
The first place in Niigata city is "Northern Cultural Museum" or "Hoppou bunka Museum". This place looks wooden Japanese house of Ito family, Its inside area has over 60 rooms where has an area over 29,900 square meters that indicates rich status, for the fi rst house owner was a wealthy farmer who possessed the estate over 1,370 hectares. The house was built in 1885-1887. At the present, it becomes to the museum to show the ancient Japanese livelihood from creating the garden, the antique kitchen, and the fl oor was covered with the tatami mat, and the ancient stove for using to boil a kettle for brew tea. Later, In the Meiji Age, it had the law of land reform that made the house owners reduced land possession only 3 hectares. I like here expressly because I like the ancient things and the ancient house. When you visit to this house, you must take your shoe off and stalk in Japanese style to enter to the corridor path that is covered with the tatami mat, and it has wooden sliding door, my way in this ancient house likes to travel to the past. We continue to follow Japanese culture by going to drink the afternoon tea at "Enkikan House" where is the ancient wooden house of Saito wealthy merchant family who removed from Fukui province to enter to Naiigata town in the Edo Age. The word "Enkikan" was truly the welcome part of the front yard. This house was built in 1908. After the great fi re, Enkikan House is the place for brewing tea ceremony, teaching Japanese fl ower, writing Haiku poetry, and cultural event organizing at the present. I get an opportunity to see Japanese brewing tea ceremony that is magical. When I look at this ceremony, I feel that tea drinking is lofty to send us to invite to take a seat in the lobby that is covered with the large tatami mat, and the room is built by the wood and pastel orange light that makes us to feel warm. When the Japanese brewing tea ceremony has finished, they serve cups of green tea per a person with the dessert. The green tea's taste helps to smother the dessert's sweet harmoniously.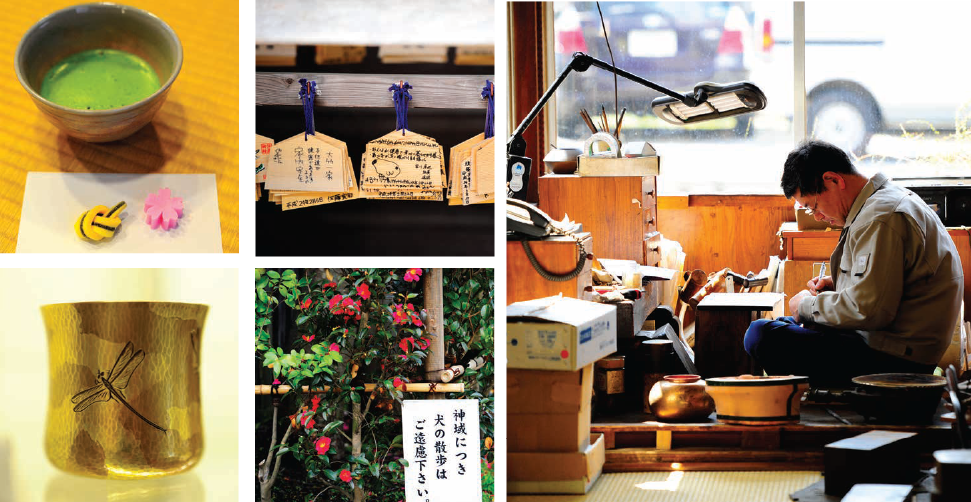 On the day later, I manage a tour schedule to be a day of travelling outlying districts of the town. Today, we have to get up early and drive further, but it is convenient because the street is clear and has expressway as the super highway, the tunnel is underneath the mountain, they help to shorten time so much. At Tsubame city, we visit at "Gyokusendo Copper Ware Factory" is an ancient copper ware productive factory where has inherited for several generations, but their factory isn't a large warehouse. It looks like to enter to the house, it is a normal single Japanese house, but it has a large and wide area from copper material preparation, product design, the product show room where has the tea party to the guests (although you don't buy their products). We say that the Gyokusendo's copper ware products are enrolled as the Japanese national heritage which is the prize to guarantee that their workmanship is the professional level, for they conserve to make the products by ancient production is to hit carefully as forming and polish them, it becomes the invaluable inventions. They take us to see the copper ware production method nearly, but we don't interrupt them too much, we honor to the copper forging inventors. I may go to the copper ware gallery that it has bowls, tea cups, plates, and kettles, etc., or they order to produce specially. However, I say that they are so expensive products.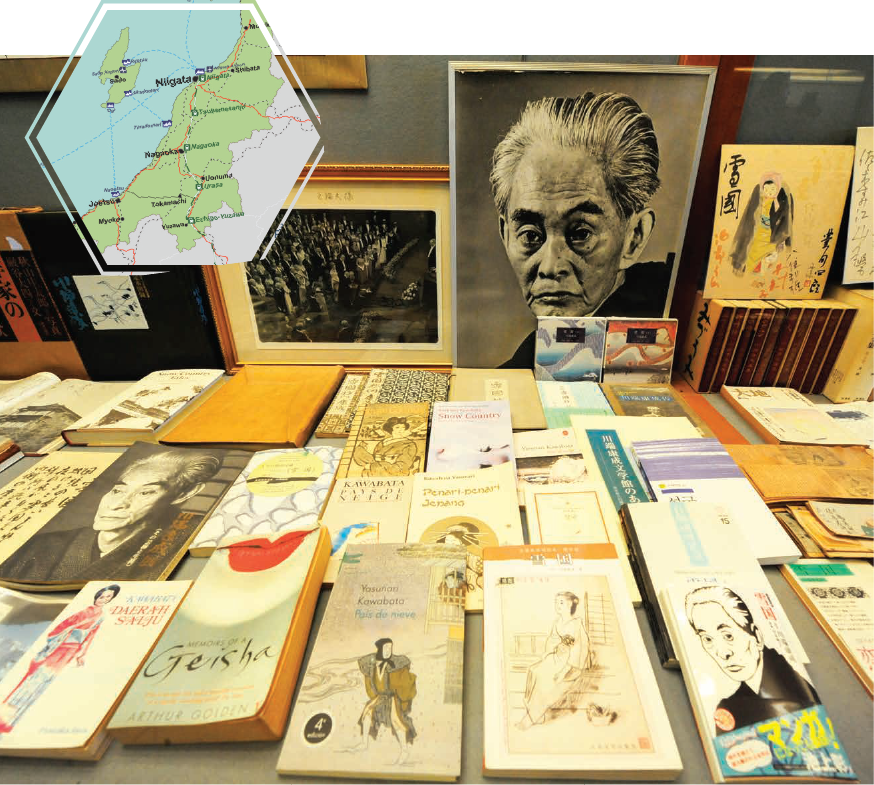 Then, we visit at "Carp Nurturing Center (Nishikigoi no Sato)" at Ojiya city. We watch colorful carps' cuteness; it isn't small carps similar in our country.
They swim over 100 carps in the pond that it is called "Nishikigoi" by Japanese people. They have favored to feed since 19th century by Echigo's people caught the natural carps to nurture for eating, but they brought forth many colorful descendants because they began to mutate. Later, the people took them to hybridize over 100 colorful carps for feeding and around Japan earnestly. I feed and touch nearly. A carp herdsman says that the carp is the fi sh god that is believed if the owner get sick or has an accident, they will have the six senses to predict, and they will surrender their life instead, or when it will be the great earthquake or have the tsunami, they stop to swim and hide in the pond, Japanese people suddenly know that it will have the disaster.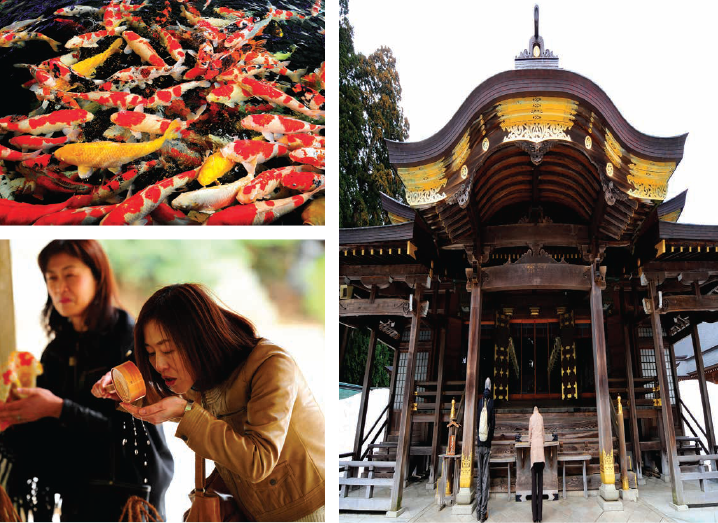 The carps' cuteness memorizes and impress in my mind while we are travelling to "Yahiko Shrine" at Yahiko Village is a large and ancient Shinto shrine, it was built in 1916. The shrine is located the pine forest that has the stream and the deer garden for visiting. In the entrance, it has Torii arch by Shinto religion and has couple lions to guard at the arched entrance, it is called that "Komainu". Furthermore, the people like to visit to Yahiko Shrine for wishing to be good luck, and it is famous about vow and love, we can see Japanese teenagers go together to worship from this shrine
More info: Niigata Province Tourism Division Tel. 025-283-1188,
website: www.enjoyniigata.com
International Tourism Offi ce Niigata Prefecture Government tel. 025-280-5968,
website: www.nvcb.or.jp/en/, or more information at O2 Asia Travel Design Co.,Ltd.
Tel. 0-2631-1156, 1416
The last three day before we get back to Bangkok, we take a seat the train to return at "Yuzawa City" where is named "the land of Snow Country" because it has the heaviest snow in Japan, so it has over 16 ski resort sites where have over 16 million tourists every year. Yuzawa city is the tourism place where can travel both the winter, the spring, and the autumn, it has the outdoor activities, such as roaming about the forest, stargazing, flower visiting, bird watching, rafting, skiing, snowboard playing, etc., including is the city of the ancient geisha onsen legend in Japan which is the town in the most beautiful Japan Alps. Fortunately, we check in at the pretty wooden hotel, when we go to the balcony to find the outdoor onsen atmosphere. In the big wooden tank, we lie down in each room by pumping the mineral water to take a bath to the room. When it is snowing heavily, I go to immerse the warm mineral water and watch the snow that blow as the rain, it is really a beautiful scarce view. When we arrive to the Snow Country, we have the opportunity to sit on a cable car at the famous ski yard "Gala Yuzawa Snow Resort". Today we wear fully topcoats, 4 sweatshirts, 3 pairs of trousers, gloves, hat, and shoes for walking on the snow, it looks like to play ski, but we aren't able to play ski, we just take a seat on the Snow Mobile car and run in the snow field on the mountain. On this mountain, it is a large resort where has accommodations and restaurants, we can see ski players and snowboard played around Japan to practice frantically. When we go down from the ski resort to Yuzawa city, we have the opportunity to follow the famous classic novel of Japan, "Snow Country" to an onsen hotel where this poet author really lived in here, and he used this place as a location in his novel until Japanese people knew Yuzawa City where is "Echigo-Yuzawa Onsen". That author's name was Yasunari Kawabata by which he received the Nobel Prize in Literature in 1968. At the present, the ryokan onsen hotel has been over 800 years. It opens to service, but it arranges some rooms as Kawabata's workmanship exhibition, including the tea room where he wrote his novel that has conserved for showing only.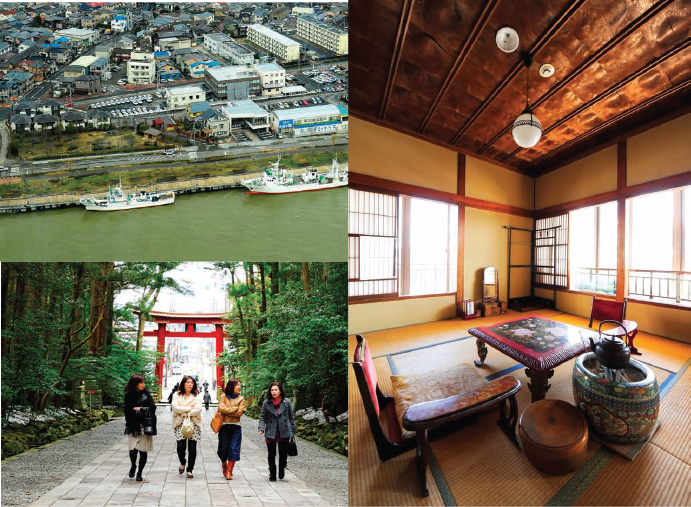 It is time to go home; the impressive views always revolve in my thought while I am sitting on Shinkansen train from Yuzawa to Tokyo for going to the airplane to get back to Thailand. I don't believe that it is less than one week, it is funny and impressive. This is the charm of Japan where I fall in love.