THE BEST BAR IN SINGAPORE
THE BEST BAR IN SINGAPORE
SINGAPORE IS A VIBRANT LITTLE COUNTRY WITH COLOURFUL IDENTITY THAT BLENDS COLONIAL AESTHETIC TO MODERN LIFESTYLE. WITH DIVERSITY OF CULTURE, THE COUNTRY'S NIGHTLIFE SCENE IS FULL OF CREATIVITY AND YOU MAY EASILY FIND YOURSELF HOOKED TO THE ATMOSPHERE, FOOD, AND DRINKS AT ONE OR MORE BARS WE BRING YOU TODAY.
BLURRING THE LINE BETWEEN BEVERAGE AND ART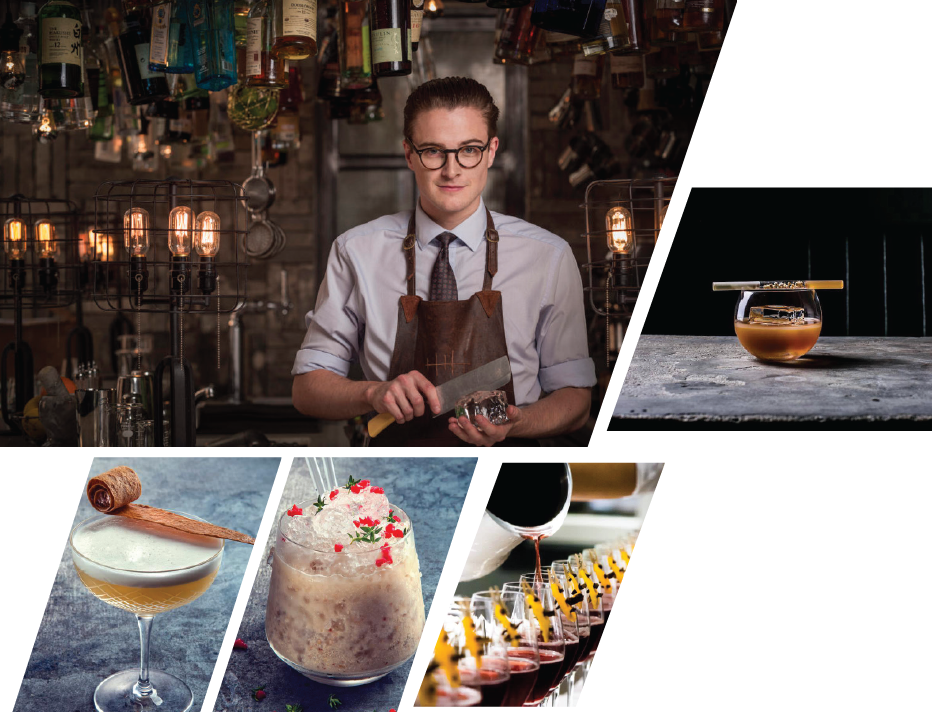 Tippling Club is the whole package of restaurant and bar, but the bar itself is good enough reason to visit. The bar is consistently ranked as one of the best in Asia for its innovative and progressive cocktails that blur the line between great beverage and art. You have to love the Almond Haig Fizz, Wake me up F*** me up, and Jersey Lightning which are great for freshening up after a long day
TIPPLING CLUB WAS RANKED
11TH BEST BAR IN ASIA BY ASIA'S
50 BEST BARS 2017 AND 27TH
BEST RESTAURANT IN ASIA'S
BEST RESTAURANTS 2017
Adress: 38 Tanjong Pagar Road Singapore
Tel: +65 6475 2217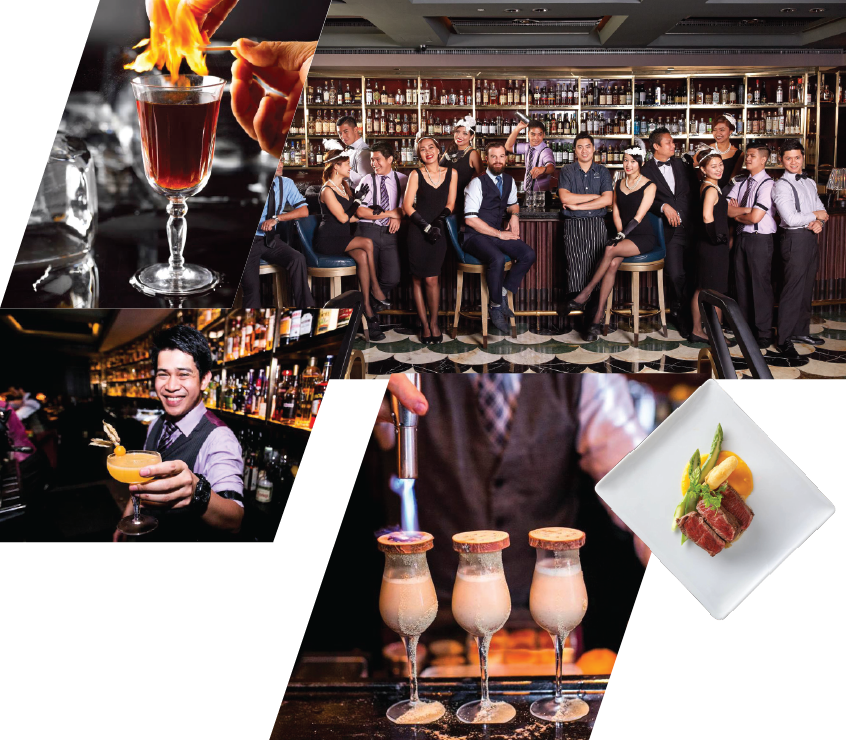 Recently honoured as the best bar in Asia by Drinks International, Manhattan Bar at Regent Singapore breaks away from the stereotype of old fashioned, stuffy, and boring hotel bar with clichéd drinks, and delivers imaginative menus in the elegance of retro Manhattan vibe. An ace team of young bartenders are trained by the hotel's bar manager, Philip Bischoff, to craft a diverse list of proven cocktail menu. Manhattan Bar also boasts its own barrel room where they age a million-dollar worth of classic cocktails like La Louisiane and El Presidente.
MANHATTAN WAS
RECENTLY AWARDED
#7 IN WORLD'S 50
BEST BARS AND #1 IN
ASIA'S 50 BEST BARS.
Address: 1 Cuscaden Road Level 2,
Regent Hotel, Sigapore 249715
Tel: +65 6725 3377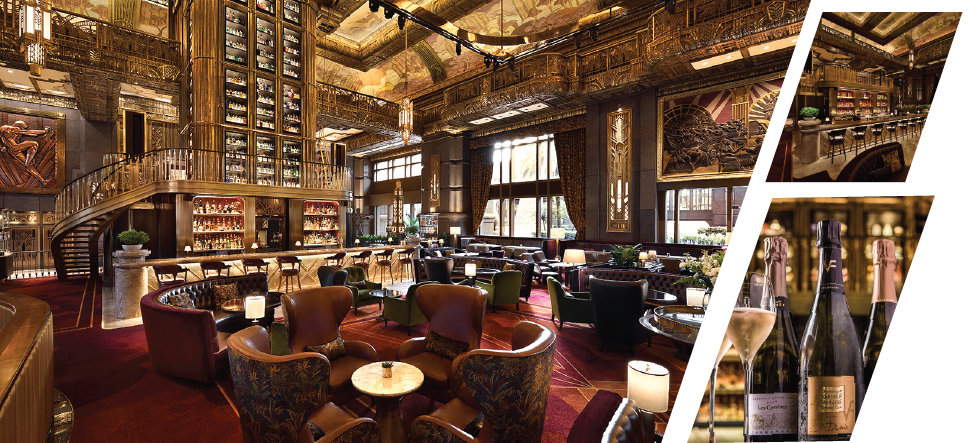 Sophisticated Art Deco glamour and lively Jazz vibe filled the ground floor of Parkview Square where the grandeur of Atlas reflects through the 25-foot-tall back bar and leather armchairs and sofas. Atlas specializes in gin and juniper-based cocktails, and with over a thousand bottles of gin in its collection, the bar arguably holds the largest gin collection in the world. You can find rare and some of the best liquors like Plymouth gin from the 1910s and aged Noilly Prat in their vintage Martini menus, which could be priced over a hundred dollars, but they do come with matching quality
THE DISTINCTIVE
ARCHITECTURE OF
PARKVIEW SQUARE
IS INSPIRED BY THE
GLAMOUROUS ART DECO
SKYSCRAPERS OF EUROPE
AND NEW YORK.
Address: 600 North Bridge Road, Singapore, 188778
Tel: +65 6396 4466
REINVENTING THE NEW CLASSICS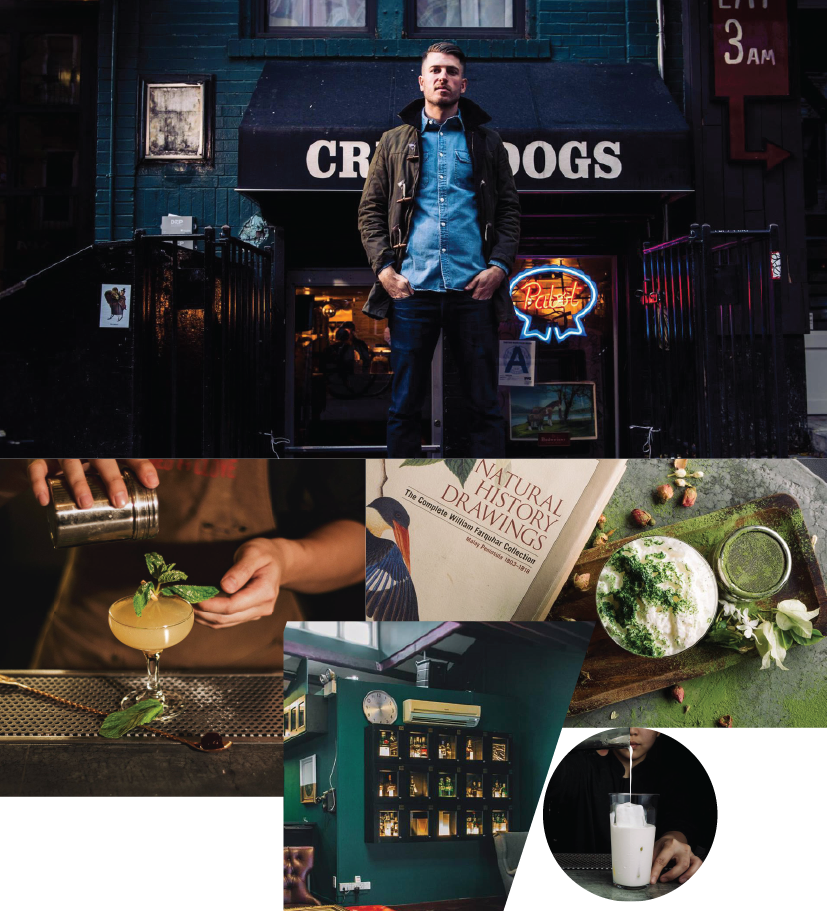 The rich history of Singapore is a flavourful one and it goes perfectly well with Nutmeg & Clove cocktails offerings. Inspired by William Farquhar's Natural History Drawings book, the bar creatively adapted local herbs, spices, and fruits, such as chrysanthemum, butterfly pea flower, watermelon, coconut, and even durian, into cocktails to recreate new classics with expected, yet familiar flavours.
THE COCKTAIL MENU IS INSPIRED BY THE WILLIAM FARQUHAR
COLLECTION, IN WHICH WE HAVE SELECTED 12 COMMON
HERBS, FLOWERS AND SPICES, TO BRING SOMETHING
UNEXPECTED TO FLAVOURS THAT WE ALL KNOW AND LOVE.
Address: 10A Ann Siang Hill, Singapore 069789
Tel: +65 9389 9301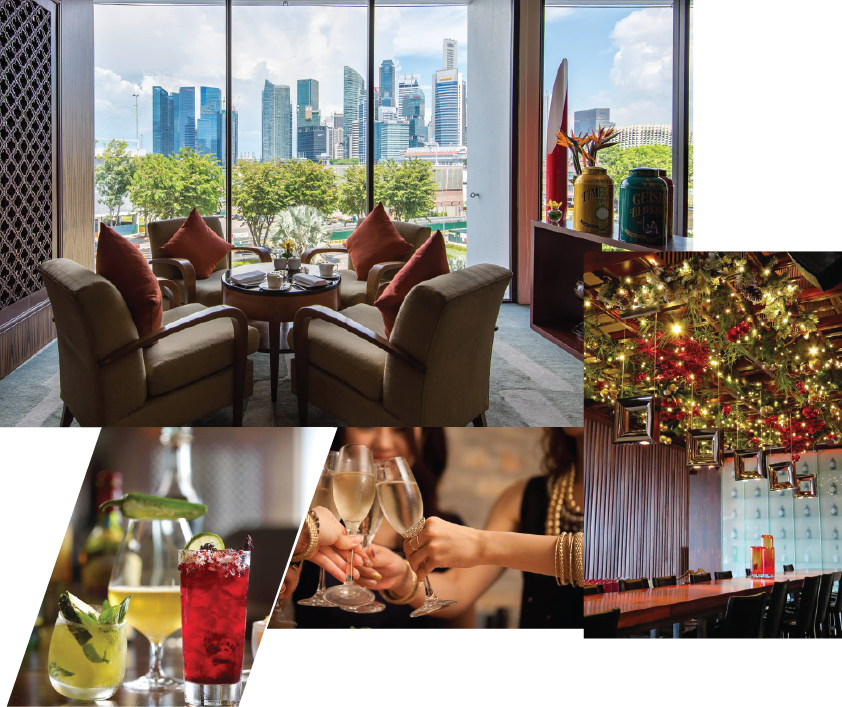 With sweeping views of Marina Bay, chic contemporary design, and elegant setting, Axis Bar and Lounge is where Singaporeans and travellers go to see and be seen. During the day the lounge serves delectable selections of light snacks and sandwiches, as well as afternoon tea, sweets, and scones. The bar transforms into a chic destination for light tapas and refreshing cocktails with glittering sea of night lights in the background.
BREATHTAKING VIEWS AND A
MODERN DESIGN MAKE AXIS A
STUNNING VENUE, DAY OR NIGHT
Address: 5 Raffles Avenue, Marina Square,
Singapore 039797
Tel: +65 6885 3500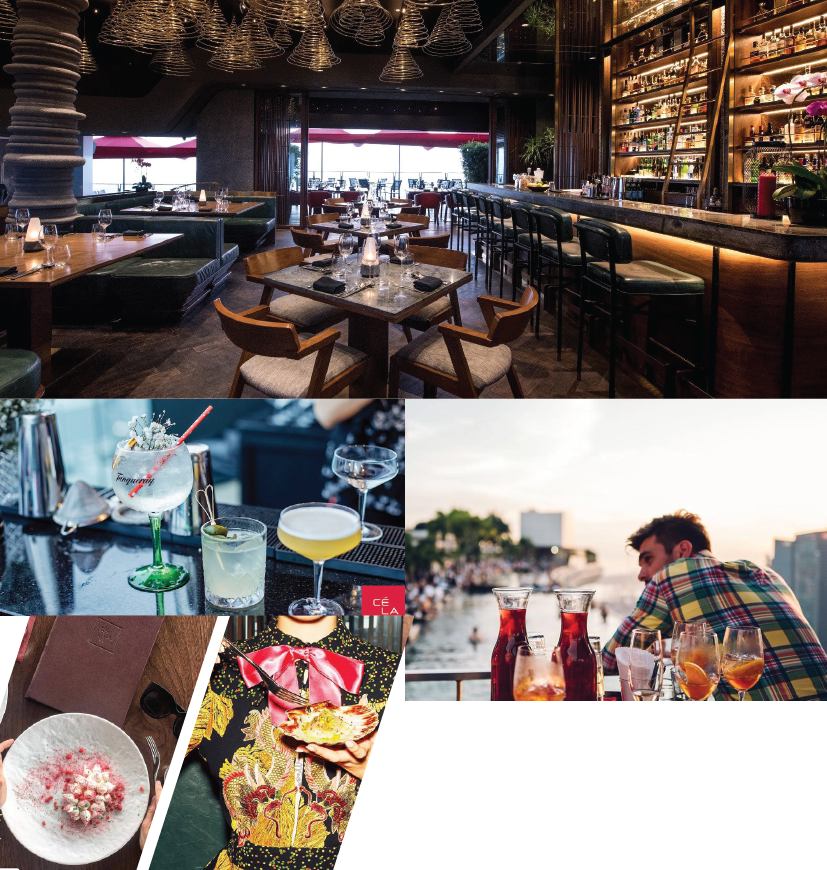 The world seems a little more glamourous when you stand on top of Singapore's youngest architectural landmark. Perched on the SkyPark of the fabulous Marina Bay Sands, CÉ LA VI is the party bar with unobstructed panoramas. The awardwining bar boasts an extended list of fine wine, champagne, and sake selections, which can be paired excellently with its world-class Asian cuisine.
ICONIC ROOFTOP
LOCATIONS THAT COMMAND
BREATHTAKING 360-DEGREE
VIEWS. MODERN ASIAN
CULINARY ADVENTURES IN A
SPECTACULAR SETTING.
Address: 1 Bayfront Avenue Marina Bay Sands
Tower 3, Singapore 018971
Tel: +65 6508 2188
THE GALLERY OF ARTISTIC COCKTAILS
Great rooftop bars aren't defined by its height alone as proven by Smoke & Mirrors. Nested on the top floor of the Grand National Gallery, Smoke & Mirrors sits just 6 storeys high above ground, but it still commands one of the most spectacular cityscapes in Singapore. The bar is Yugnes Susela's, a former Tippling Club bartender, big break as the head bartender, so expect cutting-edge cocktails inspired by Asian flavours, canvasses in the gallery, and reinvented classics with a play on chemistry and enchanting presentation.
SMOKE & MIRRORS IS A DESTINATION BAR KNOWN FOR
SPECTACULAR PANORAMIC VIEWS OF THE MARINA BAY
AND A PROGRESSIVE COCKTAIL PROGRAMME HELMED
BY HEAD BARTENDER YUGNES SUSELA
Address: 1 St. Andrew's Road, #06-01 National
Gallery Singapore, Singapore 178957
Tel: +65 9234 8122
A DIFFERENT TASTE OF YOUR FAVOURITE SPIRIT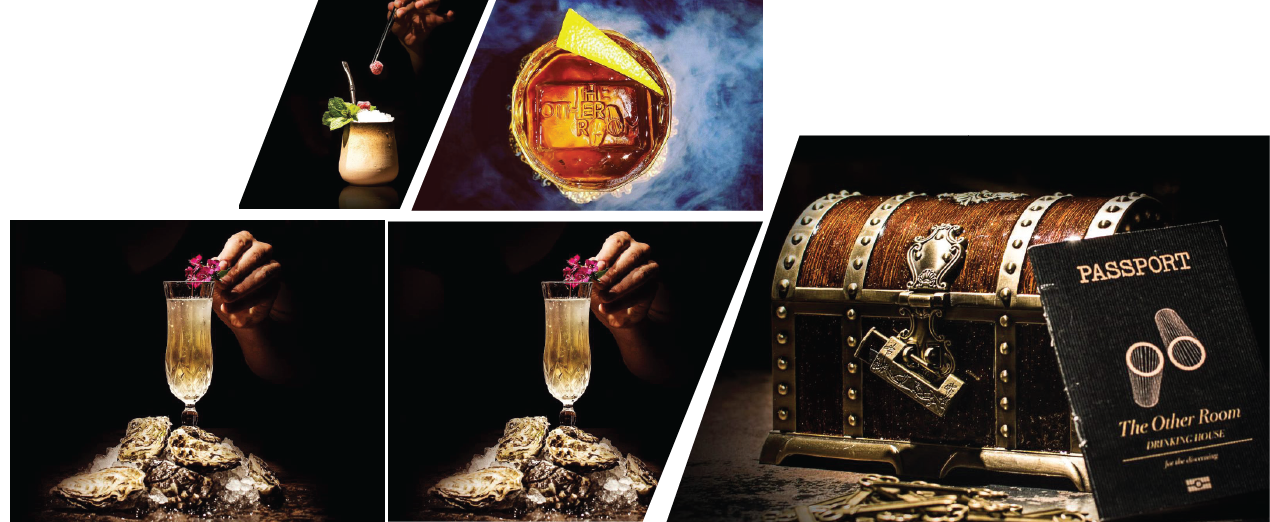 The Other Room is the playground of Master Bartender Dario Knox. Using the "Cask Finishing" technique, he and his team of trained professionals deliver a different experience of some of the world's favourite spirits in a setting inspired by the Prohibition Period in USA. You could imagine what a pepper-infused Hendricks and a port cask-finished Diplomatico Reserva Exclusiva will be like until you have tried them. And with over 150 crafted cask finished spirits to play with, The Other Room will have you going back every day to try new and unexpected flavours
ONE OF A KIND, THE OTHER ROOM IS THE ONLY
PLACE ON EARTH WHERE ALL THE SPIRITS GO
THROUGH THE PROCESS OF FINISHING. A
WORLDWIDE NEW CONCEPT OF IN-HOUSE CASK
FINISHED SPIRIT.
Address: 320 Orchard Road, #01-05 Marriott Tang Plaza Hotel,
Singapore 238865 Tel: +65 8300 6085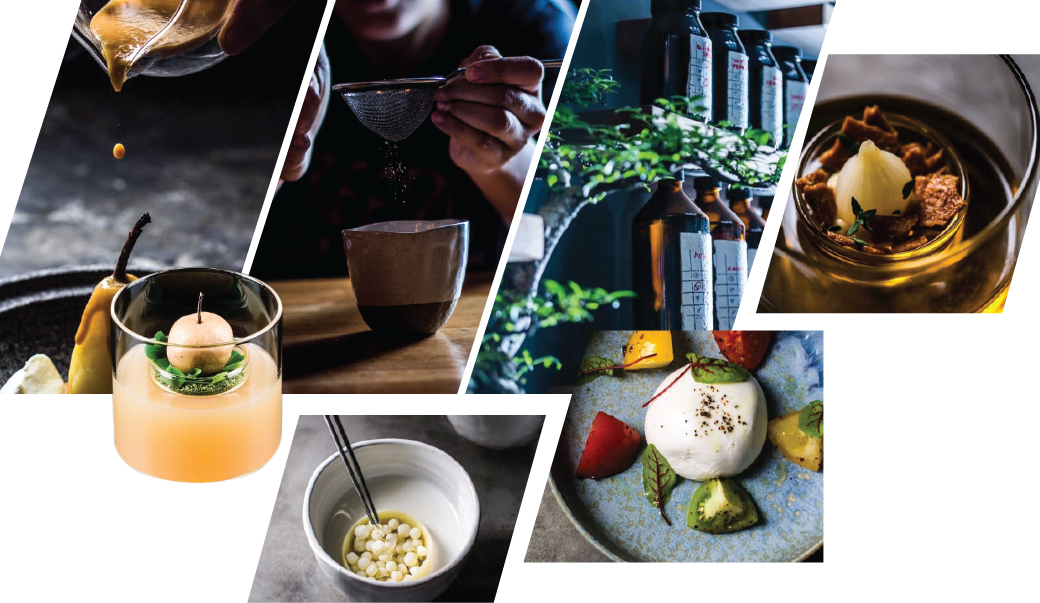 Operation Dagger isn't your ordinary glitz and glam scene when you think of a great bar. The underground bar looks like a secret lab in its modern minimalist style with polished concrete, and wooden bar and shelves. However, it didn't earn a place on Having been on the list of World's Best 50 Bars for 2 consecutive years for its minimalist décor alone – it's the complexity in the glass which pairs exceptionally well with light snacks too. You can try each cocktail on your own desire or take their 3-course Omasake to get the full flavour experience.
HEADED BY LUKE WHEARTY AND AKI NISHIKURA, THE BAR
LIES UNDER A CLOUD OF LIGHT BULBS AND AGAINST A
BACKDROP OF SHELVES, ON WHICH STAND ROWS OF TINTED
BOTTLES LABELLED WITH A GRID OF FADED DRAWINGS.
Address: 7 Ann Siang Hill, #B1-01, Singapore 069791
Tel: +65 6438 4057