Penang might be off the radar for some travelers, but this charismatic city never fails to impress every time you visit. It is easy to get to, inexpensive, and stylish in many ways. Let's get to know 3 different faces of Georgetown, Penang, and prepare to list the charming city as your next destination.
Built in 1890, the luxurious mansion was formerly the residence and office of Chung Keng Quee, one of the wealthiest men in 19th century Penang and the leader of Ghee Hin, a Chinese secret society. After the decline of his clan, the mansion was acquired by a property developer in 1990s and revived it as a museum dedicated to Peranakan culture. The interior is a seamless mix between sumptuous traditional Chinese and western design with more than 1,000 Peranakan antiques.
ADDRESS: 29, CHURCH ST, GEORGETOWN, GEORGETOWN, PENANG
OPENING HOURS: EVERY DAY 9.30 – 17.00
ADMISSION FEE: 20 MYR (APPROX. 150 BAHT)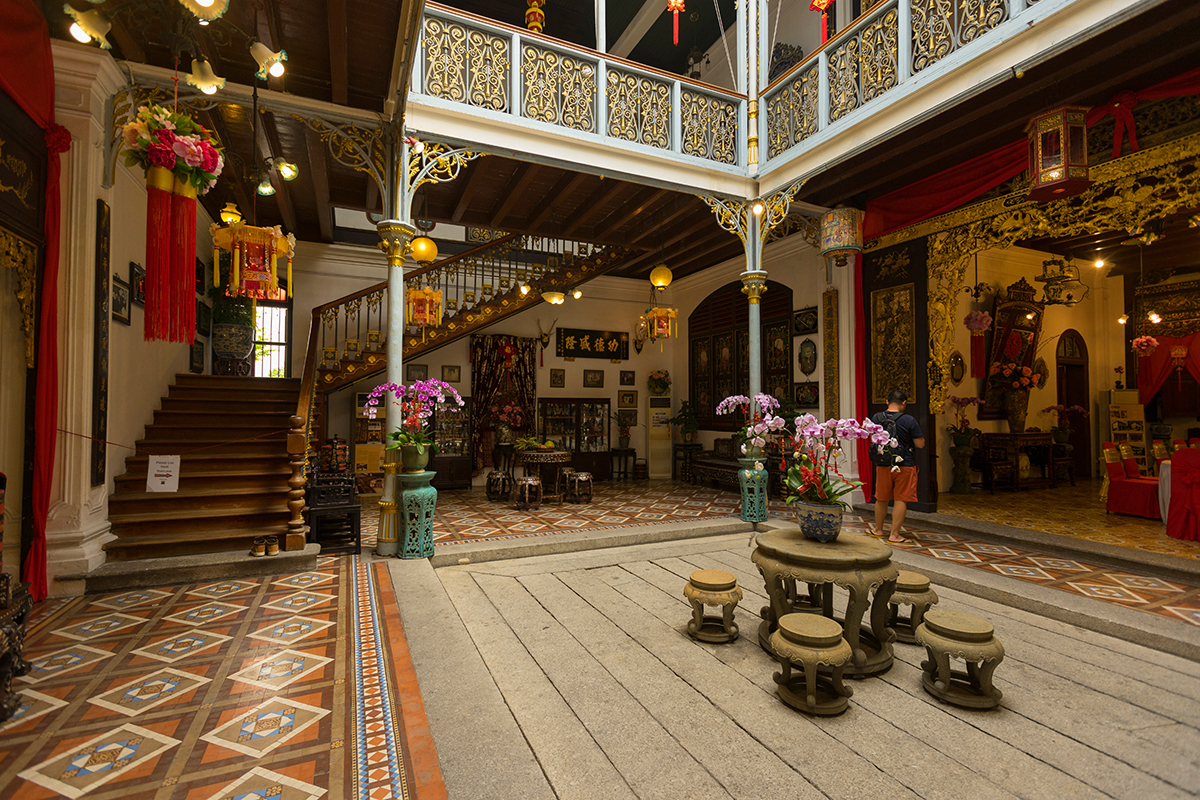 CLAN JETTIES FLOATING VILLAGE
The century old Chinese settlement literally sits on stilts over Penang waterfront. The former fisherman village is a part of Penang Heritage Trail and the breezy atmosphere makes it more enjoyable to explore the traditional lifestyle and try local dishes. There are 6 jetties, each named after a Chinese clan, with Chew Jetty being the UNESCO's World Heritage Site and the most tourist-friendly jetty.
ADDRESS: WELD QUAY, GEORGETOWN, PENANG
OPENING HOURS: 24 HOUR.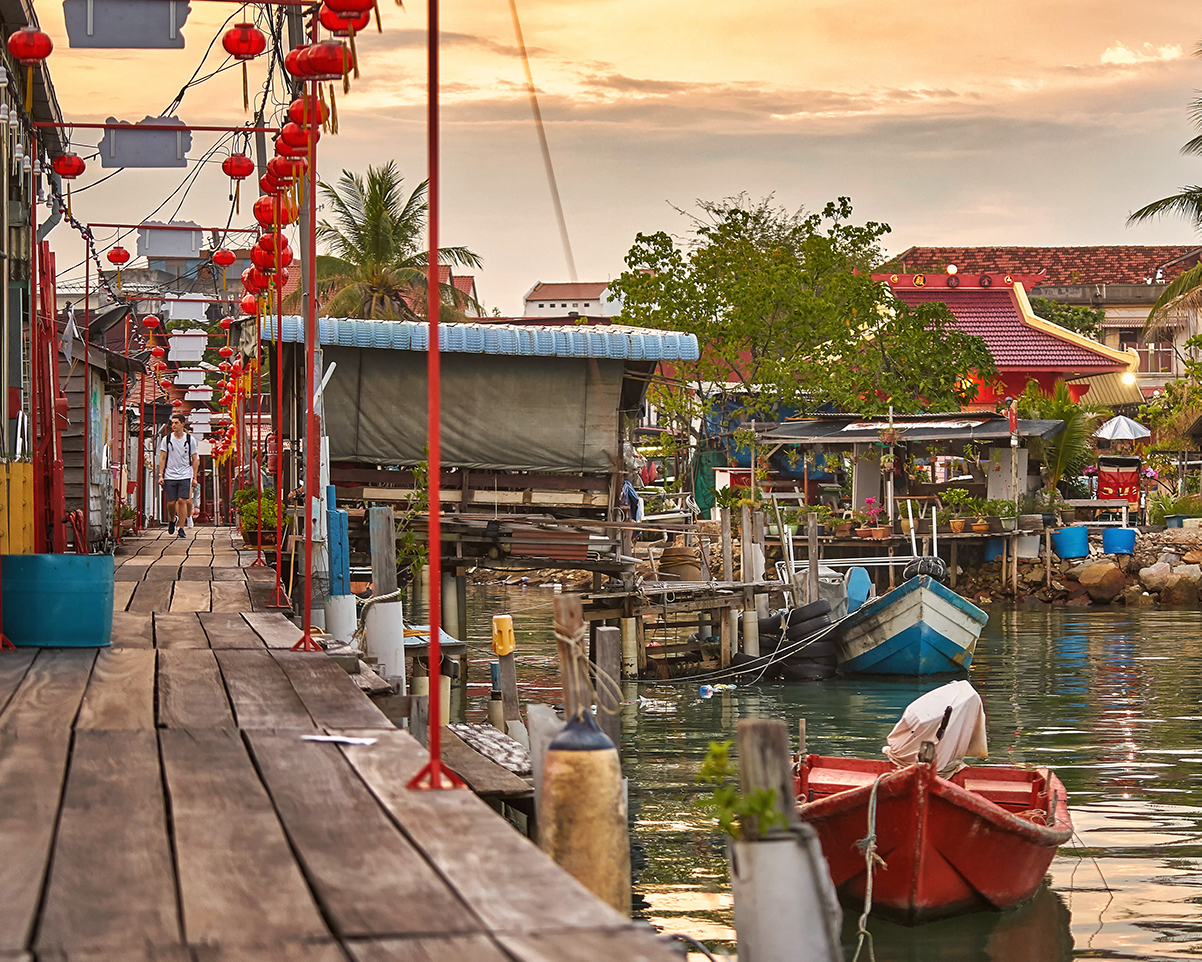 Standing tall at 823 meter above sea level, Penang Hill, or locally known as Bukit Bendera, boasts spectacular views of lush tropical forest with amazing Penang city backdrop. The sceneries slowly reveal themselves as you ascend to the hilltop on the iconic funicular railway, which has the steepest tunnel track in the world. The peaceful hill is also home to religious landmarks, including the Hindu Mosque Penang Hill and Penang Hills Mosque.
ADDRESS: BUKIT BENDERA, GEORGETOWN, PENANG
OPENING HOURS: EVERY DAY 6.30 – 17.00
ADMISSION FEE: FUNICULAR RAILWAY RETURN TICKET COSTS 30 MYR (APPROX. 225 BAHT)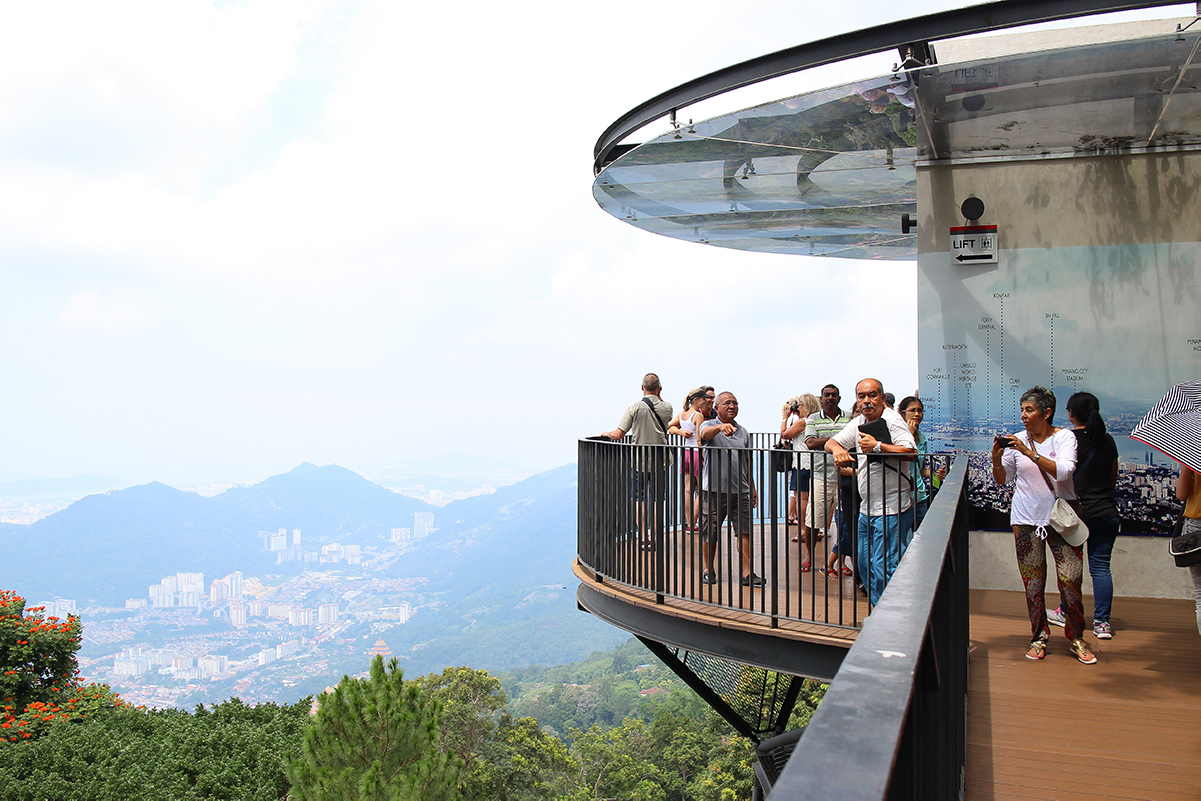 Penang National Park might not be as big as other national parks, but it hosts a great hiking experience through the forest and along Monkey Beach. Fascinating views, fresh air, and cooling sea breeze keeps the exploration exciting and fun, and you might be lucky to meet adorable wildlife such as dusky leaf monkeys and wild birds.
ADDRESS: PEJABAT TAMAN NEGARA P. PINANG, JALAN HASSAN ABBAS, GEORGETOWN, PENANG,
OPENING HOURS: EVERY DAY 8.00 – 17.00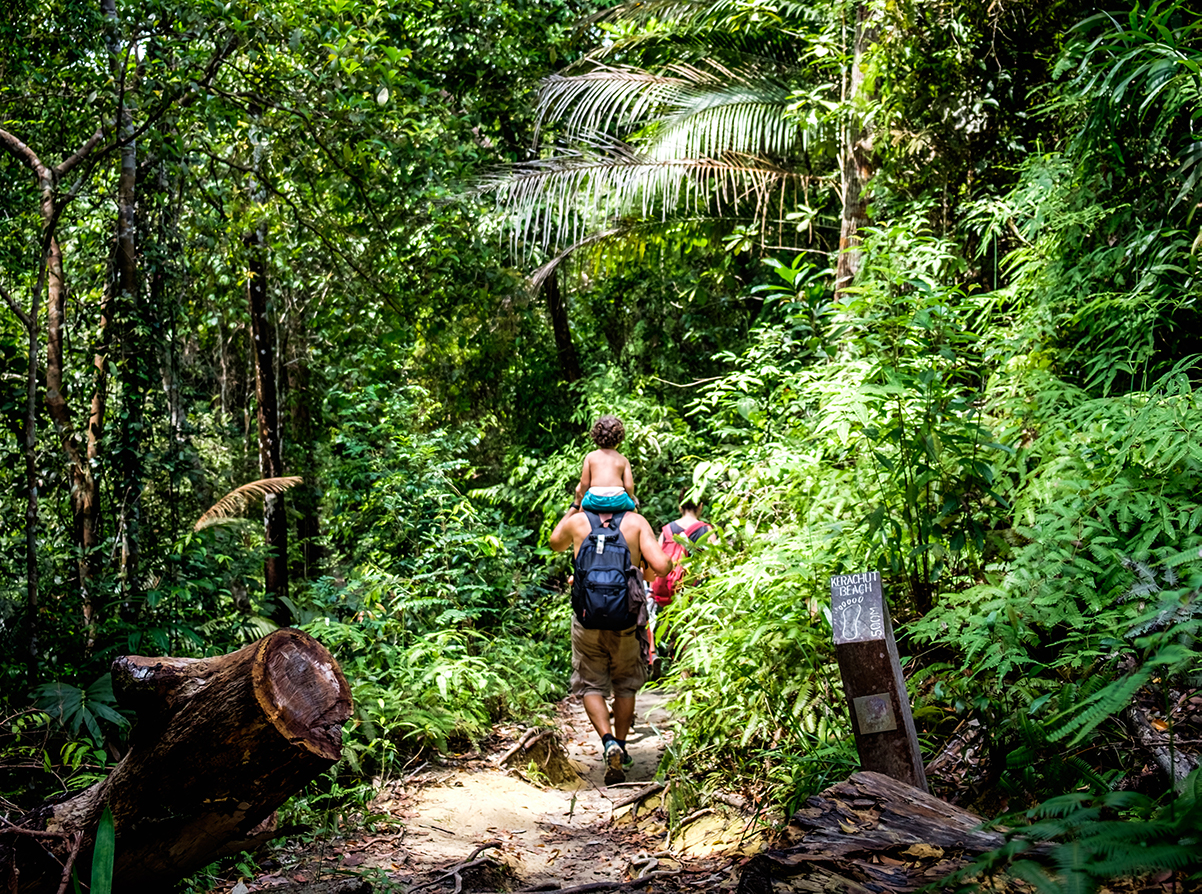 Head into the city and go to the top of Penang at The Top Tower. As the "skyscraper of Penang," the tower let you watch the charming city through the glass floor of Komtar Rainbow Skywalk while The Gravityz dares you to walk outside the building with only a safety sling at 65 floors above the ground.
ADDRESS: 1, JALAN PENANG, GEORGETOWN, PENANG
OPENING HOURS: EVERY DAY 11.00 – 21.00
ADMISSION FEE: RAINBOW SKYWALK 48 MYR (APPROX. 356 BAHT) / THE GRAVITYZ 258 MYR (APPROX. 1,920 BAHT)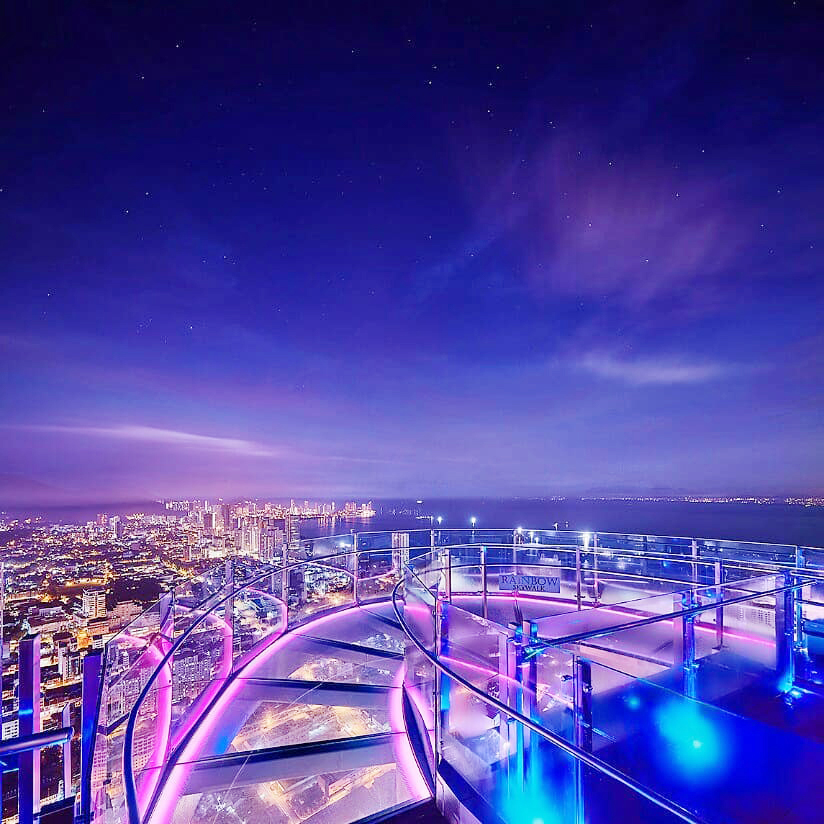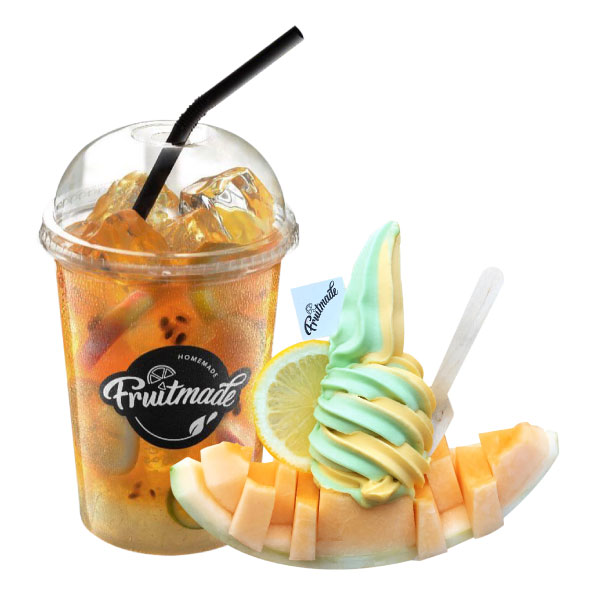 ADDRESS: 6, LEBUH CANNON, GEORGETOWN, PENANG
OPENING HOURS: EVERY DAY 10.00 – 18.00.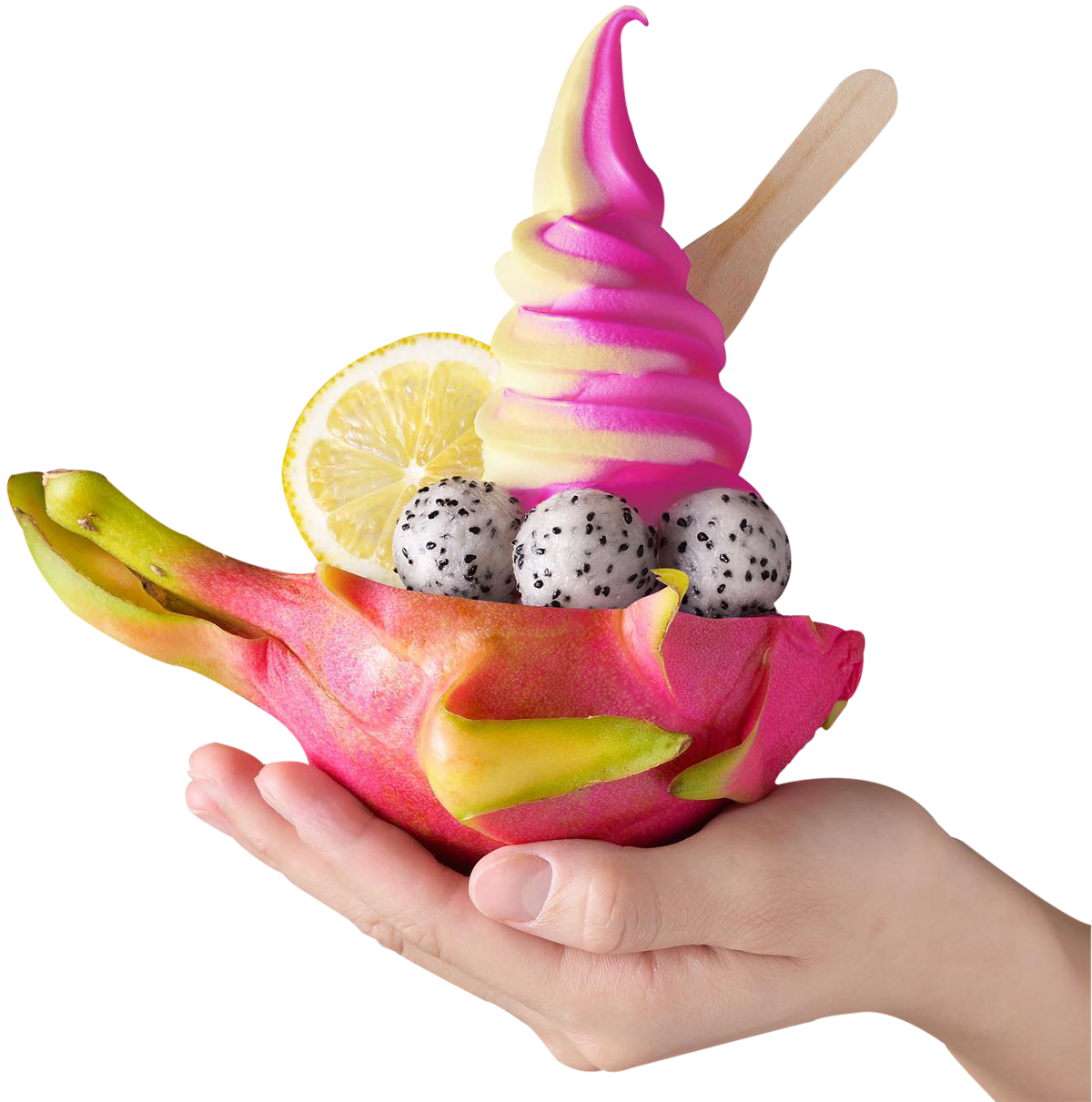 TROPICS EIGHT SUITES PENANG
ADDRESS: TROPICS EIGHT SUITS, IIA GOTTLIEB, JALAN GOTTLIEB, GEORGE TOWN, GEORGETOWN, PENANG
TEL: +604 227 1800