Sleep, connect and explore Malaysia's world-renowned heritage city with OZO George Town Penang
Sleep, connect and explore Malaysia's world-renowned heritage city with OZO George Town Penang
Special Opening Offer starts from 160 RM+ per night
Explore the culture, heritage and hidden treasures of George Town with the newest offering from ONYX Hospitality Group, OZO George Town Penang. Located right on the fringe of the UNESCO World Heritage zone, OZO George Town Penang is the perfect base for smart, savvy travellers looking for easy access to the historic shophouses, colourful five foot ways and the endless street food stalls that the Pearl of the Orient is known for, as well as a great night's sleep so that they can wake up feeling inspired, recharged, and ready to roll.
Consisting of 141 guest rooms and suites across five different categories in a 22-storey city-centre tower, OZO George Town Penang offers practical yet stylish interiors, innovative use of space, and a panoramic views of the George Town UNESCO World Heritage Site and the Straits of Malacca, as well as a sky bar with infinity pool designed to rejuvenate the body and refresh the mind. All rooms and suites come with high-quality DreamMaster beds and amazing views of the immediate neighbourhood as well as signature OZO room design with a mural wall highlighting the unmistakable charm of the well-preserved heritage buildings of the nearby streets.
OZO George Town Penang is the only hotel on the island with a penthouse sky lobby. Upon arrival, guests are greeted by the best introduction to the city ever – a bird's eye view of the nearby old town and surrounding landmarks from the 20th storey. All the hotel's facilities are located on the topmost floors so everyone has access to the best views. This includes the infinity pool, gym and ON22 sky bar located on the 22nd floor, EAT restaurant on the 21st floor and lounge and library on the 20th floor where guests can relax, catch up with friends or plan their walking routes with iMac workstations. Maps are often not required at OZO George Town Penang, as the team is more than happy to point out nearby landmarks and locals' favourite hangout spots right from the elevated vantage of Penang's highest hotel lobby.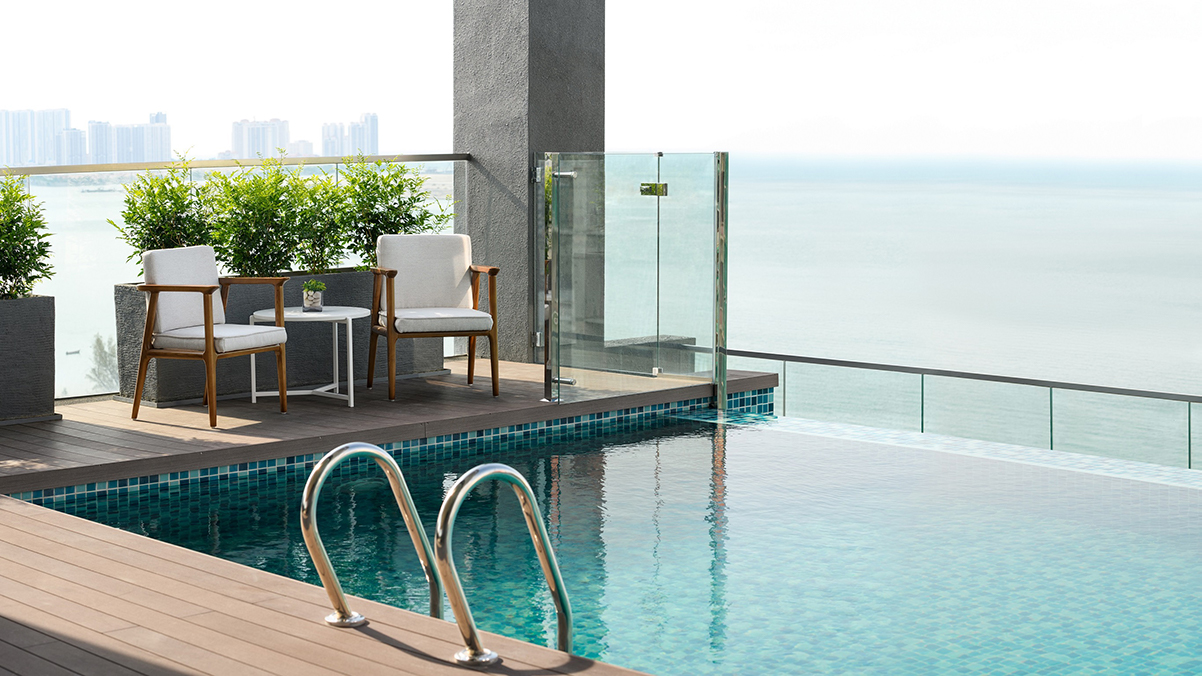 From the hotel's main street entrance along Jalan Argyll, a short stroll leads travellers to George Town's charming lanes, quaint local shops, amazing street art and heritage buildings featuring vanishing trades as well as new-generation cafes and shops. For foodies, make sure to stop by at the nearby Chinatown, Little India, the street side hawker stalls, traditional kopitiams and hipster cafes and be blown away by the multitude of choices. From the tangy, sweet and spicy Assam Laksa to the refreshing concoction of Ais Kacang or Malaysian style shaved ice, even the most seasoned foodies are sure to find something new that they have never tasted before. Don't worry about exploring to the very last minute since the hotel is less than 30 minutes from Penang International Airport.
At OZO George Town Penang, we are taking every possible precaution to ensure the safety and well- being of our guests, team members and the community. We will be implementing enhanced operational hygiene and safety standards as part of a brand-new "ONYX Clean" initiative that impacts every step of the guest journey from arrival to departure. For more information on the "ONYX Clean" initiative, please visit www.onyx-hospitality.com/onyxclean
To celebrate its official opening, OZO George Town Penang is offering a special introductory rate starting at 160 RM+ per room per night on a room only basis and 200 RM+ per room per night with daily breakfast for two. The offer is valid for bookings made by 31 December 2020 for a stay period until 30 June 2021. For reservations and more information, please visit www.ozohotels.com/penang-malaysia.