SEASON TRAVEL – Sapporo
Sapporo - The magical destination of Winter Pleasure
As the cold arises to appeal, the first lovely-white snowfall of the year, can be seen in November. Continually, from late December, a tremendous amount of snow begins double increase as Sapporo transforms into an unfeigned winter wonderland, travelers just wait to be explored, enclosed by unalloyed white snow that lasts until March. Sapporo in winter is a performance of God's miracle, with a variety of winter activities to be joined and enjoyed. For instance, skiing, snowboarding, and snowshoeing, as well as events such as the iconic Sapporo Snow Festival, which hosts a place all over city. An abundance of snow has the peak time in January and February. At first, The Snow Festival began as a one-day event in 1950, just six local high school students built six snow statues in Odori Park to celebrate the festival. Later in 1954, the first massive snow sculptures appeared, held at the Japan Self-Defense Forces. According to what happened and what was built, making the Snow Festival become famous, however, it's very unfortunately, all of these were suspended during World War II.
By year after year when the accumulated snowfall turns low, the Japan Self-Defense Force, for whom participation is considered a training exercise, brings in snow from outside Sapporo. The Makomanai base, one of three main sites from 1965, hosted the largest sculptures, with an emphasis on providing play space for children. After that, Sapporo became world famous destination in 1972 again after Olympic Winter Games. Use of the Makomanai site was suspended in 2005 and moved to the Sapporo Satoland site located in Higashi-ku from 2006. And in 2007, 57th Snow Festival, about two million people visited Sapporo to have fun with the winter activities. In 2009, the Satoland site was moved to Tsudome site. The Tsudome, located adjacent to the Sapporo Satoland, is a dome for multiple sports events. To conclude the place where the Snow Festival is set up, nowadays holds at 3 sites: Odori Site, Susukino Site and new one designated, Tsudome site.
A PLEASANT PUBLIC PARK IN THE CENTRAL SAPPORO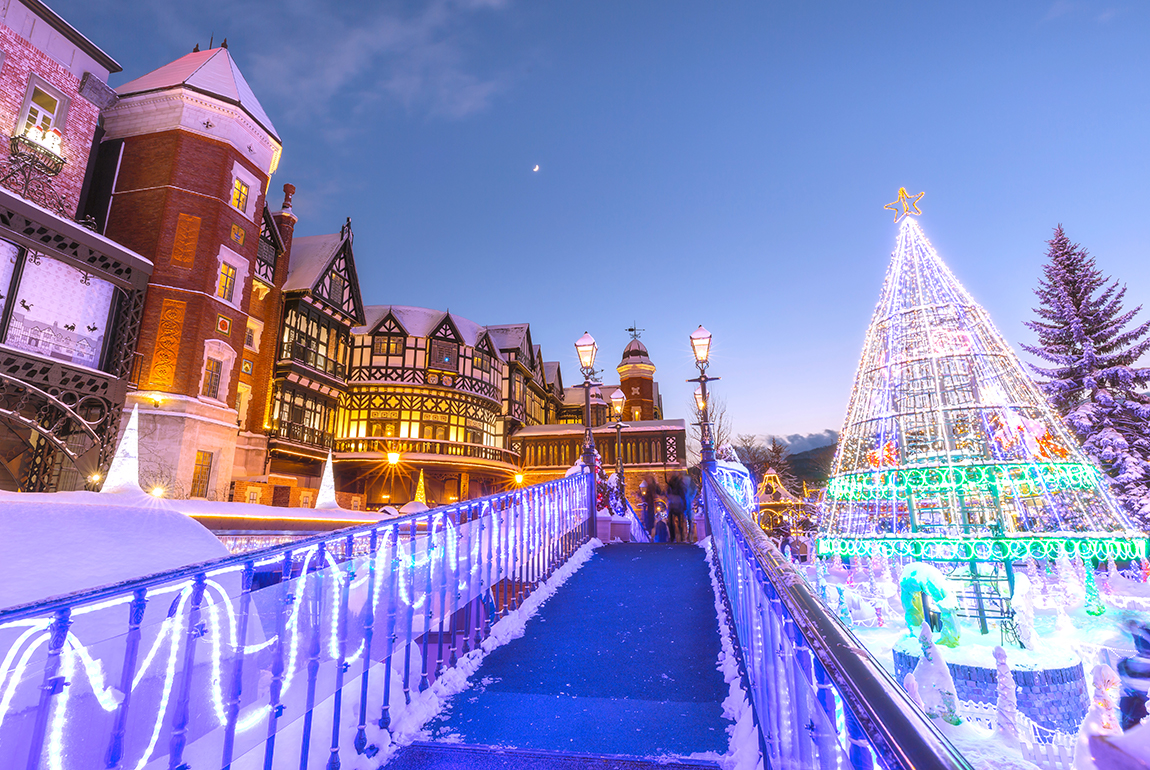 Odori Site or called Odori Park, the main magnetism of the Snow Festival, features the hundreds of snow statues and ice sculptures representing imagination or movie character from the builder from foreign countries and more. The place is a very calm and relaxed space, is also used for many of Hokkaido's best-known seasonal events. Odori Site has more offering to surprise, not only feature the extremely popular projection mapping, but also introduce for the first time, the great technology, an AR (augmented reality) produced by the latest digital technology to commemorate the great event.
Moreover, these displays will be lit up at daily night for viewing pleasure, people can see these sculptures until 10.00 pm. In fact, this site hosts the International Snow Sculpture Contest at the International Square. It's one of winter activities with so much fun! Snow sculptures of various sizes adorn the 1.5 kilometer stretch spanning from 1 to 12 chome in a park. Susukino Site is similar, but there is the ice bar to enjoy and ice sculpture contest, which people around the world come to join.
Tsudome site is quite different from two mentioned. Travelers can call that a fun zone! Tsudome Site, or officially called "the community dome", seems to be the second largest site of the Sapporo snow festival. At the Tsudome Site, daily open from 9.00 am – 5.00 pm, kids and adults generally comes to enjoy playing in the snow. Outside, a 100-meter long snow slide can be found, a "snow raft" pulled by a snow mobile and attractions, such as a snow maze. Other popular events are Build a Snowman and "Into the Snow II" it's very noticeable to see people fit themselves into a human-shaped hole dug into a wall of snow for a fun photo. Inside, there is Hokkaido's gourmet fair to be enjoyed, large playground equipment, stage events and even experience making maccha (green tea). Snow always comes a wet play, it's best to wear a snowsuit covers from top to bottom.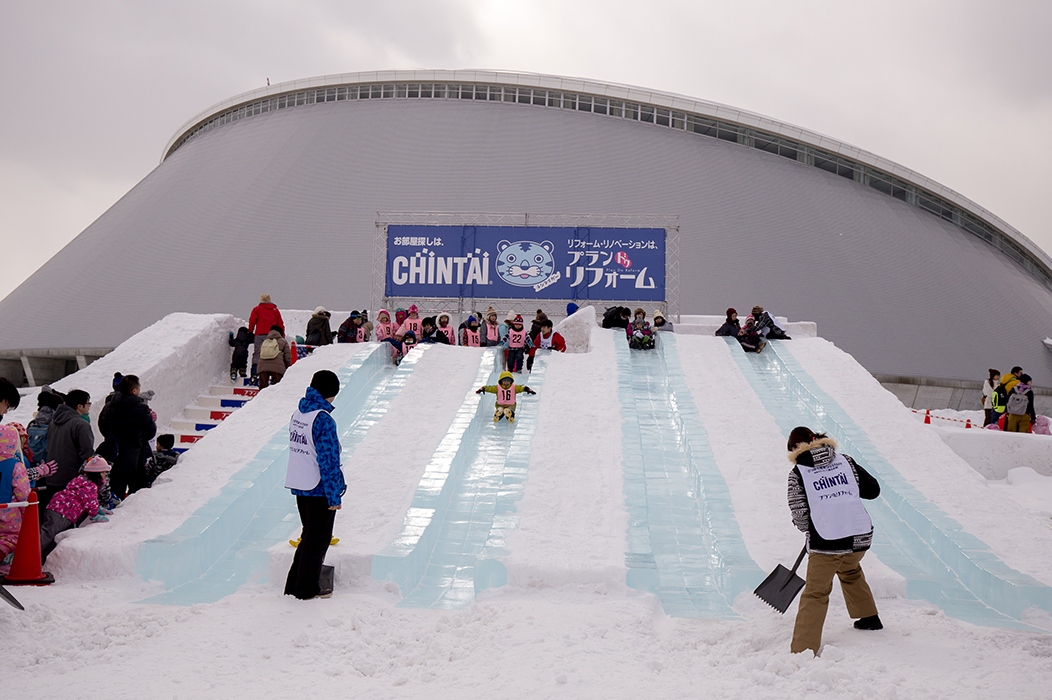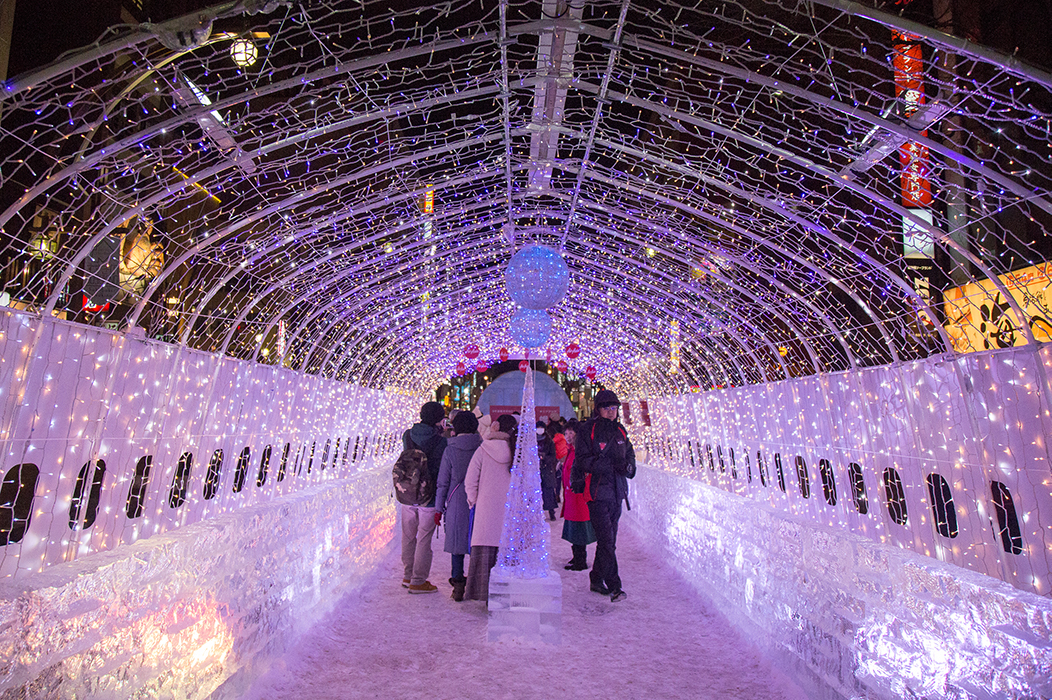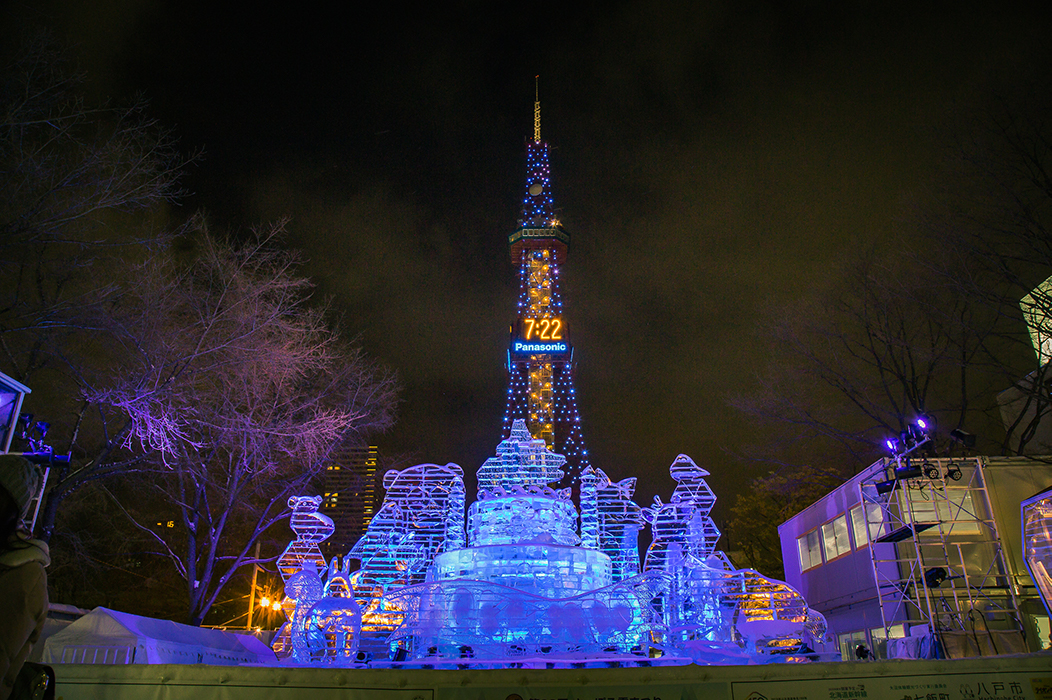 At the eastern end of Odori Park stands the Sapporo TV Tower, the most iconic landmark and the observation deck, with a high-rise 147 meters to sight the high-angle white panoramic land and overlook the romantic white-snow landscape interspersed with the wonderful night's illumination of Sapporo, especially most beautiful in Winter. The tower was established in 1957, designed by Tachu Naito, the same person who designed the vibrant Tokyo Tower. The elevator to the observation deck at 90 meters high, located on the third floor, visitors must buy tickets before reaching the observation deck, time access is between 9.00 am – 10.00 pm. From above, the entire view of the Odori Park, Mount Okura, and Maruyama are seen. The Sapporo TV Tower used to be the most eye-catching figure, broadcasting live even television transmission tower in Sapporo, but recently, after many high-rise buildings have been built and taken over its role. Lastly, it's making the tower less prominent.
The tower is approximately 5 minutes accessed by foot from Exit 27 of Odori Station (on the Tozai Line and Namboku Line) on the Sapporo Municipal Subway. And 1 minute by foot from Exit 27 of Odori Station (on the Toho Line) on the Sapporo Municipal Subway, and about 15 minutes' walk from the South Exit of JR Sapporo Station.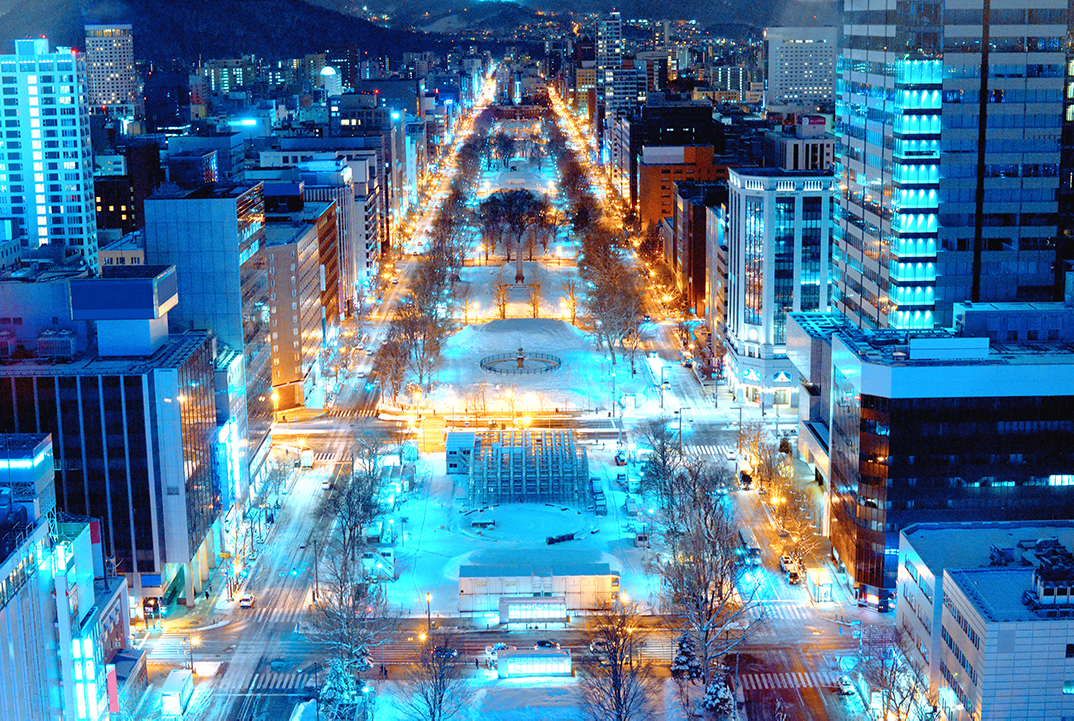 Another landmark shouldn't be missed to visit, Former Hokkaido Government Office Building. Before becoming a famous landmark and a popular photo-taking spot, the place was organized as the Hokkaido main government office. This red brick and dome-topped building was established by magnificent Neo-Baroque structure in 1888 and declared an important Cultural Property in 1969, people consider this one a familiar sight for city residents.
The measurement of the building is 61 meters in frontage, 36 meters in depth, and 33 meters in height to the top of the tower. The red bricks used in the wall of the building were made in Toyohira and Shiroishi villages, which are currently wards of Sapporo (as Toyohira-ku and Shiroishi-ku), and the number of the bricks in the walls is around 2.5 million. Most of the windows are double-paned, to keep out the freezing climate of Sapporo. Inside, it exhibits the important scene in the treasured history of Hokkaido, such as the story of Ainu tribe, strategic warfare in the past, diplomacy, geography and valued records about Hokkaido. Visitors can access the building for free. Flower gardens and a pond are located in front of the building, which occasionally are designated as some event venues, open until 9.00 pm and are a popular place for a leisure stroll.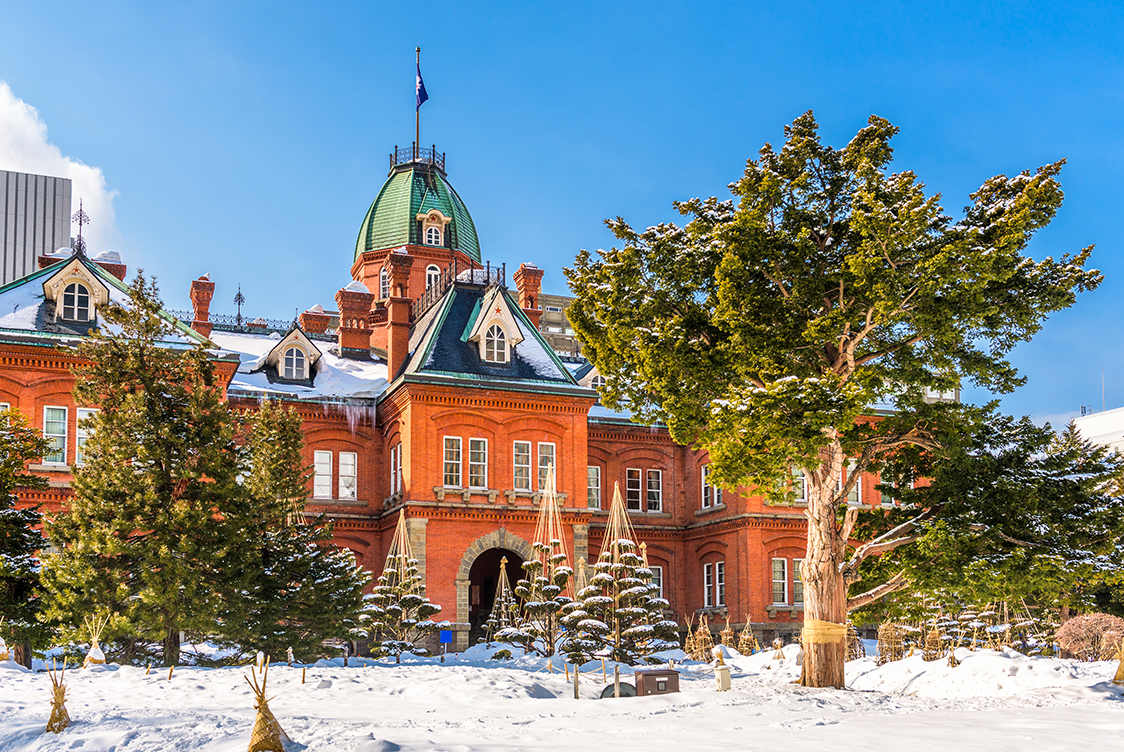 A MENAGERIE OF WINTER LOVING ANIMALS
Sapporo offers not only a man-made, but an amazing variety of winter animals is also a must! Maruyama Zoo conveniently located near downtown Sapporo and surrounded by a large park, take about 10 minutes by subway from Sapporo Station, or Maruyama Koen Station, just a short 15-minute walk through the park to the zoo's entrance. This spectacular zoo where people can see the animals up-close around 1,200 creatures of 200 different species. Local animals, such as Japanese snow monkeys and Hokkaido squirrels even those rare animals like wallabies, wombats and nearly extinct winter leopard, add to the energetic winter fun. It's a great place to take children, and visit. Moreover, Maruyama Zoo is one of the most nature-oriented zoos in the nation because there is the area recreate the Sapporo of 50 years ago when there was always an abundant nature close by, and also provide the natural habitat of the animals, therefore they can act according to their natural instincts. People can access during winter season from 9.00 am – 4.00 pm, children get free admission.
Sapporo is a city part of Hokkaido region. Winter is when the produce of Hokkaido, with nutrients and flavor preserved from the summer month. As people said, Sapporo is the spectacular winter land of white and lovely snow with a minus temperatures. Although, it's as cold as sleeping under a ton of snow, so that for winter excuse, there is a wonderful cuisine made to warm up the cold!
Seafood is known as the peak season on Hokkaido's coast. Freshly caught seafood is directly delivered to Sapporo for distribution to market and restaurant. Materials are full of meat with a refined, slightly sweet and juicy textures, best cooking for both boiling or hotpot. There's no winter trip to Sapporo is complete without having taste of seafood!
Next, Japanese Curry Soup, originated in Sapporo, a light curry flavored soup served with fall-off-the-bone chicken and colorful vegetables that are flash fried to give the vibrant colors. It's relatively a new addition to the popular Japanese curry scene. The typical soup curry consists of the following: a light curry flavored soup, chicken leg, and non-battered deep-fried vegetables, such as eggplants, potatoes, carrots, bell peppers, okra, and kabocha squash. First wonderful discover of the recipe was by a cafe in Sapporo around the year 1970. It's internationally inspired: Chinese and Korean medicinal soup mixed with curry from Indonesia, Thailand, Sri Lanka, and India. Combined to create the clever adaption of all these different influences with local elements. Later in 1999, more shops started to bring the cuisine popping up everywhere in Sapporo, then soup curry became a famous Sapporo's signature dish. And with so much vibrancy and comfort that comes with the curry, it's no wonder the locals go wild about it, and leave a message that this is the best of the best way to get through the long winter nights with this incredible dish.
You'll find winter dishes and all sorts of other culinary recommendations.