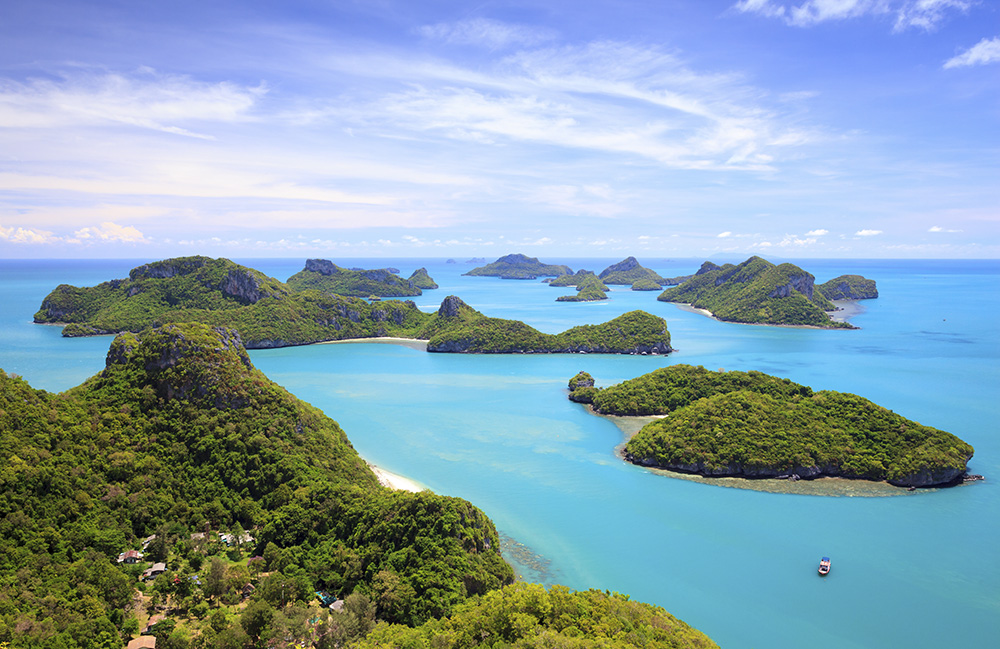 [ Samui The Superstar Island ] – TRAVEL LAND & SEA ON THE STUNNING ISLANDS OF ASIA
[ Samui The Superstar Island ] - TRAVEL LAND & SEA ON THE STUNNING ISLANDS OF ASIA
An island vacation doesn't have to be all about the beach and the sea.
You'll be surprised what these famous island destinations have to offer beside pristine white beach and crystal clear water. These islands we are about to introduce to you are wonderful treasures of Asia where you can enjoy many different kinds of pleasure that other places barely have it all within one place. We guarantee that these five destinations naming Maldives, Bali, Phuket, Hainan, and Samui will pump your urge inside to travel soon or later. We will show you all, from interesting attraction on land to the whale in the sea. You will learn food drink and festival that you can't miss when going.
We hope you have the best holiday this summer with our land and sea issue.
Samui The Superstar Island
If you compare Samui to an actress, you'll see a naturally beautiful superstar with a humble background. Just mention the name and there's no need for further explanation. The island is always in the limelight, attracting camera flashlights and fans, but it never forgets its charming fisherman village and coconut plantation roots.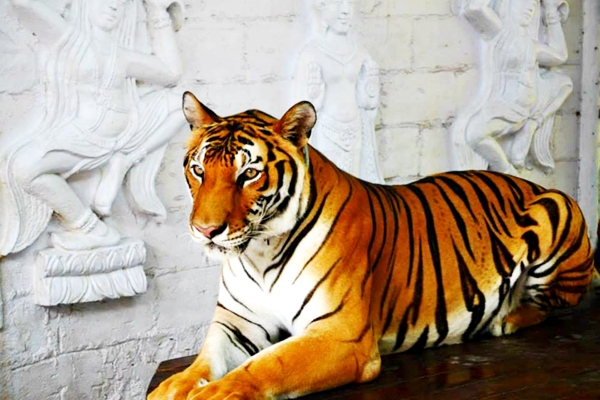 SAMUI AQUARIUM & TIGER ZOO
Experience Thailand's tropical favourites above and below the sea. This old fishing village themed Samui Aquarium & Tiger Zoo displays a collection of marine life native to the Gulf of Thailand, including sharks, rays, tropical fishes, and sea turtles, as well as land favourites like Asian tigers, parrots, hornbills, sea hawks, eagles or even otters. The family-oriented attraction certainly has plenty to keep the kids entertained on an afternoon.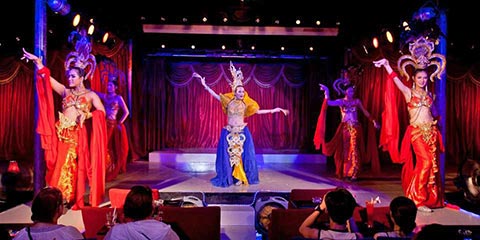 Watching an extravagant ladyboy cabaret stage show may not be everyone's cup of tea, but it's certainly a famous activity in most Thailand's beach destinations. Go no further than Chaweng Beach for a sparkling evening out and you'll be amazed how fun, entertaining, and beautiful the men are!
Bophut Fisherman Village is stepping up its reputation as a well-preserved traditional village on the island. The village keeps its original Thai-Chinese atmosphere alive with old wooden Chinese shop-houses, interspaced with a few modern buildings that match the tone. Fine restaurants and trendy pubs lined the streets, offering a wide choice of cuisines from seafood restaurants, Thai, French, Italian, and Indian. Bophut gets extra lively on Friday when vendors and stalls crowded the Friday Walking Street, selling a large array of local's favourite dishes and handicrafts.
Hidden high on the peak of Pom Mountain, Secret Buddha Garden offers an extraordinary collection of statues, depicting animals, deities and humans in various poses, including Khun Nim statue in a relaxed position sitting on a rock, which set against lush jungle and majestic panoramas from up above. The private garden was built by a faithful, retired fruit farmer, Khun Nim, since 1976 when he was 77 and the construction stopped when he passed away at the age of 91.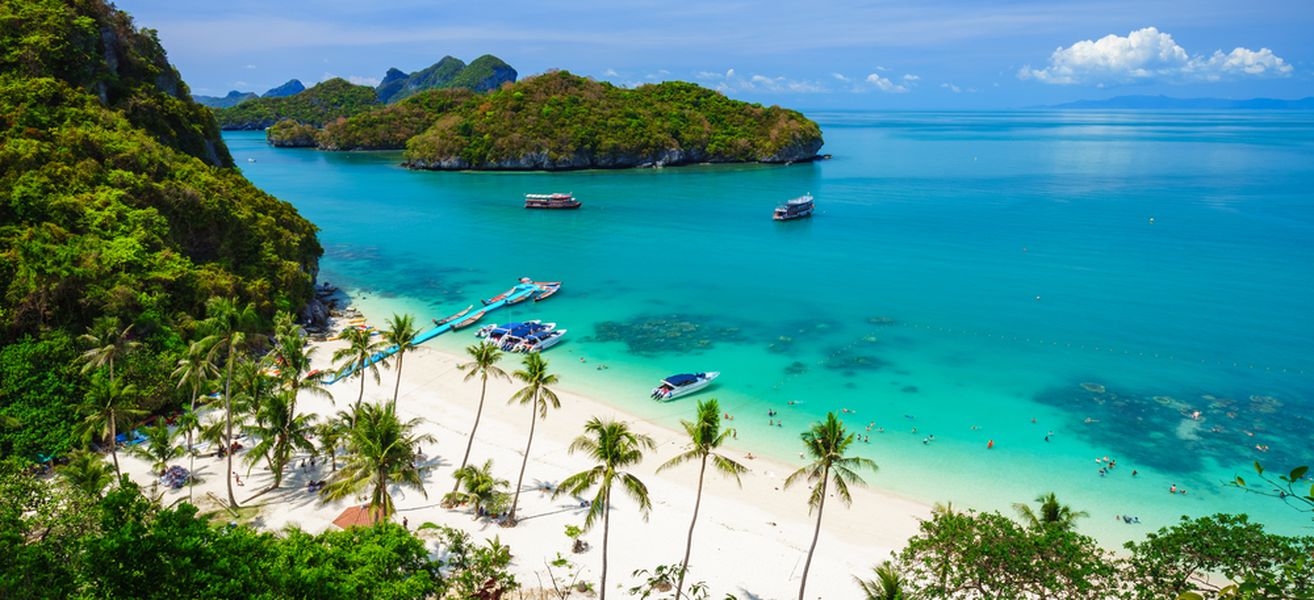 ANG THONG NATIONAL MARINE PARK
Covering over 100 km2 of pristine archipelago and crystal clear water, Ang Thong National Marine Park is home to towering limestone mountains, powdery beaches, lush jungle, fertile mangroves, picturesque waterfalls and hidden coves, as well as diversity of wildlife. Since it's very close to Samui, the national park is a popular spot for snorkelling, hiking, sea kayaking, diving, sailing or simply relax on one of its idyllic beaches.
CHAWENG BEACH & MAENAM BEACH
Chaweng is the beating heart of Samui and the center of entertainment and nightlife. The road running parallel to the beach is lined with all type of restaurants and bars, from sophisticated fine dining to fast food restaurants and classy upscale clubs to rowdy pubs. On the other hand, Maenam Beach quietly sits in the north of the island, offering breathtaking views of Gulf of Thailand and Koh Phangan, and an affordable family-friendly vacation.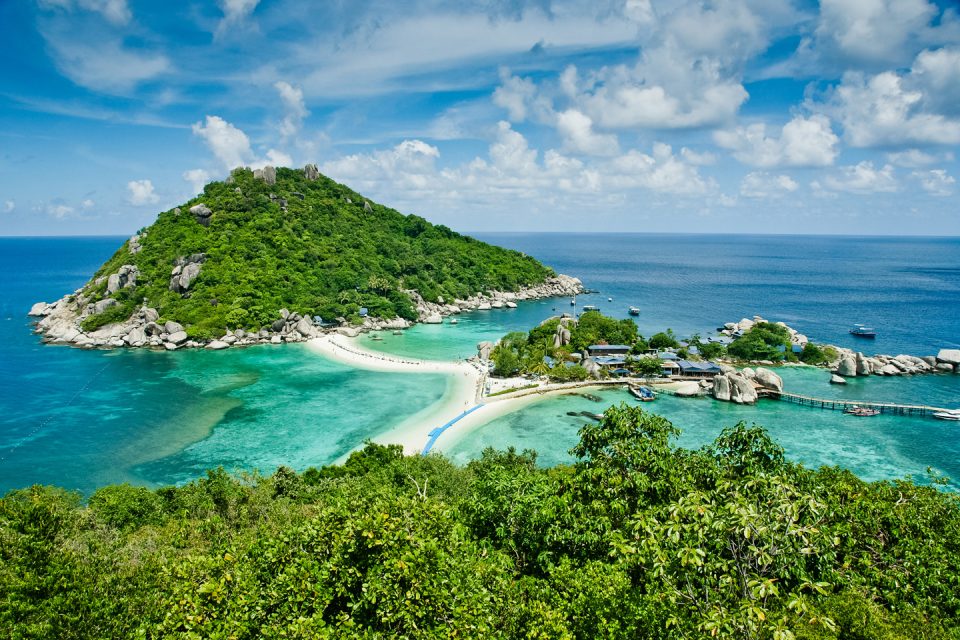 Lie 90 minutes away from Bophut pier, Koh Nangyuan features the stunning sandbar beach formed by the unique geography of the island and sea current. Enjoy the tranquility and quiet sunset on the beach, no cars or hustle or bustle.
For a more adventurous trip, Koh Tao is among the best places in Thailand to learn to dive. Learn to scuba dive and travel into the underwater world to experience turtles, stingrays, barracdas, tropical fishes, and reef sharks in their natural habitat.
Beside leisure activity like snorkeling or kayaking, extreme water sports are a great way to put a milestone in your memorable trip. To get your adrenalin pumping, Jetlev Flyer will get you 5 meters above the water in a jetpack. If 5 meters sound too easy, how about flying higher on a para sail? It'll be an unforgettable experience and a spectacular one too!
• Nam Prik Mung Mang
Nam Prik Mung Mang or Bilimbi Chilli Dip is a traditional southern Thai dish. The extremely sour bilimbi is contrasted by the saltiness and strong scent of Kapi or the shrimp paste. If you are not familiar with Thai food, the combination of Kapi, chilli, and bilimbi might be a little too overwhelming, but for the locals, the dish is a delight.
• Kang Palok Maplao
Who would have thought that coconut shell is edible! Kang Palok Maplao is a unique island dish made by cooking young coconut shell with coconut milk and curry paste. The result is a slightly bitter and sweet dish.
• Kai Hoi Men Yum
Sea urchin roe is considered a local delicacy since one sea urchin yields only a spoonful of roes. Locals usually cook sea urchin roe with fresh lime and chilli to make an explosive sea urchin roe salad.
Set on the soft pristine sands of Choeng Mon Beach, Sala Samui offers an idyllic retreat with comfortable and relaxing ambience created by a harmonious blend of traditional Thai architecture, modern facilities, and luxury amenities.
Stylish rooms and villas feature sweeping Thai roofs and cool, crisp white decor, surrounded by scented gardens, many of them with private pools. Meanwhile, the minority Deluxe Balcony rooms have what's could be easily described as a veranda. Sala Samui boasts an abundance of private space and the higher-end villas and suites truly sprawl, with pools that are big enough for swimming, not just plunging, and a private open-air bathroom that set amongst lush gardens, and features separate bathtub and stunning outdoor shower.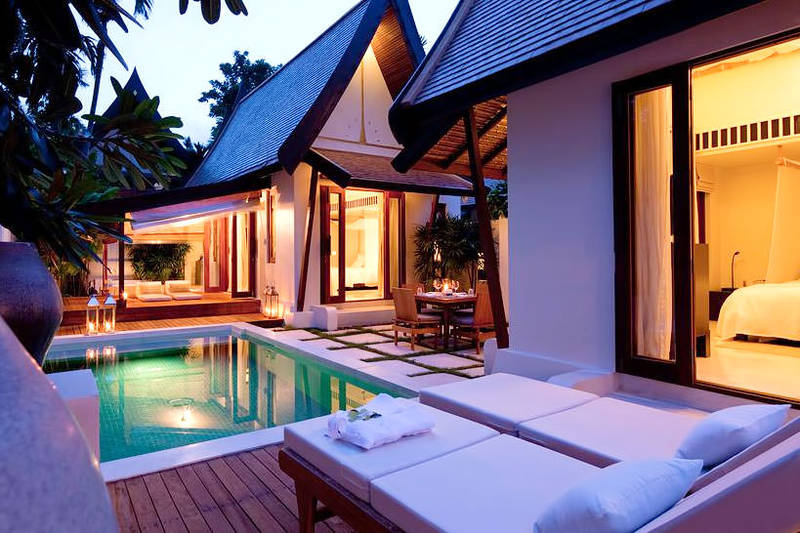 Set directly on the beautiful Chaweng Noi beach, New Star Beach Resort offers the peaceful and quiet hideaway, yet just minutes from the entertainment in Chaweng.
Set directly on the beautiful Chaweng Noi beach, New Star Beach Resort offers the peaceful and quiet hideaway, yet just minutes from the entertainment in Chaweng. The resort is outstandingly set amidst green and blooming surroundings with white sand, blue warm water and the cooling shade of palm trees. The simple earth tone shade and the overall design reflect the contemporary lifestyle and the relaxed attitude of Koh Samui. Feel truly at home in each of the resorts rooms and villas. The rooms and villas are furnished in natural tones and textures with warm wood, soft glowing lamps, and fragrant flowers creating an intimate ambience.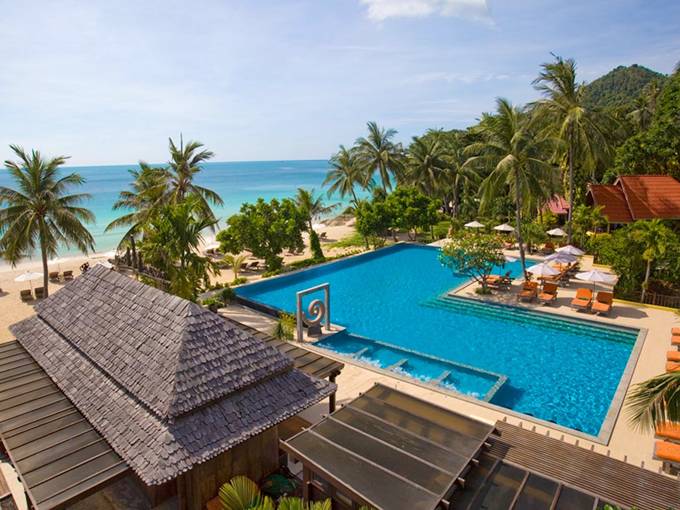 Colourful spirit of Mediterranean meets electrifying modern contemporary design and endless stream of fun at Beach Republic.
The sophisticated beach resort is a destination within a destination on the northern strip of the famous Lamai Beach! Choose from a collection of 39 private pool villas, pool penthouses, and suites, all with kitchen and dining area and private walled garden. The exclusive destination looks lively inside out, but the beating heart of Beach Republic is the Ocean Club where you lounge in private cabanas or slip into the ocean-front infinity pool while enjoying refreshing mojitos and live DJs.