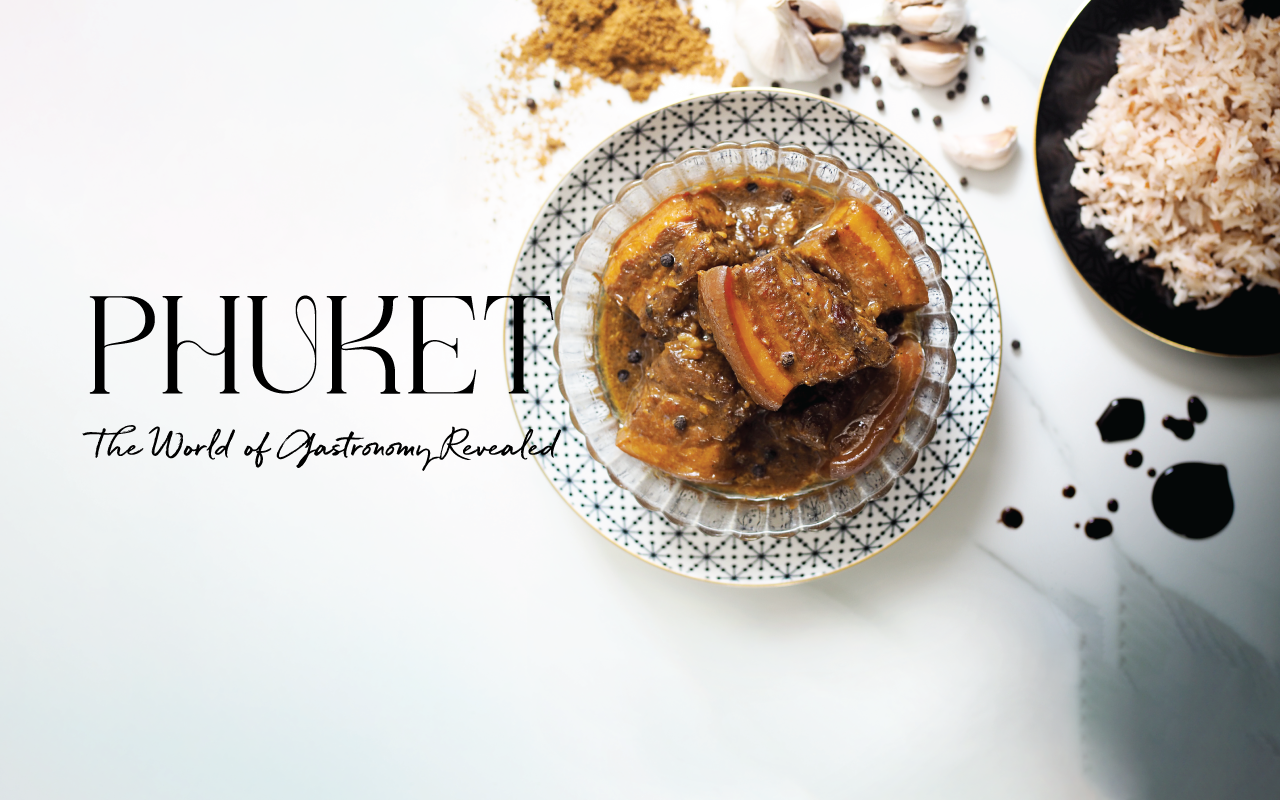 PHUKET – The World of Gastronomy Revealed
Phuket is known as the world-famous resort island with charming Sino-Portuguese architecture, but it is gaining another international recognition as a gastronomic destination. Combining local traditions, lifestyle and food, the island has been the melting pot of Thai, Chinese, Malay, and Indian culinary cultures for over a century. Let's explore this foodie paradise and see why UNESCO has recognized Phuket as the City of Gastronomy!
From local hawker dish to fine dining experience, Phuket has something for everyone. Try local favourite savoury menu, including spicy chili shrimp crisp, curry noodle, curry crab, and Moo Hong (braised pork belly), and get to know some of the island's delightful desserts like O-aew, Appam, and Taosor.
AUTHENTIC FLAVOURS OF PHUKET
Kan Eang serves local and seafood dishes by the beautiful Chalong Beach. Don't miss Stir-fried Malinjo Leaves and Suan Bua Steamed Curry.
ADDRESS: 9/3 Moo 9 Chao Fah Road, Chalong, Mueang, Phuket
TEL: 076 381 323
Serving the authentic flavours of Phuket inside a charming SinoPortuguese shophouse, Tu Kun Khao represents Phuket in 2 unique ways. Recommended menus are Spicy Chili Shrimp Crisp and Chili Shrimp
Paste Sauce.
ADDRESS: 8 Phangnga Road, Talat Yai, Mueang, Phuket
TEL: 076 608 888
Tantitium is a Peranakan style bar and bistro known for its alley theme and tasty local dishes like Moo Hong and Spicy Pineapple Salad.
ADDRESS: 84 Dibuk Road, Talad Neau, Mueang, Phuket
TEL: 076 510 411
Fresh seafood has always been the staple dishes of Phuket, and it's hard to beat Pa Lai Seafood when it comes to Thai seafood menu. Menus like Sour Curry with Baramundi and Coconut Shoot will keep you coming back for more.
ADDRESS: 32 Chao Fah Tawan Ork, Chalong, Mueang, Phuket
TEL: 076 510 546
The local hawker food loved by everyone. Locals has been enjoying Na Rimtang's refreshing grass jelly for over 20 years and still counting.
ADDRESS: 40/999 Moo 4 Luang Por Cham Road, Chalong, Mueang, Phuket
TEL: 093 963 5669
Nestled in the old town on Dibuk Road, The Charm brings traditional family recipe to the table in a homely Peranakan shophouse. With carefully selected ingredients, you will love dishes like Sour Curry with Pineapple and Fish, Hainanese Pork Hamburger Steak, and local sweets that are hard to find anywhere else.
ADDRESS: 93 Dibuk Road, Talad Neua, Mueang, Phuket
TEL: 076 530 199
A BLEND OF CULTURES AND CREATIVITY
Blue Elephant Cooking School & Restaurant Phuket
Traditional but never boring, Blue Elephant invites you to experience Chef Nooror Somany Steppe take on redefining Thai cuisine. Chef Nooror's passion in culinary technique and the best ingredients, from the Royal Project and local produces, result in magical dishes that are Thai at heart. If you want to learn the secret of Blue Elephant, it's as easy as enrolling in one of their classes!
ADDRESS: 96 Krabi Road, Talad Neau, Mueang, Phuket
TEL: 076 354 355
OPEN: Everyday 11.00 – 21.00
Suay Restaurant Cherngtalay
Suay is the flagship culinary brand of Chef Tammasak (Noi) Chootong, one of European cuisine Iron Chefs of Thailand. Suay Cherngtalay serves contemporary Thai dining experience with unique and tasty dishes guaranteed by 3 consecutive Michelin Plate.
ADDRESS: 177/99 4 Si Sunthon, Thalang, Phuket
TEL: 093 339 1890
OPEN: Everyone 16.00 – 23.00
Takieng at Renaissance Phuket
Southern cuisine. Under the supervision of Chef Wittaya Kraidam, the presentation may be different, but the true essence of authentic Thai flavour is always the heart of every dish.
ADDRESS: 555 Mai Kao, Taland, Phuket
TEL: 076 363 999
OPEN: Everyday 18.00 – 21.30
AS A WORLD DESTINATION, PHUKET IS FULL OF FINE DINING AND MICHELIN STAR RESTAURANTS WITH INTERNATIONAL RECOGNITION.
A Feast for the Senses is Phuket's first Chef's Table dining experience. Chef Steven Black of COMO Point Yamu, Phuket, delivers his signature 8 courses menu that represent the best of each season. Seasonal local and imported produces are carefully sourced to craft innovative menus, resulting in a memorable experience of senses.
ADDRESS: COMO Point Yamu, 225 Moo 7, Pa Klok, Taland, Phuket
TEL: 076 360 100
OPEN: Everyday 7.00 – 20.00
Surf & Turf by Soul Kitchen
Guaranteed by Michelin Guide Bib Gourmand, Surf & Turf by Soul Kitchen offers the up-close contemporary European Chef's Table dining experience with Chef Tom Koeffers. International dishes are given a local accent and lots of creativity, which will be presented personally by the chef himself!
ADDRESS: 115 Phangnga Road, Talad Yai, Mueang, Phuket
TEL: 097 217 7434
OPEN: Mon – Sat 18.00 – 22.30
Helmed by the highly experienced Chef Noboru Fukushi, one of a few internationally recognized Japanese chefs in Phuket. Tai Omakase offers an indulging flavour of Japanese cuisine, so you don't have to fly to Japan!
ADDRESS: 88/5 Wichit Songkram Road, Mueang, Phuket
TEL: 076 368 089
OPEN: Everyday 11.00 – 21.00
Mikha Japanese Restaurant
Mikha is a well-known omakase by a young Iron Chef Thailand contender. Sushi and sashimi lovers will especially enjoy exceptional imported ingredients that will keep you coming back for more.
ADDRESS: 4 Floor Building B, Utopia Loft 3/133 Soi Suan Wat, Rawai, Mueang, Phuket
TEL: 076 627 400
OPEN: Everyday 6.30 – 22.00
Sail Restaurant by Sunsuri Phuket
As Sunsuri Phuket's signature fine dining restaurant, Sail Restaurant elegantly set the scene for a romantic dinner on the breezy terrace by the pond or indoor for a fun family meal. The restaurant boasts an open kitchen to get your appetite going while your dish is freshly made.
ADDRESS: 11/5 Moo 1, Rawai, Mueang, Phuket
TEL: 076 336400
OPEN:Everyday 7.00 – 20.00
Arguably the most popular Italian Fine Dining on the island, Acqua brings the culinary life of Chef Alessandro Frau, Iron Chef Thailand, to the plate. With Sardinian root, Acqua menus evolves around the treasures of the sea that is perfectly crafted into premium fine dining experience.
ADDRESS: 324/15 Prabarami Road, Patong, Katu, Phuket
TEL: 076 618 127
OPEN: Fri – Sun 17.30 – 23.00