[ Phuket, Thailand, The Andaman Pearl ] – TRAVEL LAND & SEA ON THE STUNNING ISLANDS OF ASIA
[ Phuket, Thailand, The Andaman Pearl ] - TRAVEL LAND & SEA ON THE STUNNING ISLANDS OF ASIA
An island vacation doesn't have to be all about the beach and the sea.
You'll be surprised what these famous island destinations have to offer beside pristine white beach and crystal clear water. These islands we are about to introduce to you are wonderful treasures of Asia where you can enjoy many different kinds of pleasure that other places barely have it all within one place. We guarantee that these five destinations naming Maldives, Bali, Phuket, Hainan, and Samui will pump your urge inside to travel soon or later. We will show you all, from interesting attraction on land to the whale in the sea. You will learn food drink and festival that you can't miss when going.
We hope you have the best holiday this summer with our land and sea issue.
Phuket, Thailand, The Andaman Pearl
With picturesque views, warm tropical weather, amazing sunshine, world's most popular beaches, and luxury 5 star offerings, it's no surprise Phuket is one of the most popular travel destinations in the world. Phuket has an abundance of treasures to be discovered both on land and sea, so let's get to know why the island is known as the "Pearl of the Andaman"
Located in downtown Phuket, just steps from Robinson Department Store, Kaset Night Market is the place to taste local flavours influenced by three distinctive cultures – Thai, Chinese, and Muslim. Street food venders set up their shops in the evening and the market gets extremely busy around 8 til late. Locals come here for their daily treat and tourists love to sample myriad of affordable savoury and sweet menus then wash everything down with exotic local beverages like Asiatic pennywort drink and butterfly pea drink.
Rich, multicultural history of Phuket reflects vividly in the Old Phuket Town. The main street is lined with Chino-Portuguese architectures built during the reign of King Rama V when tin-mining was attracting Chinese and Malay migrants and European traders. The architecture combines distinctive classic Renaissance and neo-classic with influences of Chinese and Thai style, and the best way to appreciate these historic buildings is to walk the streets.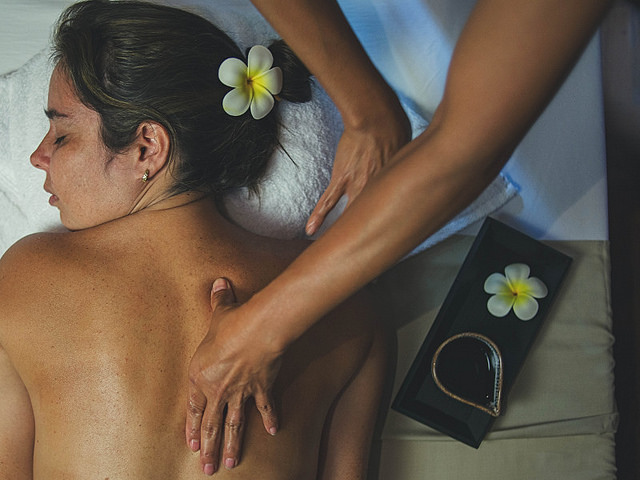 You haven't experience true indulgence of Thailand if you have not been pampered in a 5-star day spa. Located in a serene corner of Kamala, Oasis Turquoise Cove Spa is the newest addition to Oasis's award-winning spa portfolio. Find yourself stepping through the columned archway into the Moroccan inspired treatment villas with a king-size treatment room, private relaxation area, and terrazzo baths. Matching the elegant interior is Oasis' famous treatments that combine traditional Thai therapy with modern science of beauty and wellness. Forget all the stress in the world and refresh, revitalize, and renew your body and mind from top to toes.
Wonder how pearls are made? Phuket, or "The Pearl of Andaman", produces some of the best pearls in the world and a visit to a pearl farm is a must for any tourist. Phuket Pearl Factory Group is the first fully integrated pearl producer and they run an insightful tour to their farm/learning center. Discover how the rare and beautiful Cultured Pearl is produced, from the seeding of an oyster to the harvesting and grading of a pearl, right through to the final stunning product on display in the showroom.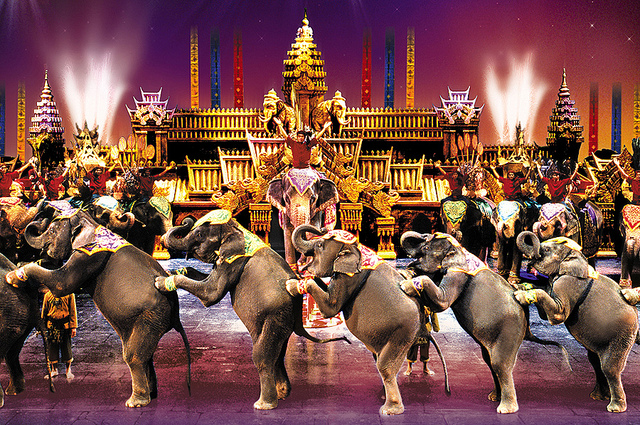 UNFORGETTABLE STAGE SHOWS
Rich Thai culture meets creative fantasy and mind-blowing shows. Phuket Fantasea turns 140 acre of land into a unique theme park with extravagant shows, games, and entertainment. Play carnival-like games for all-age, shop local handicrafts and souvenirs, dine in a 4,000-seat themed restaurant, and be amazed by stunning theatrical shows. If cabaret shows intrigue you, you are in for an unforgettable evening at Simon Cabaret Show. Extravagant costumes, make-up and sets take you across the world in a spectacular display of colourful, original and fun show performed by world famous ladyboys.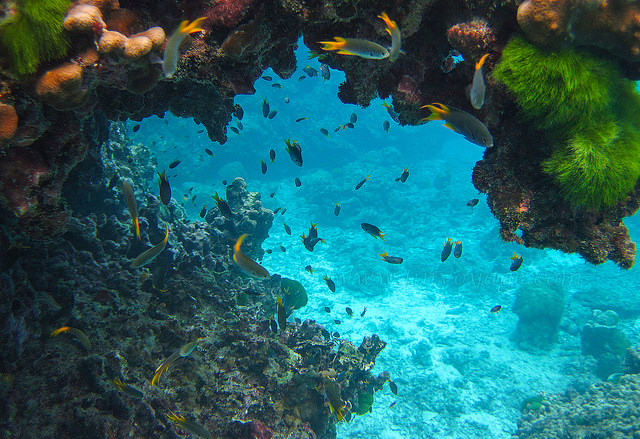 Ranked in the world's top 10 scuba diving destinations, Phuket boasts warm crystal clear water, spectacular reefs and rock formations, and colourful marine lives. Phi Phi Island and Racha Islands are perfect dive sites for both amateur and veteran divers. However, if you are an experienced diver seeking a fascinating dive with whale sharks and manta rays, head to Similan and Surin Islands in the Andaman Sea. While scuba diving gets you deep into the magical underwater world, snorkeling in shallower water around Ao Sane, Kata Noi, and Laem Singh Beach is a great activity for families.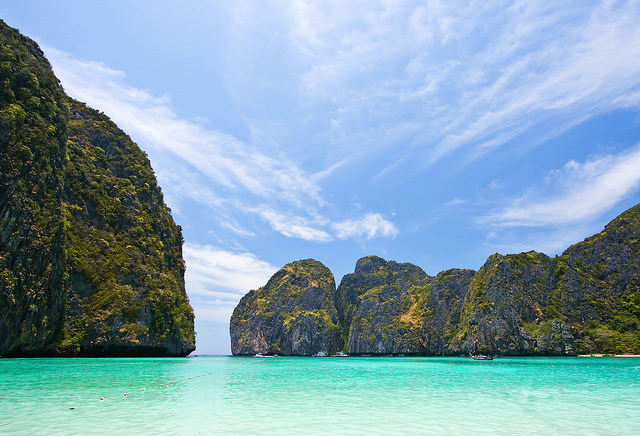 With its distinctive limestone rock formation dotting the beautiful turquoise water, Phang Nga Bay majestically embraces the title of one of the beautiful bays in Thailand. Although located in Phang Nga province, the national park is reachable by sea from Phuket. It is home to more than 40 islands with beautiful cliffs, caves and the largest remaining mangrove forests in Thailand, all which you can take a canoe and paddle out to be one with the stunning nature.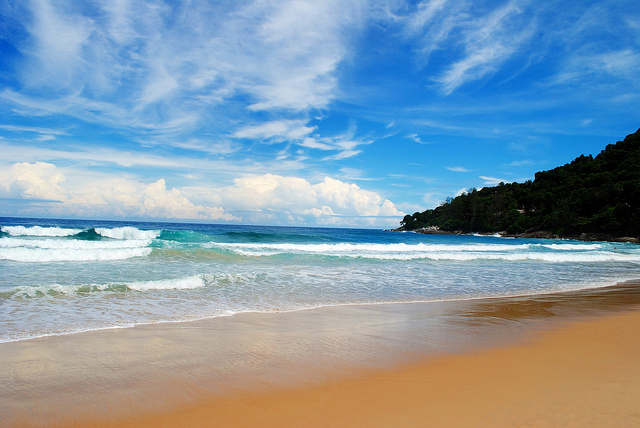 STROLL ALONG PHUKET'S RENOWNED BEACHES
Patong Beach, Karon Beach, and Kata Beach lined the west coast of Phuket and they are the beating heart of the island. Starting from the quieter beach of all 3, the palm-lined Kata Beach is a popular destination for families. Here you'll find white sand beach, clear water, great restaurants, and lively nightlife.
Just a few minutes north of Kata Beach is the third longest beach in Phuket, Karon Beach. Although it's a popular spot, the beach is wide and long enough for beachgoers to never feel crowded. Whether it'd be a snorkeling on the southern end of the beach, a shopping spree at Karon Bazaar on Karon Beach Road, or hangout at your 5-star resort, Karon Beach has everything for everyone all day long.
Patong Beach sits just north of Karon Beach and it's the most entertaining beach in Phuket. The beach and its surrounding is the best spot for a mind-blowing fun, wild party, and bustling nightlife. There are literally hundreds of restaurants, bars, nightclubs, as well as red light businesses. If you want to take a step into the wild side, Patong Beach is definitely the place to visit.
Moo-hong is the famous sweet and salty pork stew. Pork belly is cooked with sweet soy sauce, soy sauce, sugar, and spices, and keep simmer until tender.
If you have been to night markets around the country, you will definitely have come across the famous oyster omelet dish. O-Taow is Phuket's version of oyster omelet. Instead of the crunchy texture of oyster omelet, O-Taow has a soft texture which is cooked with oyster, taro, and pork cracker in a flat pan.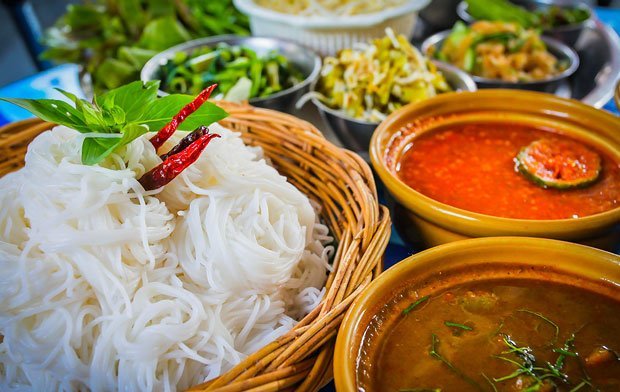 Kanom-Jean is a kind of noodle made from fermented rice flour. Locals love pairing kanom-jean with different kind of curries,as well as fresh vegetables and pickles, for breakfast.
The malaysian influenced Tu-mee curry is similar to Thai sour curry. The curry paste is stir fried to enhance the aroma and boost the flavour before adding tamarind and dried Garcinia Cambogia. This southern sour curry is usually cooked with any catch of the day and okra.
This sweet and salty traditional rice krispies treat is made from fried sticky rice mixed with fried shallot and melted sugar.
Sea Turtle Releasing Ceremony Phuket is the home and nesting ground for various species of sea turtles which came ashore to lay eggs seasonally around the end of the year. These turtles are now critically endangered as Phuket developed into a leading tourist destination. Coinciding with the famous Songkran Festival on 13th April, the sea turtle releasing ceremony aims to increase the numbers of critically endangered turtle species such as Green Sea Turtles, Olive Ridley Turtles and Hawksbill Turtles. Turtles are bred at Phuket Aquarium and release into nature when they are mature enough.The ceremony starts with a Buddhist religion ceremony, then a monk blessing, before baby turtles are released at Nai Yang-National Park.
Accompanied by professional guides, tourists quietly hide along selected beaches to observe sea turtle nesting from October to February. Since turtles are endangered animal and they are very sensitive to disturbance, it takes luck and patience to witness this wonder of nature.
•Sea Gypsy Boat Floating Festival
While most Thais pay respect to the river by floating decorated baskets during Loi Kratong festival, the sea gypsy (or Chao Lay) pays respect to the sea during their boat floating festival. The festival is held twice a year on the full moon of the sixth and eleventh lunar months. Sea gypsy communities around Phuket, including the island of Koh Sireh, Rawai, and Sapam celebrate the 3 days ceremony by letting a small wooden boat decorated with flowers and dolls adrift into the ocean. The ritual is believed to expel bad fortune and bring good luck and prosperity
IMPIANA RESORT & SPA PHUKET
Located in Patong, the beating heart of Phuket, Impiana Resort & Spa is a sanctuary surrounded by all the exciting activities, shops, and nightlife of Phuket.

As one of the earlier resorts to set its foot in Patong, Impiana Resort & Spa is the only resort in Patong that is actually on the beach, but don't let the age fool you as the resort is well-maintained and updated. With extensive experience, Impiana Resort & Spa features 68 well-appointed rooms and suites with either spectacular Andaman Sea or manicured garden views.

On the highest end, the Royal Suite, a rarity in Patong and offered in only a few elite hotels, is luxuriously appointed with lavish fabrics, classic furniture, state-of-the-art electronics, and a Jacuzzi for your pure pleasure.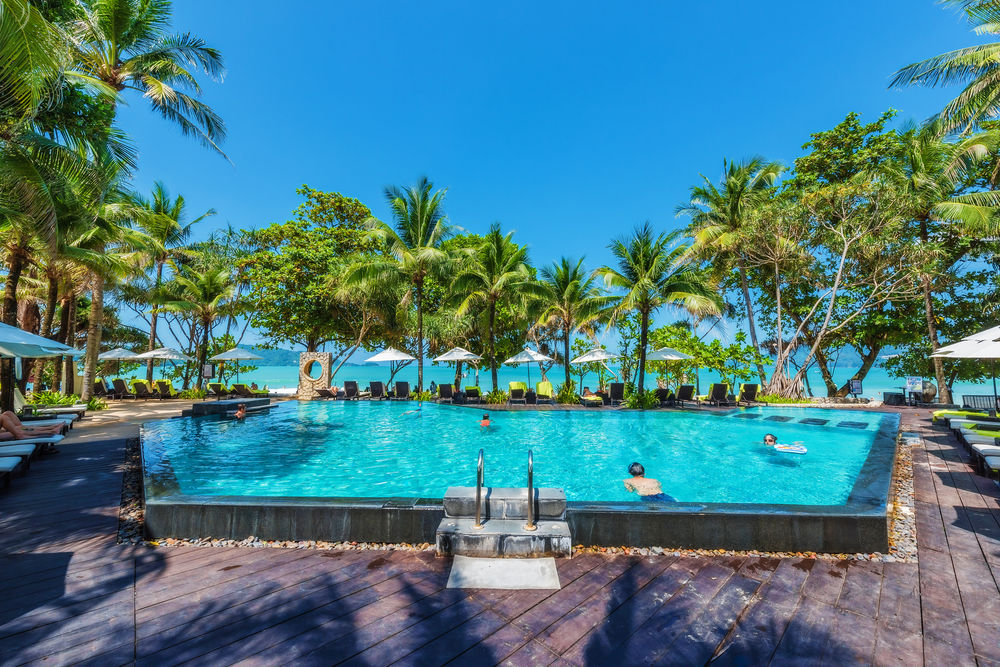 THE NAKA ISLAND, A LUXURY COLLECTION RESORT & SPA
This exclusive boutique resort is nestled amidst stunning beaches, coconut groves, and infinite turquoise blue sea of Naka Yai island.

The magical tropical oasis sits on the secluded southern part of Naka Yai island, just 25 minutes from Phuket International Airport, including a 5 minutes speed boat ride from the main island.The Naka Island Phuket takes inspirations from the fascinating setting of Naka Yai Island and translates them into unforgettable moments, from myriad of water activities and island explorations, to luxurious spa, exceptional cuisine, and enchanting villas. There are 67 magnificently appointed villas, most with spectacular views over Phang Nga Bay and Phuket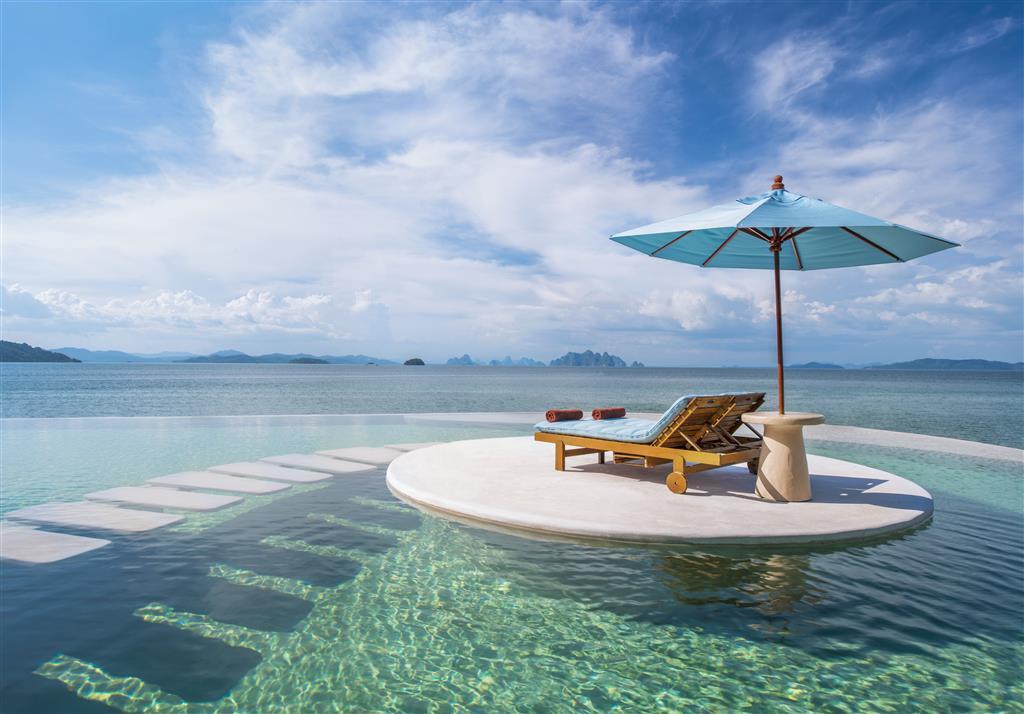 RENAISSANCE PHUKET RESORT & SPA
This stunning beach resorts is located on the Mai Khao Beach. It is the ultimate retreat for guests who want to have it all.

The perfect ambience for a relaxing vacation, a dream wedding or an executive retreat, guests can enjoy this Phuket resort's legendry Thai hospitality, exquisite food and contemporary architectural design. For those who wish to leave the world behind, guests can indulge in soothing therapies at our Quan Spa, lounge by the pool, take to the beach or enjoy a challenging workout in our gym. To tempt your palate, guests can savor local specialties and international cuisine at any one of our Phuket resort's five sophisticated restaurants.