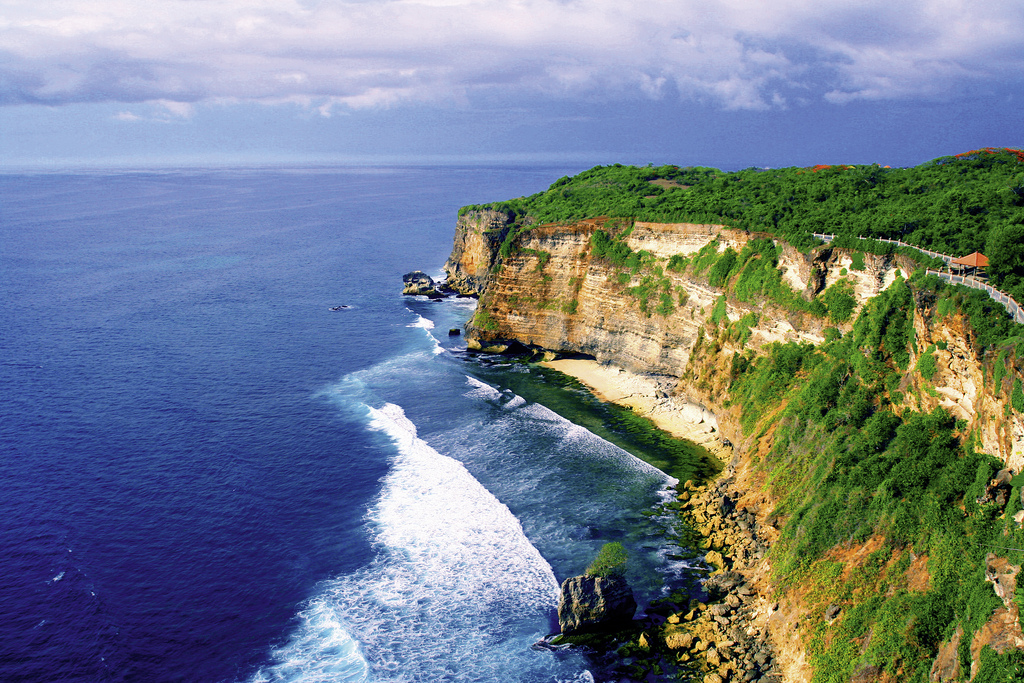 [ Bali, Indonesia An Exotic Getaway] – TRAVEL LAND & SEA ON THE STUNNING ISLANDS OF ASIA
[ Bali, Indonesia An Exotic Getaway ] - TRAVEL LAND & SEA ON THE STUNNING ISLANDS OF ASIA
An island vacation doesn't have to be all about the beach and the sea.
You'll be surprised what these famous island destinations have to offer beside pristine white beach and crystal clear water. These islands we are about to introduce to you are wonderful treasures of Asia where you can enjoy many different kinds of pleasure that other places barely have it all within one place. We guarantee that these five destinations naming Maldives, Bali, Phuket, Hainan, and Samui will pump your urge inside to travel soon or later. We will show you all, from interesting attraction on land to the whale in the sea. You will learn food drink and festival that you can't miss when going.
We hope you have the best holiday this summer with our land and sea issue.
Bali, Indonesia An Exotic Getaway
Lose yourself in an island paradise filled with surprises and surround by sparkling sea. Surf on an awesome wave, stroll on powdery beaches, or just hangout at a resort, Bali is perfect for every family, honeymooner, and leisure travelers. More than that, Bali evokesa sense of paradise that goes beyond just a sea, sand, and sun – it's a piece of heaven!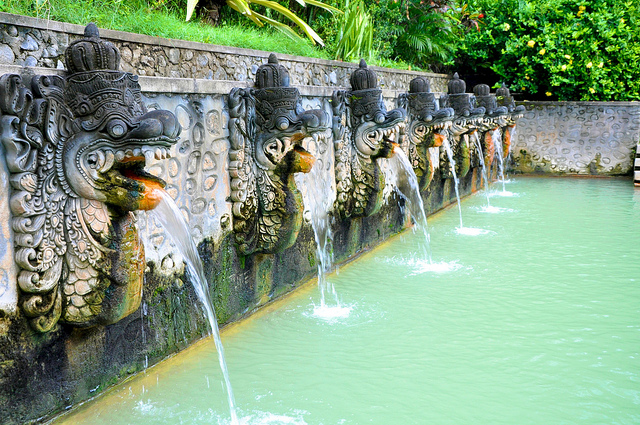 AIR PANAS BANJAR HOT SPRING
Volcanoes can be a blessing or a curse, but in North Bali, volcanic activities bless the land with fertile soil and hot springs! Air Panas Banjar or Banjar Hot Spring is a great recreational spot for locals and tourists looking for a relaxing timeout for an hour or even overnight. Natural 38 oC hot spring flows out of 8 carved stone naga head into the first bath and overflows to the larger second bath through another 5 naga heads. In a third pool, water pours from 3m-high spouts to give you a natural hydro-massage. If you don't feel like taking a pleasant dip in the hot spring, you can also enjoy savoury Indonesian treats at Komala Tirta Restaurant amidst lush tropical garden and overlooking the hot spring.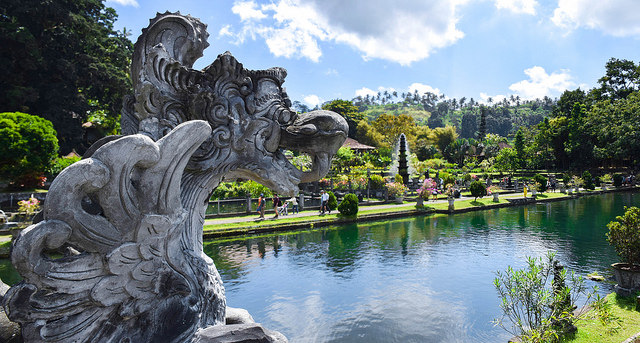 TIRTA GANGGA WATER PALACE
Built in the late 1940's, Tirta Gangga Water Palace is the former palace of Karangasem Kingdom in East Bali. As the name stated, the palace is a collection of stunning pools and fountains surrounded by beautifully landscaped garden and artistic stone carvings, with the centerpiece being the eleven tiered fountain. Although what you see now is the restored palace, resulted from Mount Agung devasting eruption in 1963, the palace still has its authentic royal magnificence and charming character.
Ubud lies in central Bali, the cultural center of the island. This mountainous area is miles away from the famous beaches of Bali, but its unbelievable valleys provide a totally different experience you would expect of an island paradise. As the hub for culture, art, and craft, Ubud is packed with attractions and stories that require at least a week to fully explore and take in. Spend a day on a bike and explore bamboo forest or the wonderful rice paddies, find a bargain at Sukawati Art Market, the one-stop art and craft center, or venture through Campuhan Ridge Walk, Ubud is the place where you might have to extend your stay from days to weeks, or even months!
The best way to understand Bali is to learn its history. Historic sites across the island portray the long story of Bali through centuries of changes. Tanah Lot Temple is the island's most iconic temple. It quietly sits on an offshore rock formation which has been shaped by ocean tide continuously.
The Hindu temple is famous among tourist destinations in Bali with spectacular sunset view.
Located in the heart of Ubud Village, Ubud Monkey Forest is a nature reserve and temple complex where hundreds of long-tailed Macaques called home. Walk around, feed the monkeys, and enjoy the serene atmosphere as well as the sacred Pura Dalem Agung Padangtegal temple and the "Holy Spring" bathing temple which are used for cremation ceremonies.
Home to over 60 different animal species, Bali Safari & Marine Park welcomes you into the wild side. The safari offers an up close encounter with endangered animals, including Komodo, Orang Utan, Bali Mynah, and the star Indian White Tiger! Another highlight of the safari is the Tsavo Lion Restaurant. Savour fine dining cuisines from all over the world while being surrounded by curious lions on another side of a full length glass panel. Spa Time! Whether you are looking for a full body indulgence or a quick stress releasing massage, Bali has everything any spa lover desire! Let the therapist advice or go with your instinct and craft your own personal treatment. Find yourself drift away while being pampered from head to toes. Try traditional Balinese massage and lulur body scrub with herbs and spices. Most upscale hotels offer exquisite spa treatments and there are seemingly infinite day spa choices to choose from, but make sure you book a session as most top spas are always busy.
Escape the island and set sail towards the sunset. Bali dinner cruise takes you beyond just a culinary journey. Get on board a number of dinner cruises available throughout Bali and prepare yourself for an entertaining night. Sip a glass of refreshing cocktail on top of the open-air deck and gaze the orange horizon as the sun goes down. The evening livens up under the starry sky and sumptuous international buffet is served alongside live music and performances.
Then it's time for a little fun on the onboard dance floor with the crew hyping up the partying mood while the ship steadily cruises back to the harbor and transfer you to the comfort of your hotel.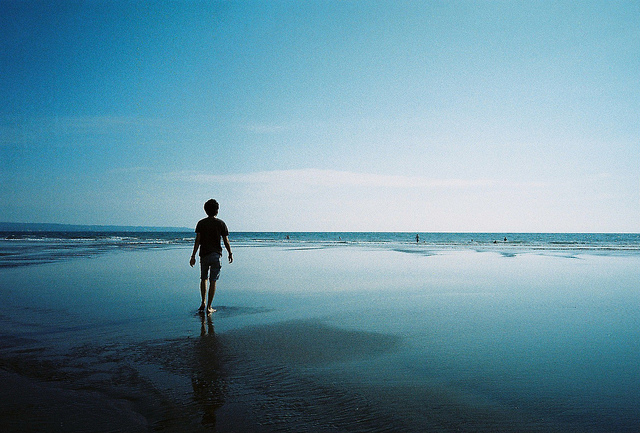 Fancy an underwater stroll on the ocean floor surrounded by wild fishes? Sea Walker offers a way to experience Bali's spectacular underwater world without having to hold your breath or learning to scuba dive.
The astronaut style helmet with constant supply of fresh air allows you to safely explore the crystal clear water, take amazing photos of lively coral reef, interact with sea lives, and surround yourself by hundreds of colourful fishes.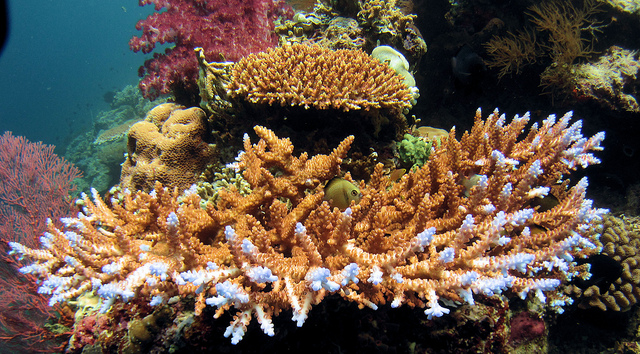 DIVING AT MENJANGAN ISLAND
Forming a part of West Bali National Park Conservation, Menjangen Island is surrounded by unspoilt white sandy beaches, stunning coral reefs, and enchanting underwater. The island is Bali's premier dive site with unique coral reef characterized by deep drop offs and complex rock formations where you'll find large groupers, moray eels, snappers, as well as tuna, jack-fish, batfish, angelfish, sea turtles, and sometimes sharks. Colourful underwater world awaits scuba divers across the world to experience the best wall diving in Bali. History is also hidden 45 meters below the surface at Anchor wreck where slave ship during the Dutch colonial era sunk. Other popular dive sites include Eel Gardens and Secret Bay, each with its own unique character and marine lives.
Warm waters, great beaches, and unlimited supply of awesome waves put Bali on the top of world surfing destination. While experts head for the big breaks off Bukit Peninsula, beginners can enjoy gentler waves and sandy beaches between Kuta and Legian. Surfing school gives you the thrill of surfing even if you have no surfing experience. Learn to ride the wave from experienced surfing instructors who won't just teach you the technique, but surf etiquette, safety, and respect to the environment as well.
TAKE PICTURE FROM SEAPLANE
You haven't seen the unbelievable beauty of Maldives until you have seen Maldives from up above. Seaplane photo flight guarantees magical sceneries and the opportunity of a lifetime. Fly over shallow lagoons, pristine and uninhabited islands, a variety of tourist resort islands, fishing villages and the sparkling sea. Try to spot schools of dolphins, Manta and sting rays, and schools of fish as they cavort in the crystal clear waters.
Cultures and traditions in Indonesia are as diverse as its number of islands, and Bali is no exception. Balinese cuisine uses a wide variety of spices cooked with fresh vegetable, pork, chicken, duck, and seafood, but rarely beef since Balinese are predominantly Hindu. Dishes you should not miss are Lawar and Babi Guling.Lawar is probably the most common traditional dish in Bali. It's a mixture of finely chopped meat, vegetables, coconut, and spices. Although the ingredient may change from place to place, there are mainly 2 types of Luwar – White Luwar and Red Luwar. White Luwar often does not contain meat while Red Luwar might contain blood to enhance the flavour. BBQ is the simplest type of cooking found in almost all cuisines around the world. Babi Guling is the flavourful Balinese BBQ made from spit-roast pig. The whole pig is spiced, skewered, and slow roasted over charcoal fire. The result is juicy, tender, and flavourful meat with exceptionally delicious crispy skin.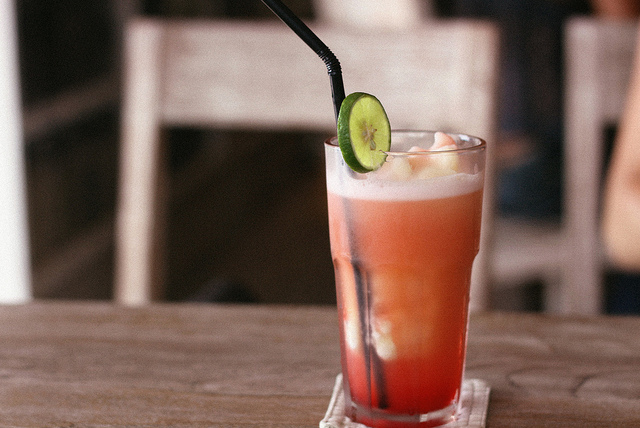 As a tourist destination, Bali packs an incredible range of beverages, including local fruit juices, spirits, wine, beer, and an extensive choice of well-known international spirits and beers.Tuak is Bali's palm wine made from palms, yeast and sugar, and often served during Gawai festivals, weddings, hosting of guests and traditional festivals. However, Tuak is very easy to find and inexpensive so you don't need to be at a festival to try one.Putting alcohol aside, the Kopyor is a popular dessert drink and it's considered a delicacy in Indonesia and Bali. Kopyor is an abnormally developed coconut with super sweet, spongy or jelly-like, coconut meat, and it's a must-have if you are in Bali.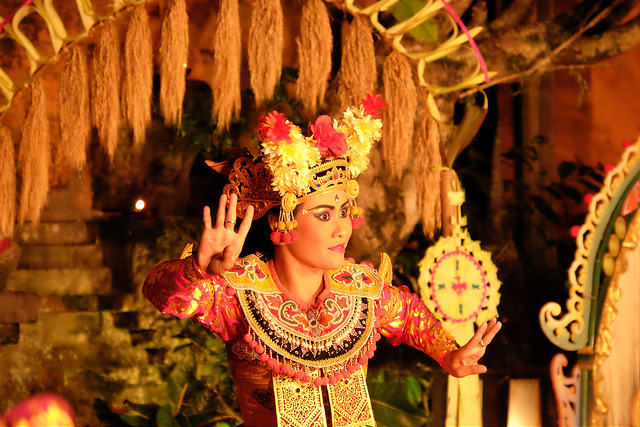 Barong Dance Barong dance performance can be found quite easily in Bali and often staged specifically for tourists as it is one of the most visually spectacular shows. The dance simply tells Balinese mythological story of the eternal battle between good and evil through Barong, the lion-like creature, and Rangda, the demon queen.
Every year young and old spirituality seekers from across the globe gather in Ubud, Bali's spiritual capital, to celebrate health, yoga, lifestyle, wellbeing, dance, and music. The event provides unique opportunities for Festival goers to experience personal shift and transformation, and features incredible musicians and some of the world's best dance and yoga instructors.
Look Alive at Mount Batur! Trekking on an active volcano might sound a little dangerous, but the views and experience are definitely worth it! Mount Batur is a small active volcano known for its spectacular scenery, overlooking Batur Lake and beyond. Hike up the hill to witness an unfogettable sunrise and enjoy a rewarding breakfast cooked by the natural heat and steam of Mount Batur. The area is also a renowned coffee origin, producing Balinese traditionally processed Kopi Luwak, the most expensive type of coffee in the world
Perched on a cliff above Jimbaran Bay, AYANA Resort & Spa Bali is a tranquil sanctuary for sophisticated travelers.
It offers peace and seclusion amidst 90 hectares of lush land dotted with state-of-art facilities such as tennis courts, an 18-hole putting course, and 368 rooms, suites, and villas. Gaze across Indian ocean from the edge of the infinity pool in your private villas, take the elevator down to the resort's exclusive private beach, savour extensive choices of culinary delights from AYANA's 15 restaurants and bar, and visit Thermes Marins for the real highlight. The award-winning spa features the world's largest Aquatonic Seawater Therapy Pool and 12 different jet-streamed hydromassage stations for a true muscle relaxation treatment.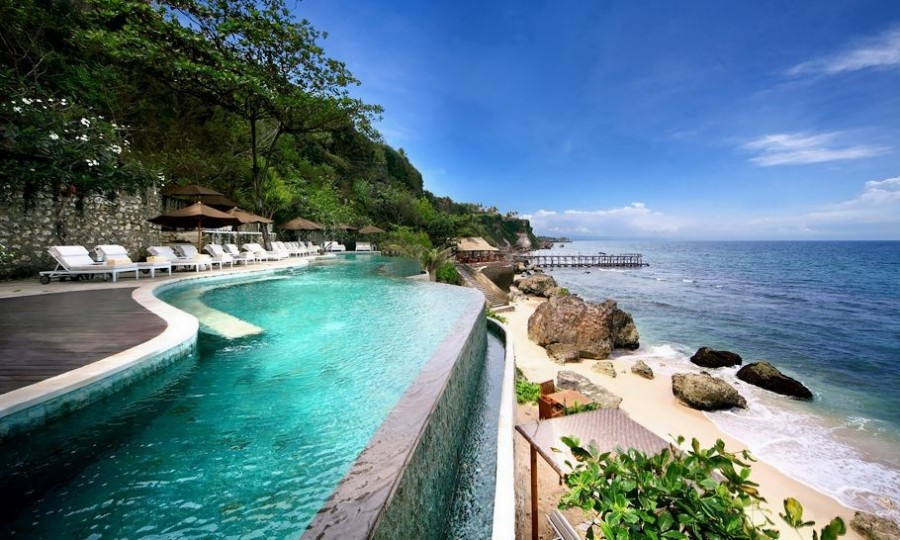 Beyond the valley and Balinese Village of Amandari lies the luxurious Amanusa, one of the most intimate and exclusive resorts on Bali, on Bali's Southern coastline known for endless dining, nightlife, shopping and entertainment.

Exclusivity is the key as there are only 35 tropical designed thatchedroof suites that graciously overlook the Indian Ocean and a beautiful beach, and offer unparalleled access to Bali Golf and Country Club, one of the region's finest golf courses.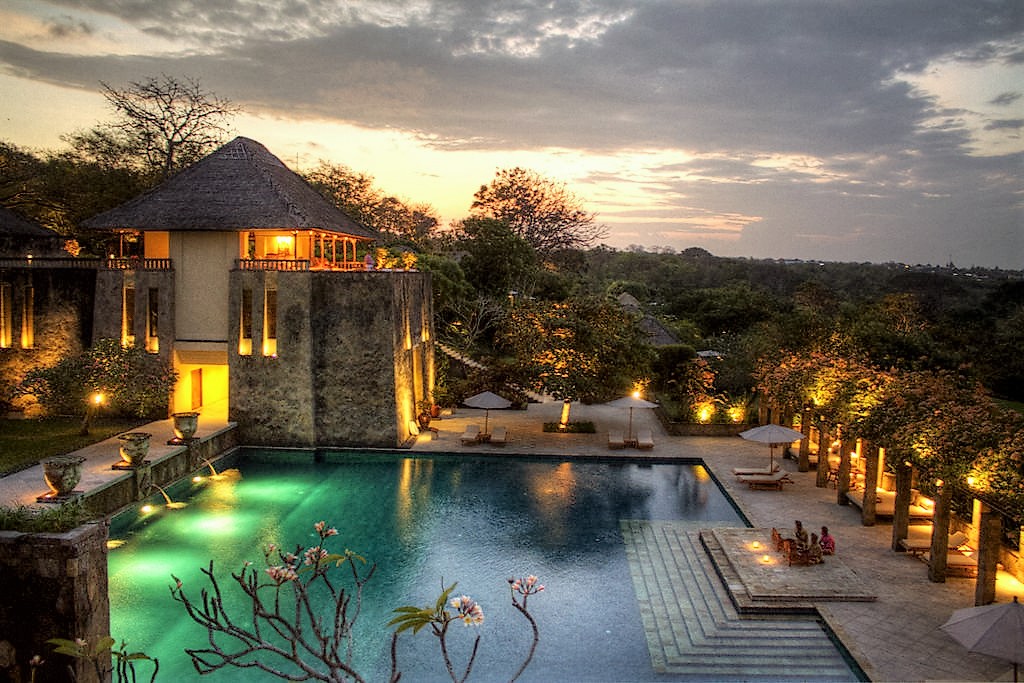 Retreat inland into the heart of Bali. Uma by COMO, Ubud, sets on the fringe of Ubud surrounded by enchanted forest, vast rice paddies, coconut palms, and the calming sound of rural life.
Light and airy rooms and suites dotted a hillside overlooking a deep gorge. All rooms feature a contemporary design, large windows and a four-poster bed, and many open out to the magical valley vista. Everything you experience here is designed to sooth and revive, from bright white bedrooms with focus on wooden decors, bleached wood carvings and extra soft bedding, to the tranquil COMO Shambhala Spa for yoga and Asian-inspired treatments.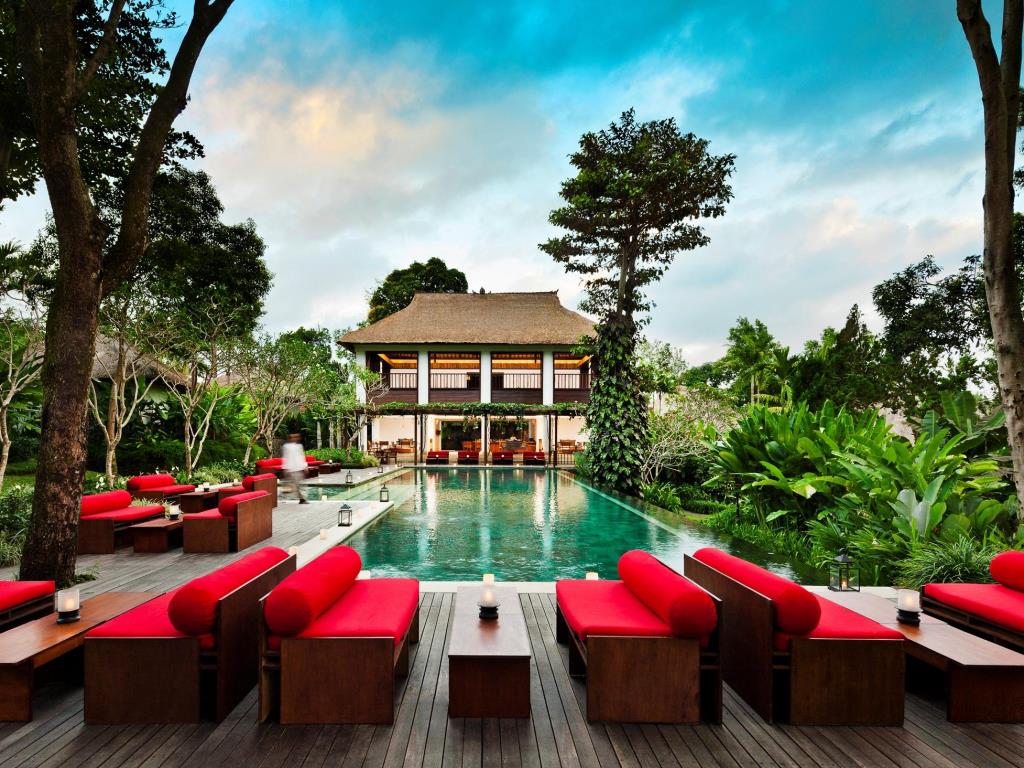 Nestled amidst lush rainforest and river of the majestic "Valley of the Kings" in Ubud, Viceroy Bali is dubbed as the "Secret Tropical Hideaway".
The family owned and operated resort places emphasis on the best of privacy and comfort, offering exclusive 25 luxurious private villas that reflect the finest aesthetic traditions of Bali and the Resort's stunning natural surroundings while providing a contemporary, luxurious, and comfortable setting for the lucky guests. Enjoy impeccable service and peerless public facilities, including the acclaimed CasCades restaurant and bar, and the indulging Lembah spa, both with magnificent vistas over Ubud's breathtaking landscape.