a former charm of Cambodia
Let's park your vacation at a wonderful riverine town, and discover the rich culture and elegant architecture in the capital city of Cambodia, Phnom Penh. Simply an amazing realm with so much to experience and enjoy, and have a memorable time for what you need and more.
The Phnom Penh's most magnificent landmark and the amazing complex part of the life of Cambodian people. Began the first year of construction since 1886 and completed before World War I. Royal Palace of Cambodia, a century cultural heritage structure, gold and white color parts with the roofs are closed to the public. Moreover, the palace is regularly renovated to keep the architecture maintaining in its beauty and golden exquisiteness, and invite the visitor to catch a beautifully unavoidable glimpse! Also Throne Hall can be visited. The diamond encrusted Buddha and silver floor are very elegant. Additionally, this palace is the official residence of the King of Cambodia. There is plenty to see and admire here, so give yourself plenty of time to take it all in.

Address: Samdach Sothearos Blvd (3), Phnom Penh, Cambodia
Opening Hours: everyday 8:00 am. – 10:30 am, 2:00 pm. – 5:00 pm.
Admission Fee: 40 KHR (10 USD)
National Museum of Cambodia
This where a culturally vibrant Cambodia encompasses. Before going any further, let's ask yourself, do you have plenty of time enough to be fun here? While the curation is definitely old fashioned, the world collection is more worth. The museum will take you roll back to the cultural side of Cambodian history in the 4th century. Great valued artifacts to take an insight, you can stroll around lots of statues, and the dance performance called Plae Pakaa: the traditional dance and music put on by Cambodian Living Arts with the story about the effort to keep traditional arts alive and perfectly hand to new generation, which you'll be so inspired!
Address: 227 Kbal Thnal, Preah Norodom Boulevard Sangkat Tonle Bassac, Khan Chamkar Mon, Phnom Penh, Cambodia
Tel: +855 23 217 643
Opening Hours: every day 8:00 am. – 5:00 pm.
Admission Fee: 80 KHR (20 USD)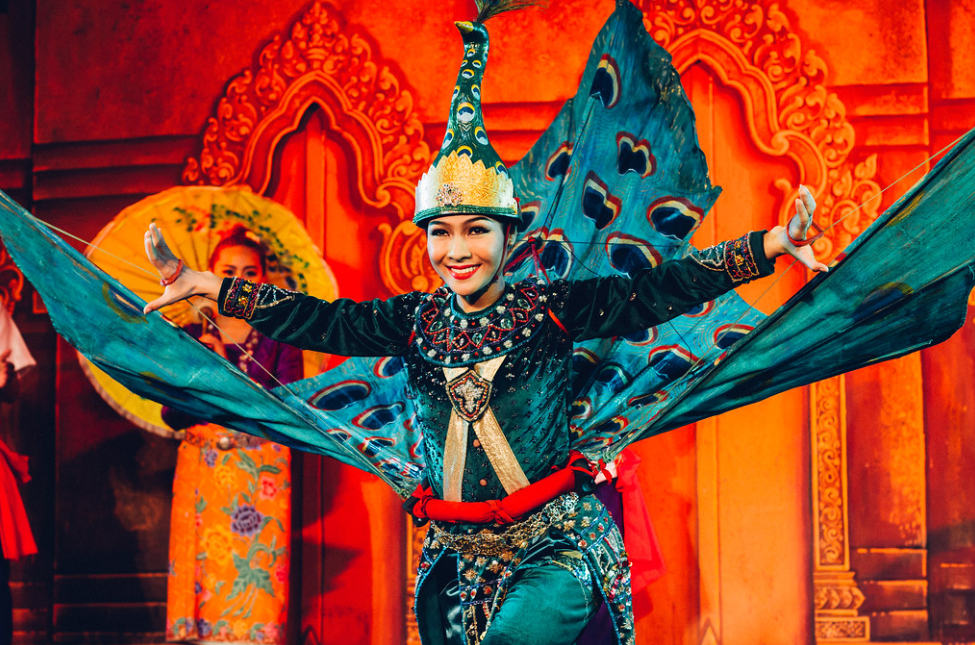 A majestic monumental structure that mightily sets a position amidst Phnom Penh city center. Model inspired by the central tower of Angkor Wat. With its captivating and serene atmosphere, which in turn picks as a much sought after travel destination for the visitors. Independence Monument was built to commemorate the country's independence from France in 1952, which around the monument you'll see lots of wreaths laid here if you visit on the national holiday. The best time to visit here is when the night falls.
Address: City Center, Phnom Penh, Cambodia
3 THINGS TO DO IN PHNOM PENH
Let's get along with the river cruise to absorb the scene of the spectacular sunset. Which a regular time to start is around 5.00 pm – 7.30 pm. If you want something more special, you can rent a private boat to head out on the water (Tonle Sap and Mekong River) at any time of the day.
Head to Phnom Penh's downtown to see the cinema culture. Get ready to grab a bucket of popcorn, book your huge bed-like seat to watch the movie and enjoy over the night!
HAVE FUN WITH LOCAL CELEBRATIONS
Don't hesitate to join and experience the genuine culture of Cambodia. The two festive celebration: Khmer New Year and Bonn Om Tuk (called the water festival), it absolutely gives your mind to enjoy the experience of fun.
Plan a serene weekend in Phnom Penh, and pin your stay where the world of ultra-luxury refinement at Rosewood Phnom Penh. Iconic 5-starred hotel nestled in 188-meter-high breathtaking Vattanac Capital Tower. The hotel is comprised of 175 rooms including 5 suites with a feature of the refined decoration, exceptionally spacious area and the panoramic view of town and the mighty Mekong. Even this superb design was westernized, but also perfectly blend with the elegant Khmer touch. Indulge your sense and soul at the spa on the 33th floor of the hotel, you'll be relaxingly treated by the professional therapist. Discover an authentic taste of Cambodian and international cuisine by the talented chef that provides you with the best dish. Chill out and enjoy your pleasant time at Sora sky bar, a time passes slowly when you're up there. As a matter of business or leisure, Rosewood Phnom Penh willingly offers the most pleasant hospitality to satisfy the guest's bespoke expectation. The sound of gentle wind tells you where the peak Phnom Penh.
Address: Vattanac Capital Tower, 66 Monivong Boulevard, Sangkat Wat Phnom, Khan Daun Penh, Phnom Penh, Cambodia
Tel: +855 23 936 888
E-mail: phnompenh@rosewoodhotels.com
Indulge in the timeless hospitality