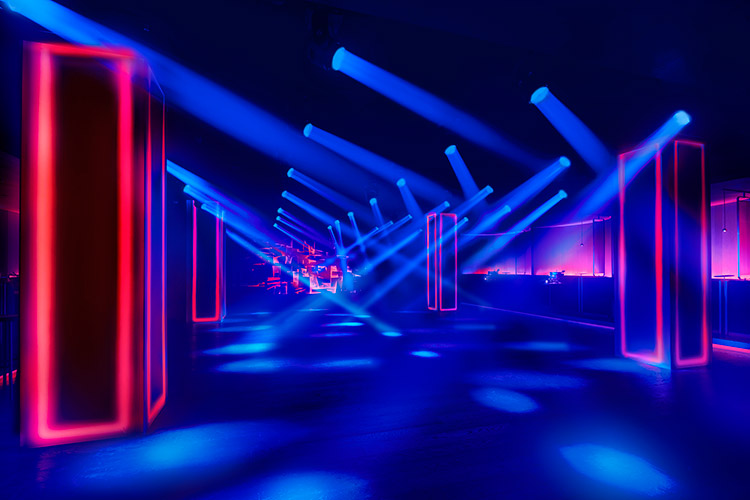 NETEASE LAUNCHES FEVER BLACK AT ELECTRIC CIRCUS
Leading tech company NetEase and cutting edge electronic music brand, FEVER will launch their Fever Black series in conjunction with Electric Circus from The Shanghai EDI-TION.
NETEASE LAUNCHES FEVER BLACK AT ELECTRIC CIRCUS
The collaboration series aiming to bring in an eclectic range of pioneering DJs from around the world in an exclusive setting programmed by world-renowned curator Swamy.
Electric Circus, a fresh kind of club and VIP lounge for Shanghai. Conceived in the Studio 54 tradition, with its dramatic lighting, otherworldly interior and signature EDITION cocktail mixology, Electric Circus has played host to some of the world's top DJs and performers, destined to become an unmissable venue in the Shanghai nightlife scene. For discerning guests requiring the utmost in discretion, Electric Circus houses the city's ultimate private room with its own dual-access private entrances to maintain privacy.
The opening series will take place on March 29th during Shanghai Fashion Week. Featuring Benji B, Swamy and Allan Marshall, three DJs that have each defined their own brand and sound that influencing the world.
Headlining will be Benji B, music director of Louis Vuitton appointed by fashion guru Virgil Abloh. Benji B is best known as a radio host for BBC Radio 1. His BBC radio slot is firmly established as one of the most important shows in the world right now. One of the UK's most respected DJs, His show holds a space at the bleeding edge of new sounds and scenes, championing post- Dilla beatsmiths like Flying Lotus and Dorian Concept before they were household names, while also earning a reputation as a great place to hear non conventional house tempo music. The list of guests speaks to the esteem in which Benji is held: Mike Banks, A$AP Rocky, Shackleton, Thom Yorke, MF Doom, Photek and many, many more.
Benji is also a trusted Kanye West confidant and collaborator: he is credited as a musical consultant on Yeezus.
Swamy will play host and DJ. Swamy is creative visionary and thought leader that has helped shape cultural zeitgeist through art, music, food, wellness, thought leadership and community building. He's best known for his involvement with the legendary Robot Heart, award winning Wonderfruit and critically acclaimed Future Future. He is highly sought after globally for his creative, curation and experience design ability. He's a tastemaker that has influenced many. Always pushing boundaries, his work defies definition.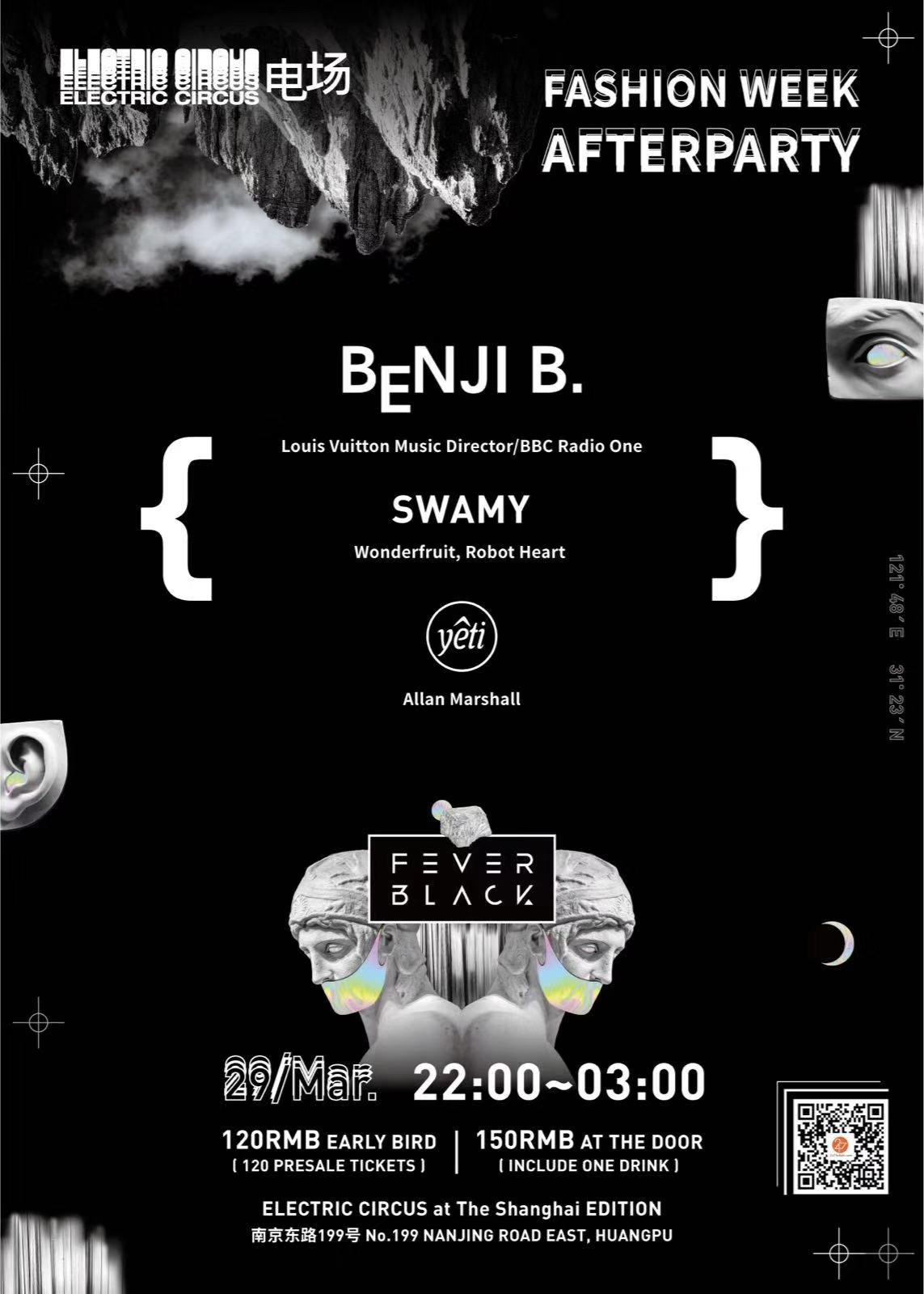 Shanghai based Australian Designer & DJ is also the founder of Yeti Dis:Ko, mega-hip Asia based promo-tions and lifestyle brand, Allan Marshall rounds up the line up to claim the cities best DJs at Fever Black.
EVENT DETAILS:
Tickets
120 RMB pre-sale
150 RMB at the door (include one drink)
Doors
22:00 – 03:00, Friday, March 29
Limited RSVP @ Electric Circus We chat Official Account – Entry Before 12am
Table Bookings: 1807 7367 120
Address: 7F, Heritage Building, The Shanghai EDITION, 199 Nanjing Road East
Telephone: +86 215368 9511
For more information about The Shanghai EDITION, please visit www.editionhotels.com or www.edition-hotels.cn
ABOUT EDITION HOTELS

EDITION Hotels is an unexpected and refreshing collection of individualized, customized, one-of-a-kind hotels which redefines the codes of traditional luxury. Displaying the best of dining and entertainment, ser-vices and amenities "all under one roof', each EDITION property is completely unique, reflecting the best of the cultural and social milieu of its location and of the time.
Conceived by Ian Schrager in a partnership with Marriott International, EDITION combines the personal, intimate, individualized experience that Ian Schrager is known for, with the global reach, operational exper-tise and scale of Marriott. The authenticity and originality that Ian Schrager brings to this brand coupled with the global reach of Marriott International results in a truly distinct product sets itself apart from any-thing else currently in the marketplace.
Each hotel with its rare individuality, authenticity, originality, and unique ethos reflects the best of the cul-tural and social milieu of its location and of the time. Although all the hotels look completely different from each other, the brand's unifying aesthetic is in its approach and attitude to the modern lifestyle rather than its appearance. EDITION is about an attitude and the way it makes you feel rather than the way it looks. So-phisticated public spaces, finishes, design and details serve the experience, not drive it.
For an underserved market of affluent, culturally savvy and service-savvy guests, the EDITION experience and lifestyle explores the unprecedented INTERSECTION and the perfect BALANCE between taste-making design and innovation and consistent, excellent service on a global scale. Currently operating hotels in New York, London, Miami Beach, Barcelona, Shanghai, Sanya, China, Abu Dhabi and Bodrum, Turkey. Follow-ing the launch of Times Square, EDITION Hotels look forward to opening in West Hollywood later in 2019.
Facebook.com/ EDITIONhotels / Twitter: @EDITIONhotels / Instagram: @EDITIONhotels /WeChat: @EDITION艾迪逊酒店 / Weibo: @EDITION艾迪逊酒店
www.editionhotels.com
www.marriott.com