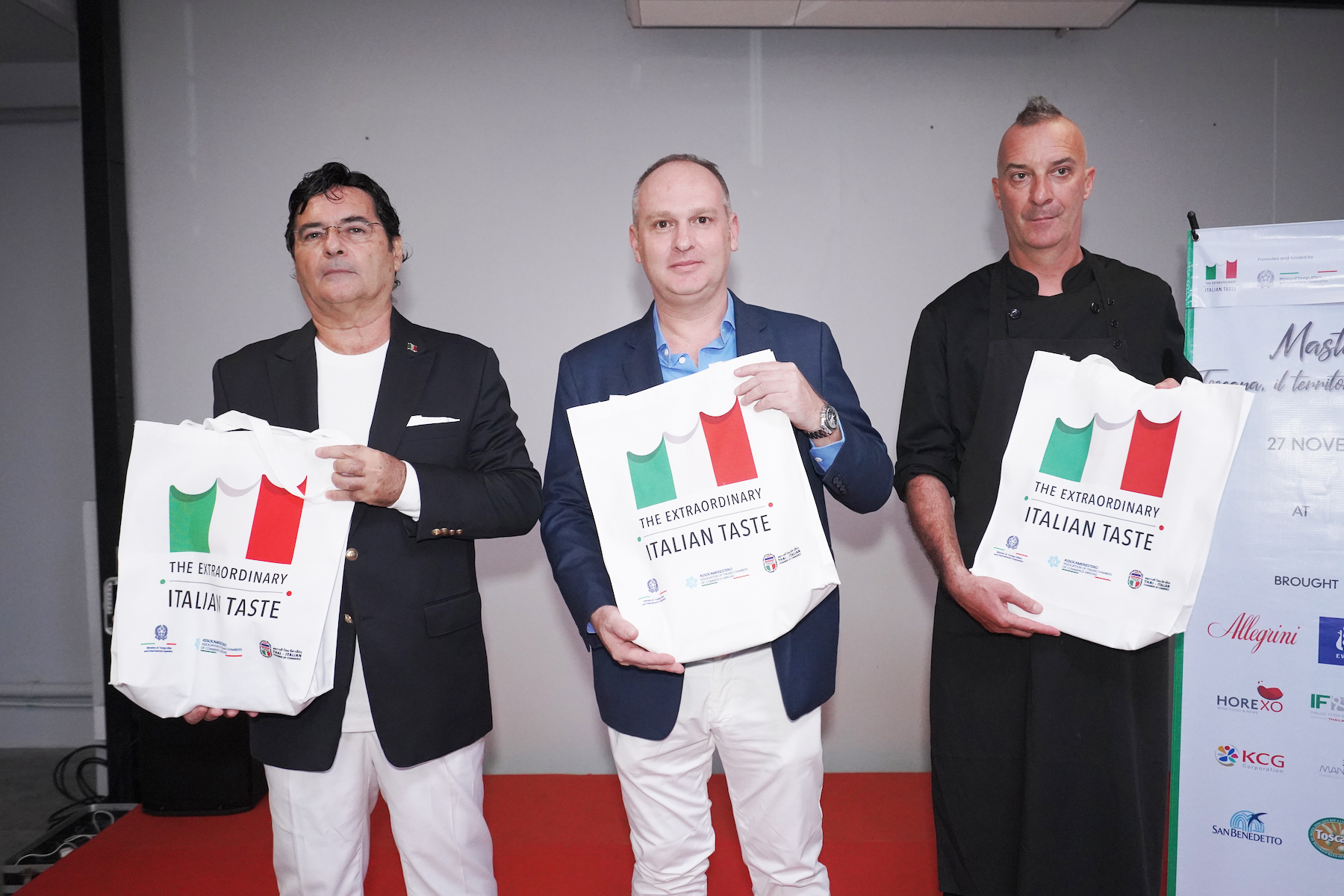 Masterclass -Tuscan Cuisine – Phuket 2020
Masterclass -Tuscan Cuisine – Phuket 2020
Thai-Italian Chamber of Commerce (TICC) recently held a masterclass on Tuscan food at the Kudo Italian Restaurant in Phuket within the global initiative of Italian cuisine in the world, aiming to create awareness of the consumption of authentic Italian food and ingredients.
The event was attended by 40 Italian influencers and institutions, including the President of the Chamber of Commerce, Mr. Federico Cardini and Honorary Consul General of the Italian Embassy in Phuket and Southern Regions of Thailand, Dr. Francesco Pensato. Among the Thai companies invited, there were a cuisine specialize, Italian wines experts, and foodservice professionals and various operators related to hotels and restaurants working on the island of Phuket and in southern Thailand.
Mr. Federico Cardini, TICC President said "Through this campaign; to raise awareness of the foreign consumer, we want to increase the conscious consumption of 100% made in Italy food"
The dinner included a series of courses prepared with Italian products of Tuscan cuisine and Tuscan wines. The courses included bruschetta with chicken liver and cappers; vegetarian panzanella; and "cannellini" bean with pancetta and leek with other delicious dishes as antipasto, followed by main courses which were 'risotto with radicchio and taleggio cheese' and 'risotto with porcini mushrooms and saffron', and finished the dinner with coffee éclair, chocolate and almond cake, and fruit tartlets, all prepared by the awarded Ospitalita' Italiana chef, Mr. Massimo Marcato.
At the event, the participants and main sponsors included representatives from EWTA, KCG, Italasia, Conserve Italia, Cirio, Zaino, Riso Scotti, Pluto Ice cream, San Benedetto, Espresso Bolognese, Manzoni Gelato and Toscano, Illuzion, and the Kudo Italian Restaurant. The information was given on the characteristics of the cuisine with Tuscan products and recipes that helped highlight the typical regional cuisine offered.
The TICC will promote the True Italian Taste project on a national scale in order to combat Italian Sounding and educate the consumption of genuine and certified made in Italy products.
For more information please visit
Website: https://www.thaitch.org/th/projects/true-italian-taste/
Tel: +66 2255 8695 ext 101
Email: oi@thaitch.org