Chiangrai's reputation as "the city of art" wasn't given by chance. However, you have to experience it firsthand to truly see the spirit of this amazing city. This issue of My World brings you a glimpse of Chiangrai's artistic destinations that makes it one of the most attractive cities in the region.
inspired by Wat Ming Mueang (Nan) and the love for the country, religion, and the king, Wat Rong Khun was designed and built by Chalermchai Kositpipat, the famous Thai visual artist, as a tribute for King Rama XI. The temple is easily the most beautiful temple in Thailand with signature all-white chapel and aesthetic contemporary Thai design.
ADDRESS: 60 MOO 1 PHAHONYOTHIN ROAD, PA O DON CHAI, MUEANG, CHIANGRAI
OPEN HOURS: EVERY DAY 8.00 – 17.00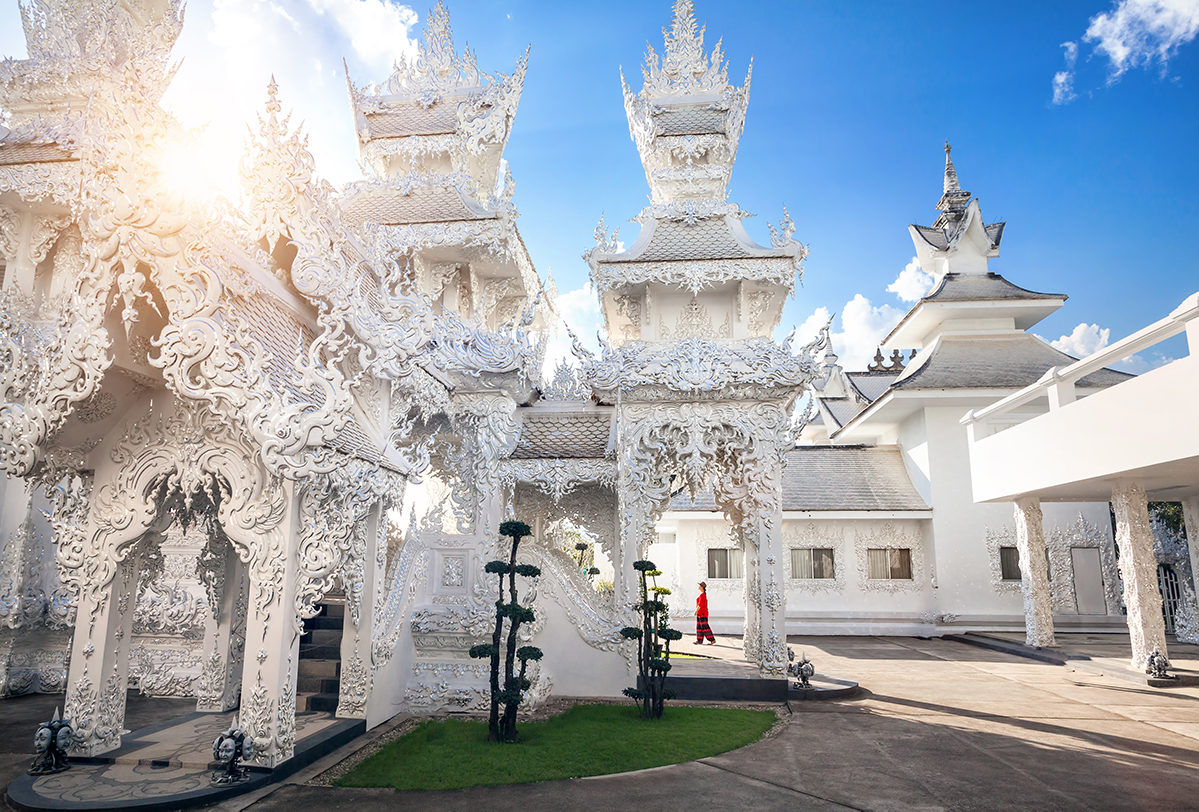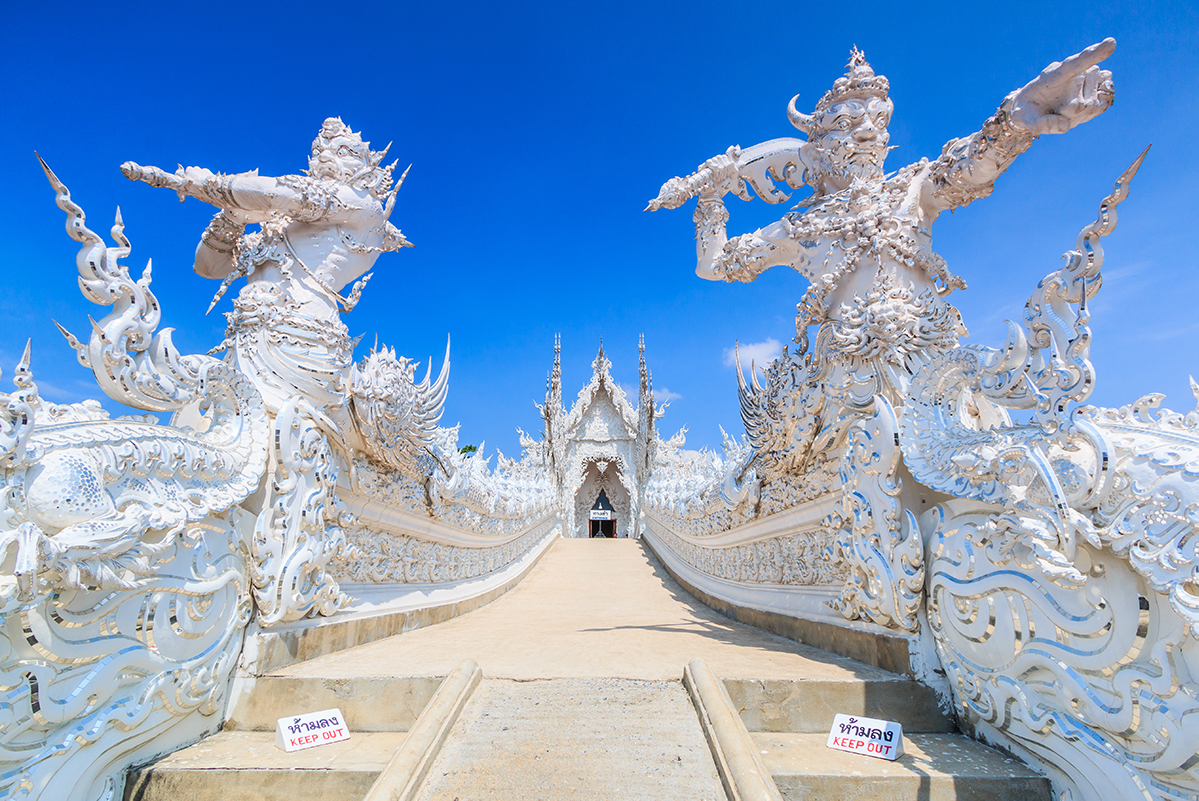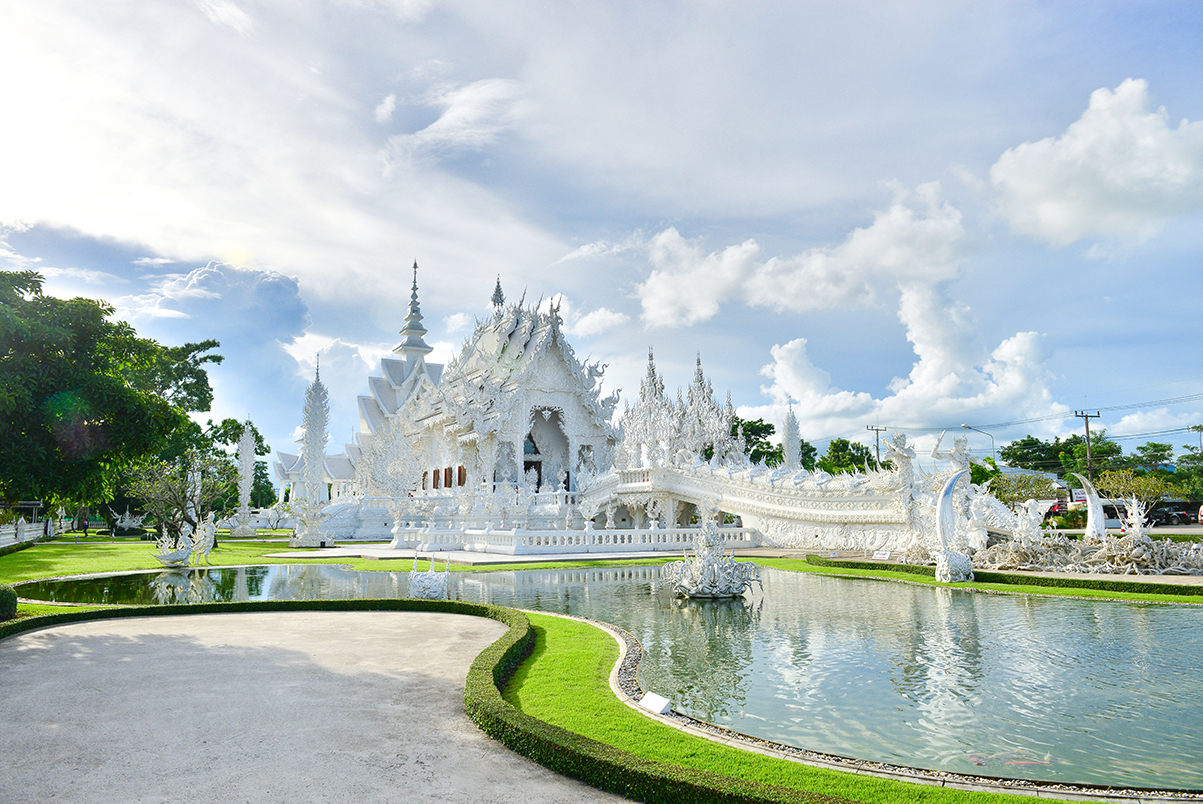 Wat Ming Mueang (also known as Lying Elephant Temple) has a long history as the religious center and the gate of Chiangrai.
The temple is located on Kua Dum intersection where the old city gate, Kua Dum Gate, once was. The charming Burmese and Lanna architecture house the holy Buddha's relic passed on from the Supreme Patriarch of Thai monk. To the east of the temple is a historical pond with a statue of lying elephant which lends its name to the temple. The pond was once the pitstop for the people traveling in and out of the city to rest and refill.
ADDRESS: TRIRUT ROAD, VIEANG, MUEANG, CHIANGRAI
OPEN HOURS: EVERY DAY 8.00 – 17.00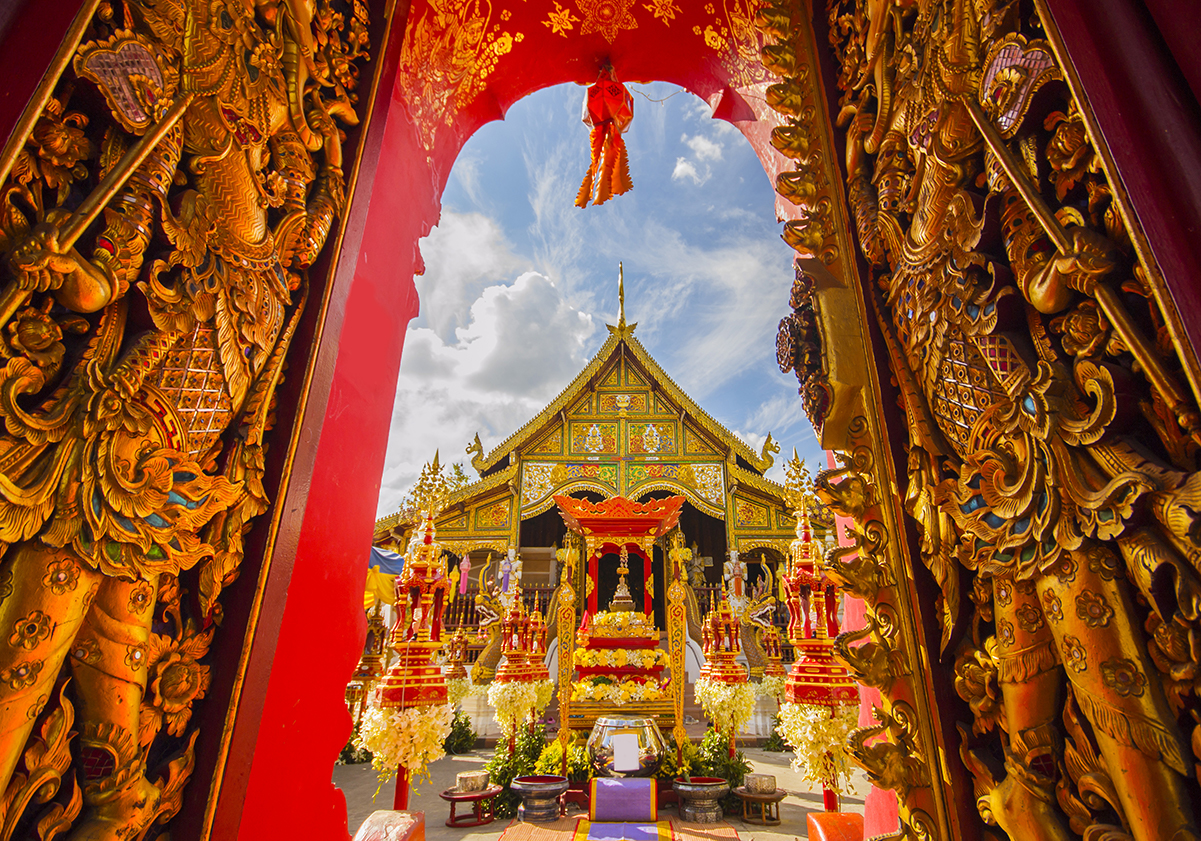 Built in honour of the queen mother, Chalernchai took 5 years to design and construct the golden clock tower that has become the landmark of Chiangrai. The inspiring Thai clock tower comes to life every night at 19.00, 20.00 and 21.00 when different shade of light shines upon it and the music surrounds the area.
ADDRESS: BANPAKARN – JEDYOT ROAD, VIEANG, MUEANG, CHIANGRAI
Chiangrai is full of ar tistic landmarks, and Wat Rong Suea Ten is one of many destinations you should not miss. Widely known as the "Blue Temple", Wat Rong Suea Ten boasts colourful blue, light blue, and indigo chapel that combines seamlessly with traditional Thai pattern. The result is an outstanding architectural artwork and a popular place to experience Buddhist sculptures and paintings.
ADDRESS: 306 MOO 2, MAE KOK ROAD, ROP WIENG , MUEANG , CHIANG RAI
OPENING HOURS: EVERY DAY 7.00 – 20.00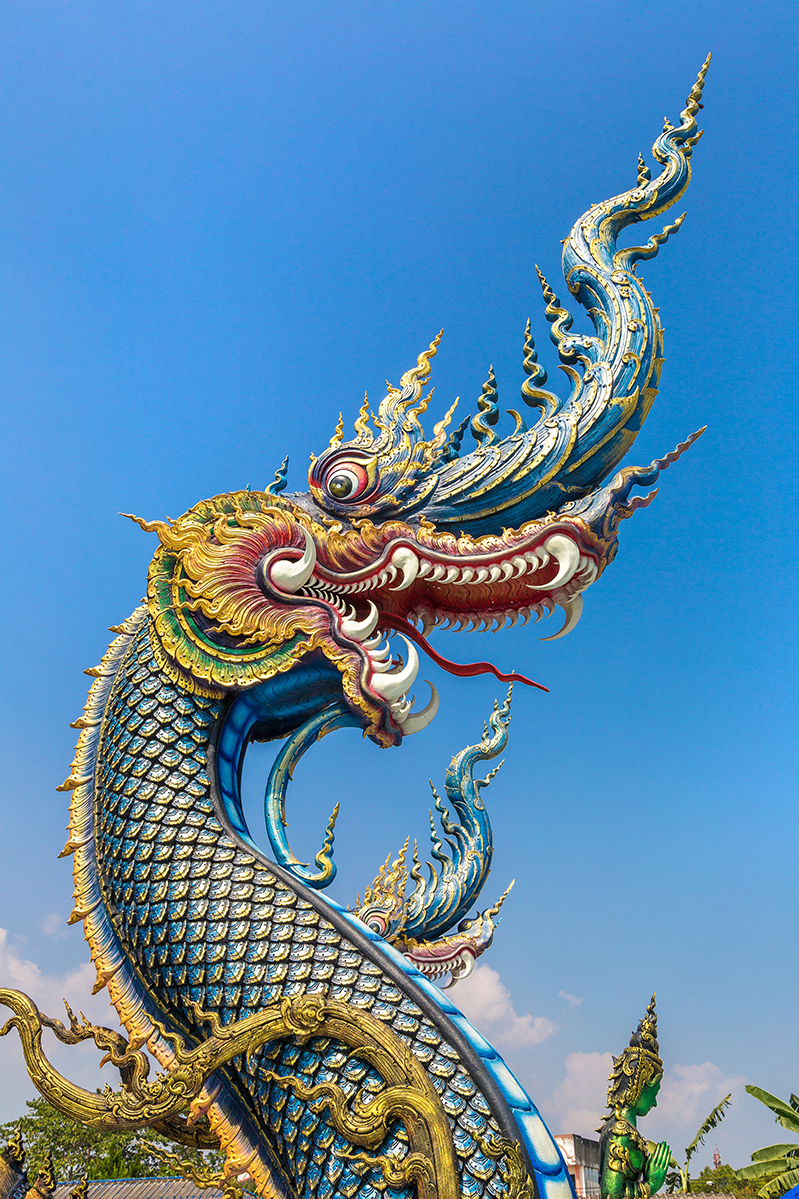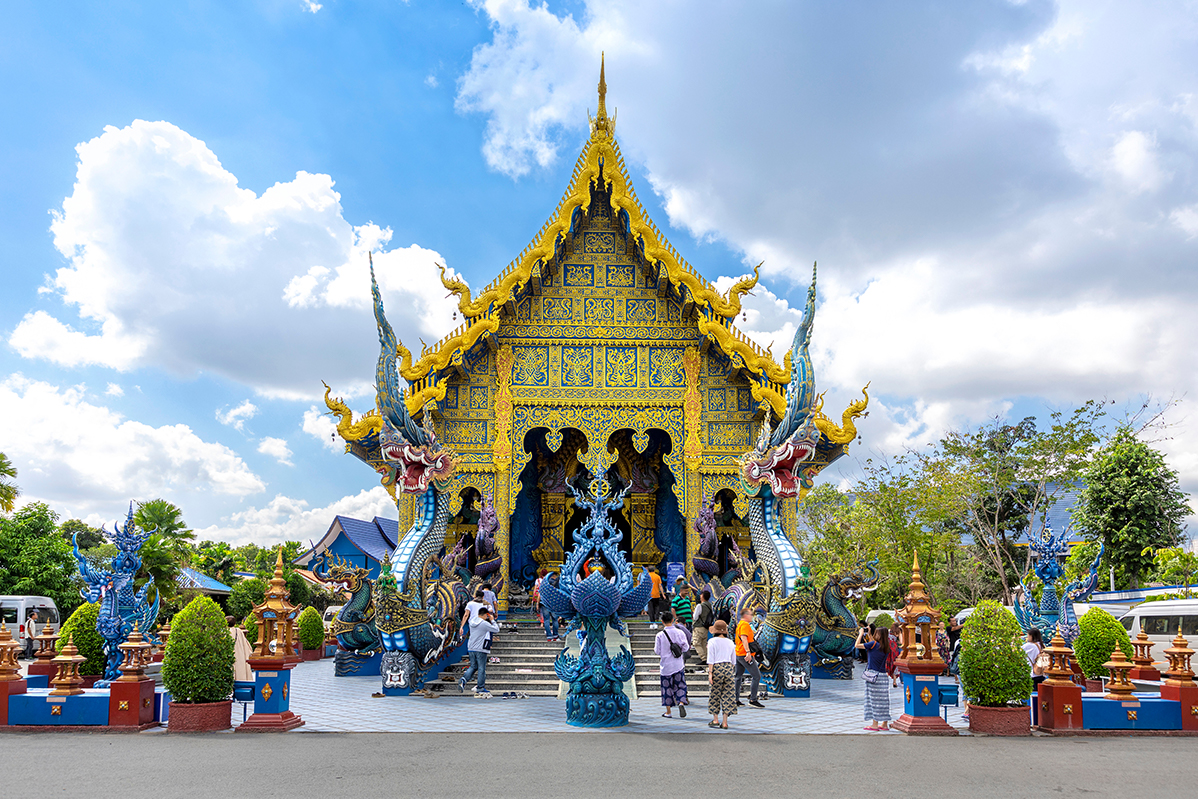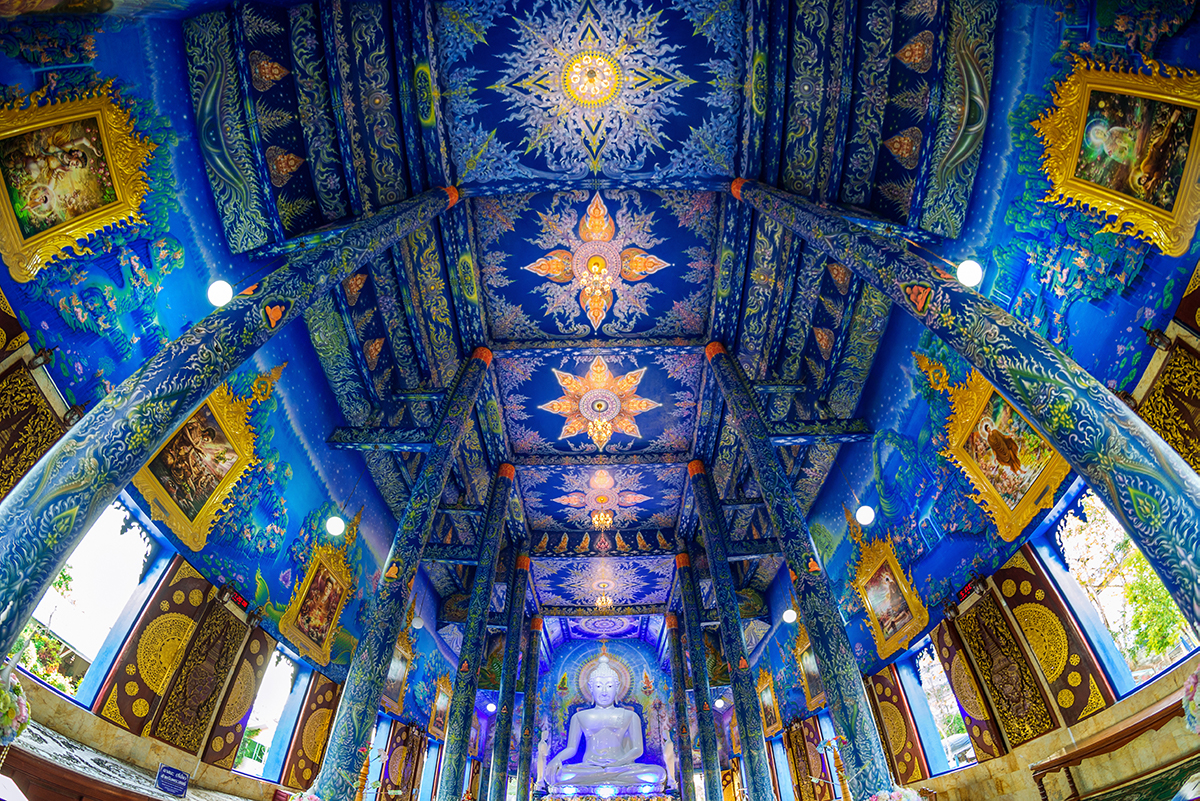 Located on a hill overlooking the amazing landscape of Chiangrai, Wat Huay Pla Kang was an abandoned temple before Master Monk Pob-Choke restored life back to the spiritual center.
The temple expansive ground is home to the giant white Guan Yin statue that sits majestically on the top of the hill. Although the giant statue can be seen from afar, it's not the only landmark of Wat Huay Pla Kang. Next to the statue is the unique Chinese-Lanna pagoda which stands 9-storey tall and surrounded by 12 mini pagodas of different zodiac. Two dragons lead visitors up the staircase into the pagoda where statues of Buddha and Buddhist saints reside.
ADDRESS: 553 RIM KOK, MUEANG, CHIANGRAI
OPENING HOURS: EVERY DAY 7.00 -21.30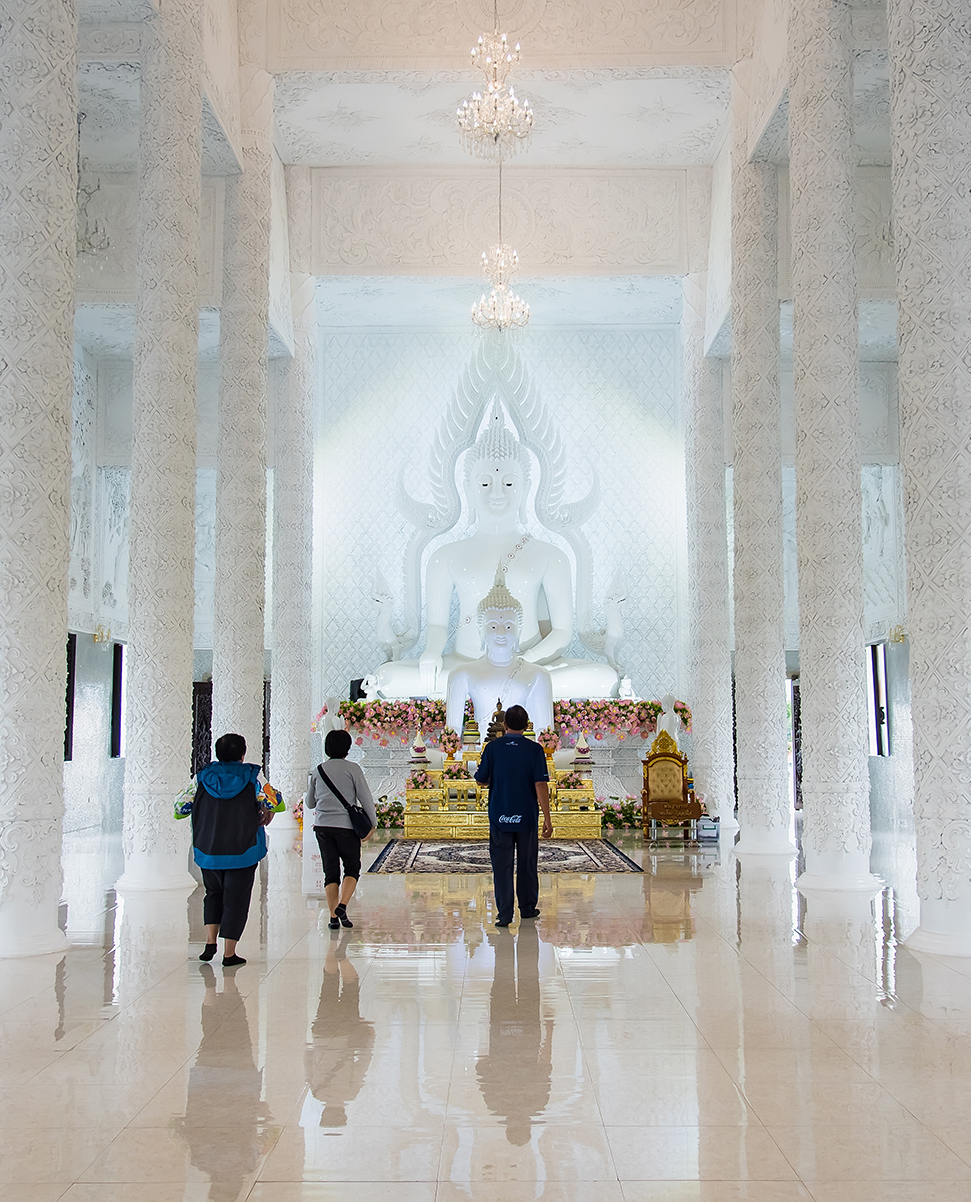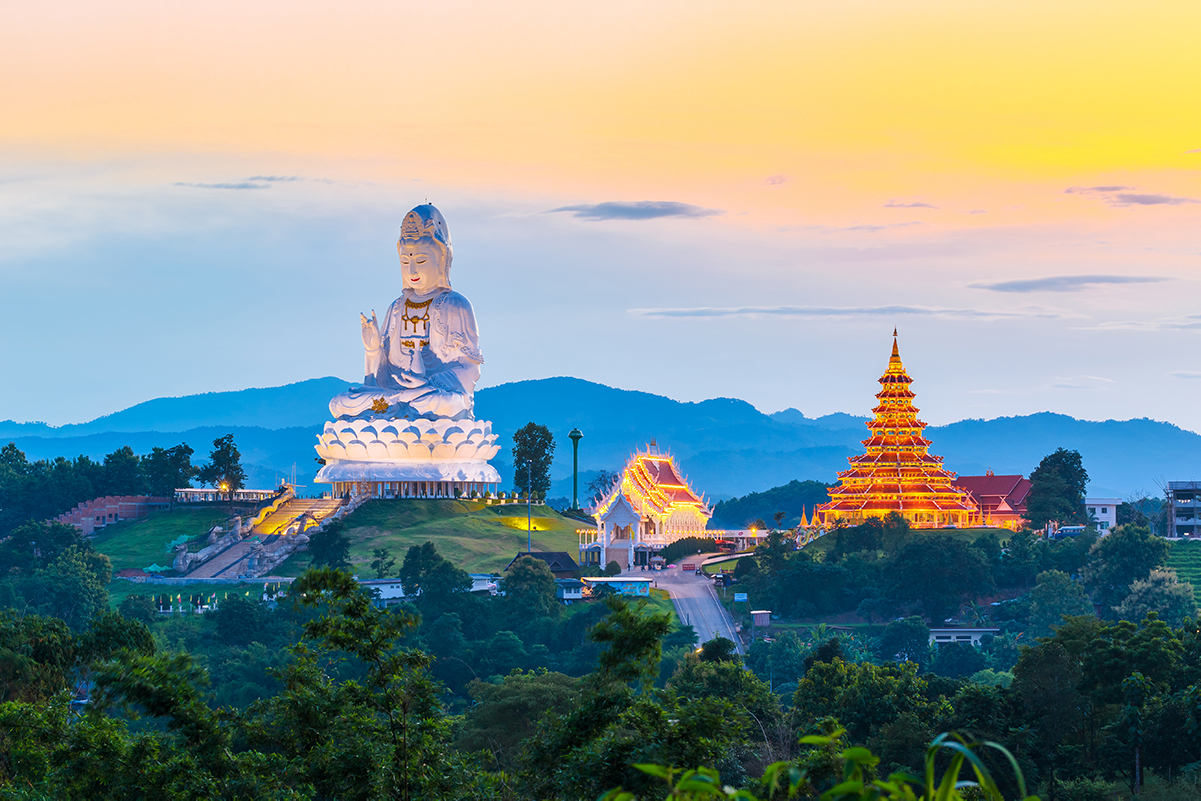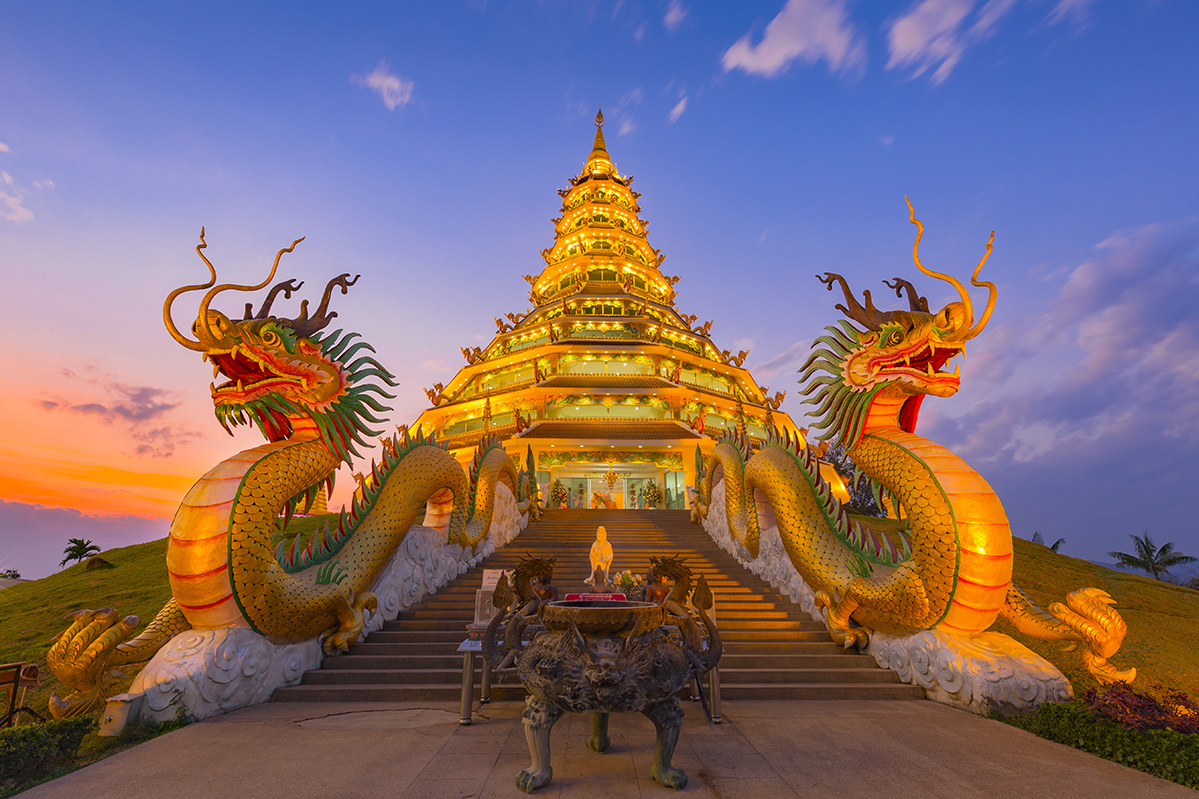 Baan Dam Museum is the invaluable work of Thawan Duchanee, a renowned Thailand national artist. The whole museum is a collection of modern art with 36 Lanna-style houses all painted in black, Thawan's favourite colour. Each house displays Thawan's personal collection of wood carvings, paintings, and animal skins and horns.
ADDRESS: 333 MOO 13, NANG LAE, MUEANG, CHIANGRAI
OPENING HOURS: EVERY DAY 9.00 – 17.00
ENTRANCE FEE: 80 BAHT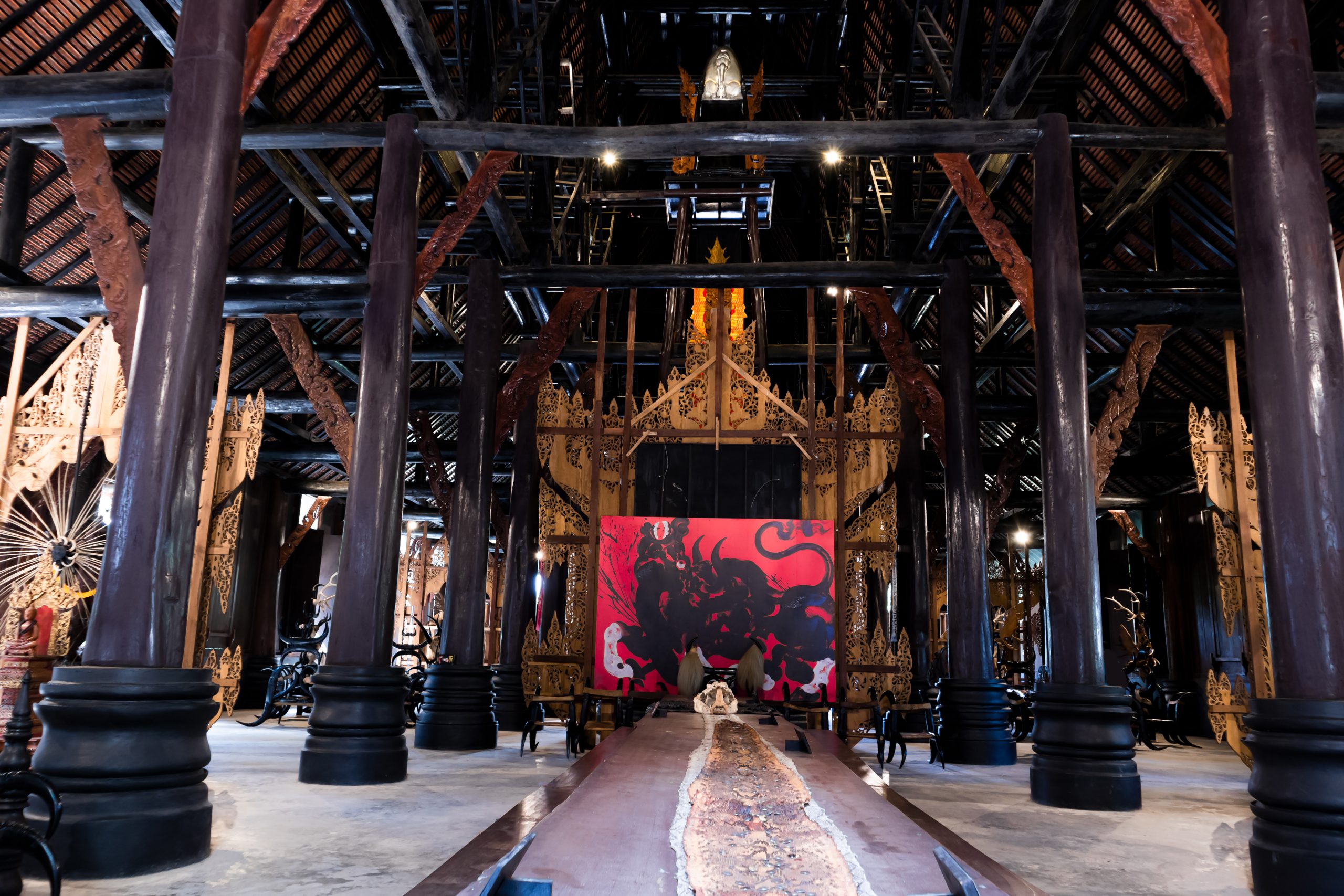 Chiangrai artist community came together and opened Art Bridge as the center for promoting local art and culture. It never gets boring here because local artists get a chance to host their exhibition. You'll get to see different works every time you visit!
ADDRESS: PHAHONYOTHIN ROAD, BAN DU, MUEANG, CHIANGRAI
OPENING HOURS: EVERY DAY 10.00 – 19.00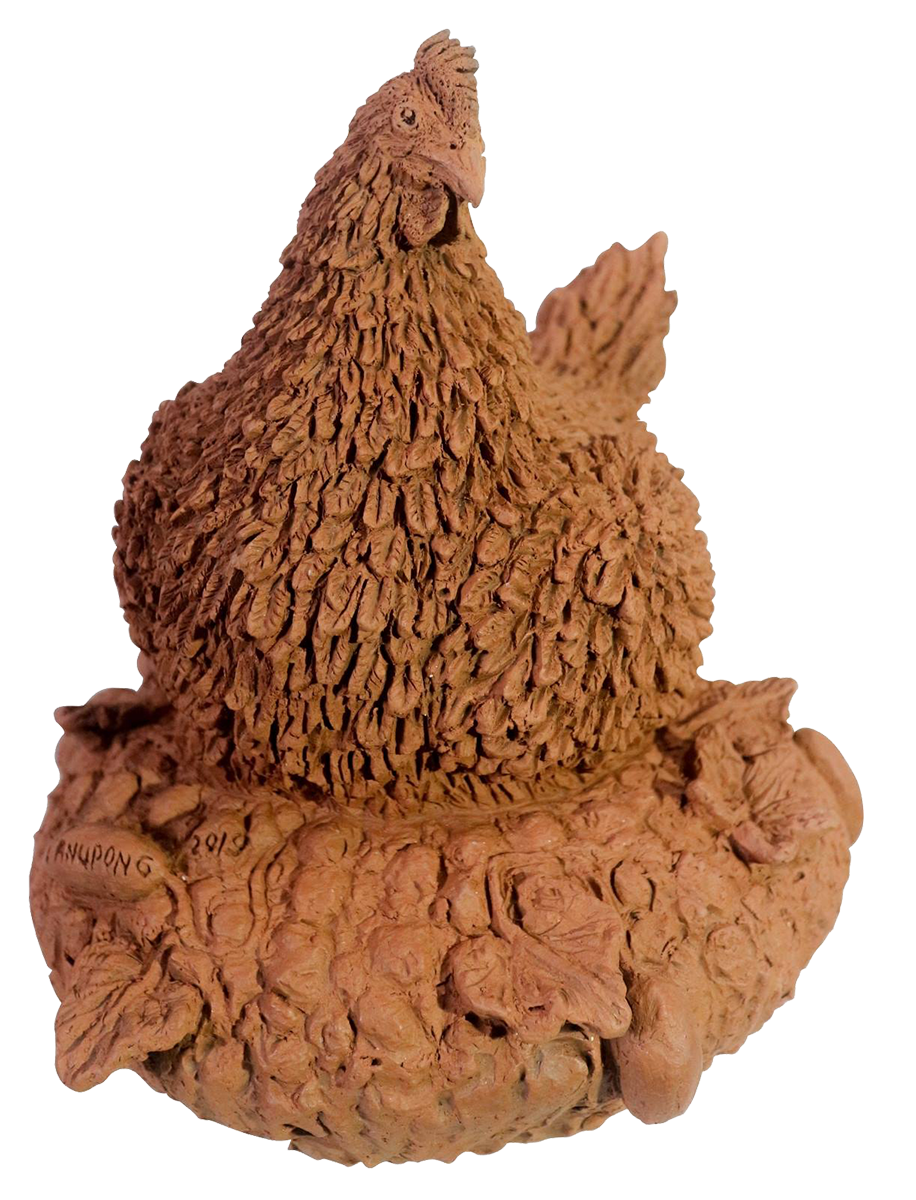 Taiyuan Art Gallery let you learn the wisdom of the Lanna culture from the past to the present. Traditional and contemporary arts are exhibited in this 2-storey Lanna house, including the valuable works of Chalong Pinitsuwan and famous local artists.

ADDRESS: 250 MOO 15 RATYOTHA ROAD, ROP WIANG, MUEANG, CHIANGRAI
OPENING HOURS: WED – SUN 10.00 – 17.30