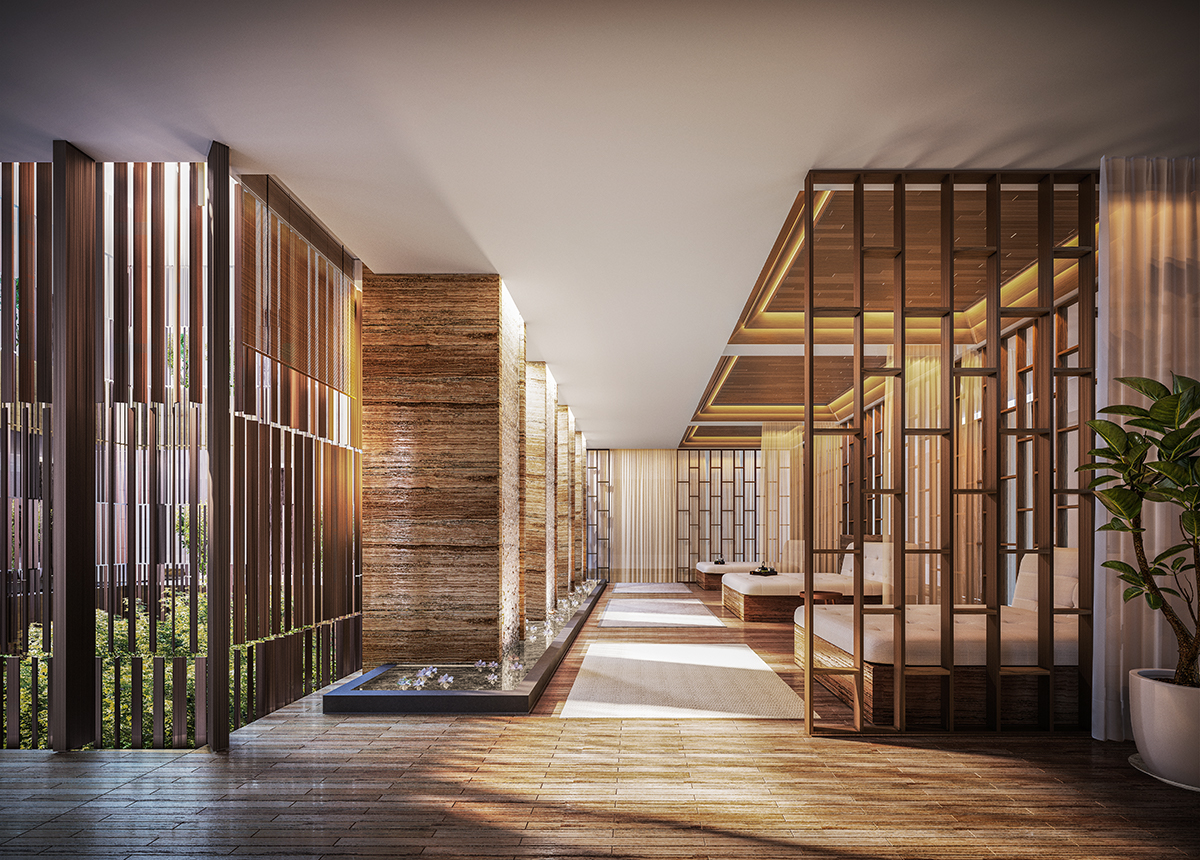 AMAN NAILERT RESIDENCES BANKOK: THE FINEST ADDRESS FOR HOLISTIC WELLBEING IN THE THAI CAPITAL
AMAN NAI LERT RESIDENCES BANKOK: THE FINEST ADDRESS FOR HOLISTIC WELLBEING IN THE THAI CAPITAL
Rising from the lush private oasis that is Nai Lert Park in central Bangkok, Aman Nai Lert Residences will not only offer an abundance of space in a peerless natural setting thay will also provide residents with state-of-the-art wellness facilities including a medical grade spa. To have the means to holistically maintain every aspect if one's wellbeing on the doorstep is therefore no longer the ultimate luxury, but perhaps a true necessity.
The healing power of nature with her vast apothecary of medicinal plants and nurturing beauty is well documented. Even simply walking through a garden has a powerful effect on wellbeing. Nai Lert Park is a pristine tract of jungle preserved since 1915 by the Nai Lert family, onec on the outskirts, but today the living green heart of the city. A verdant sanctuary for Aman Nai Lert residents and their guests, the park's mature trees and winding pathways create shady bowers and sunlit glades for quiet reflection and forest bathing, setting the tone for the cool serenity of the extensive wellness facilities high above.
Desingned by Jean-Michel Gathy of Denniston International, the 36-storey Aman Nai tower will encompass an Aman hotel as well as the exclusive residences. Along with two world-calss restaurants, the hotel will house a 1,500-square-metre Aman Integrative Wellness Center which will be a haven of urban wellness spread over two floors-the Medical Spa on the 8 floor, and the Holistic Spa in the 10. Aman Nai Lert residents will enjoy privileged access to the Aman wellness lifestyle with these two spas, as well as to the additional and excusive residents-only wellbeing facilities on the 30 floor. These will include an infinity swimming pool and bubble bed, a Fitness Centre and a studio for pilates and yoga, all embracing panoramic vistas if the cityscape stretching the horizon. There will also be Kid's Club and a children's swimming pool on this floor with professional childcare service available, ensuring that residents who are parents can relax and train with complete peace of mind.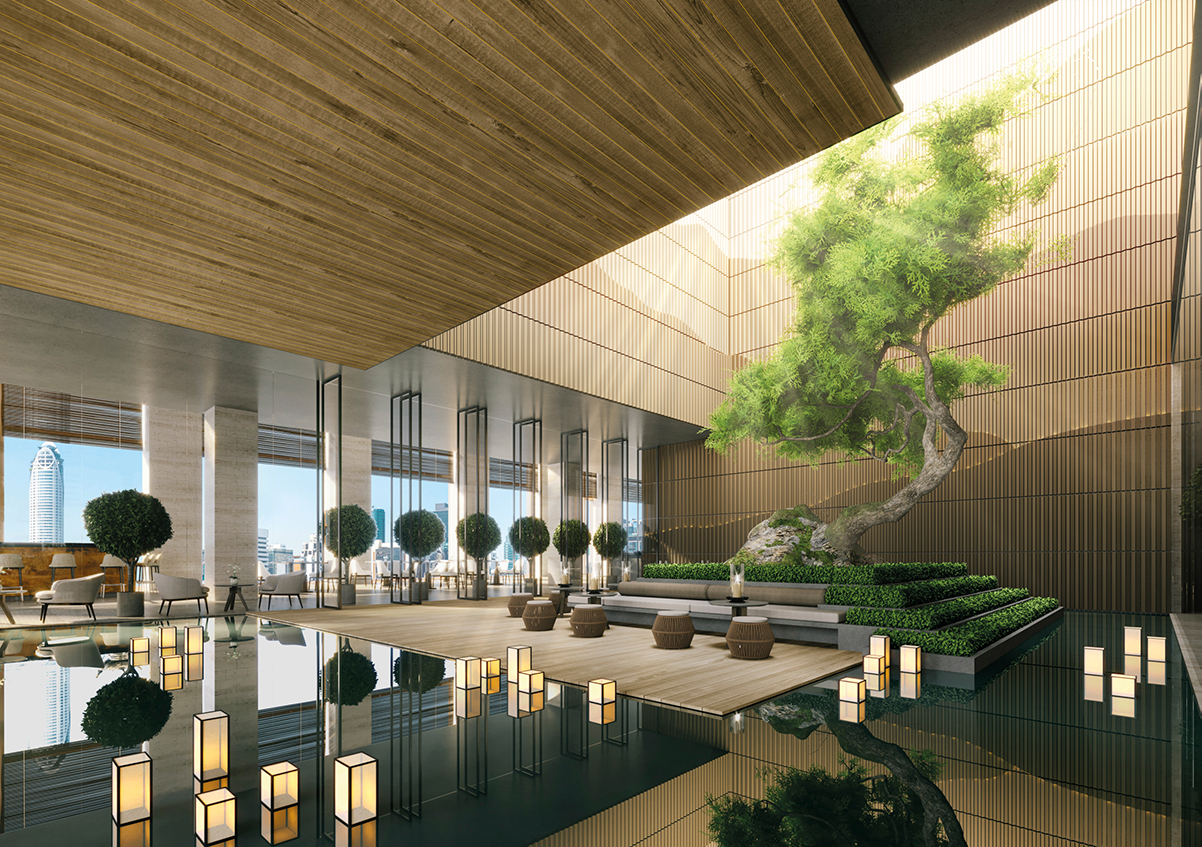 Overseen by a team of certified lifestyle and medical doctors, the fully integrated Medical Spa on the 8 floor will offer eight private clinic rooms, one examination room and IV Lounge for Intravenous (IV) Nutrient Infusion Therapy and the latest technologies to be used alongside specialist practitioners. Drawing on Aman's experience at Amanpuri, where the brand's first ever medical-grade Holistic Wellness Centre was launched in 2019, the Medical Spa will focus on integrative lifestyle and preventative healthcare programmes combining advance health science, as well as conventional medicine practices and Traditional Chinese Medicine (TCM) such as acupuncture and personalized herbal remedies. In addition, bespoke nutrition and supplement plans using Aman's supplement brand SVA will be available.  
Residents who embark on any medical treatment or programme will first be assessed by a qualified doctor during which a comprehensive diagnostic evaluation will take place. Analysis of all examination results, together with in-depth observation and discussions regarding the guest's overall physical state and emotional wellbeing, alongside their lifestyle and personal goals, may lead to the prescription state specific medical therapies where necessary, self-optimization and sleep to injury recovery, brain health and aesthetics. The Medical Spa will also offer disciplined and Sexual Vitality as well as other lifestyle interventions such as Weight Management & Transformation, Detox & Cleansing, Stress, Anxiety & Burnout Management and Recovery & Recuperation.
On the 10 floor, the Holistic Spa will welcome residents into a tranquil reception area from which they can access an extensive range of hydrotherapy and movement facilities, a beauty salon and a Wellness Lounge serving healthy refreshment and herbal tonics made with medicinal plants sourced from Nai Lert Park and nearby organic gardens. Hydrotherapy areas will include dry and steam saunas, hot tubs, ice cold plunge pools and experiential showers which offer hot and cold physical training which stimulates the immune system, lymphatic system and circulation. The Fitness Centre will include latest concepts in functional training with body composition and rate assessment equipped Pilates Studio, serene Yoga Studio and a private training room.
Treatments will be enjoyed in six single spa treatment rooms, a double treatment room for couples, or the unique Banya Spa House. Ideal for half-day and full-day wellness journeys, the Spa House will feature a Russian steam room or banya, a private terrace and Jacuzzi and living room. The Holistic Spa menu will draw in the all-natural Aman Skincare range to offer massages, facials, body polishes, wraps and personalized spa journeys following the Grounding, Nourishing and Purifying pathways.
Due for completion in 2023, Aman Nai Lert Residences Bangkok will number no more than 50, representing a unique opportunity to own a home within a very select community immersed in the Aman lifestyle and benefiting daily from its focus on holistic wellbeing.