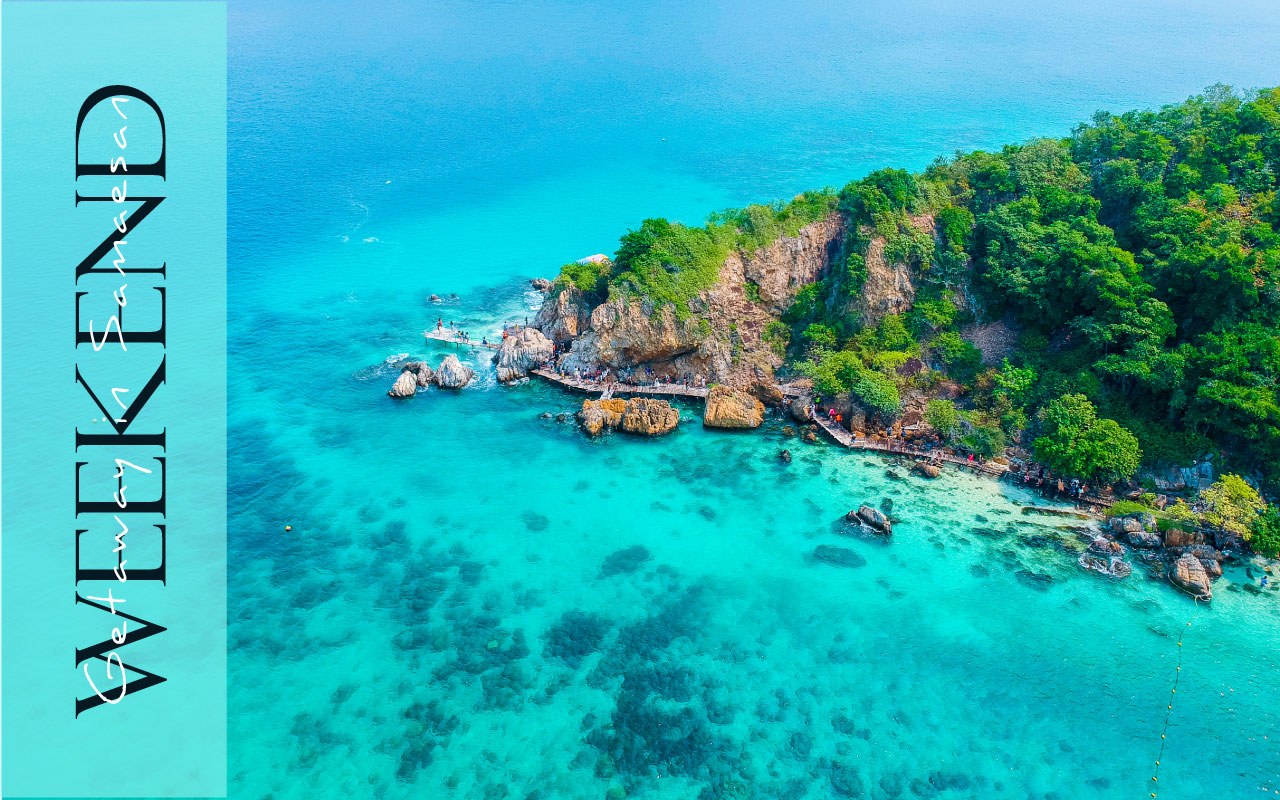 Weekend Getaway in Samaesan
Weekend Getaway in Samaesan
Escape from the chaotic world and allow yourself to unwind by the sea at Samaesan. Located in Chonburi in the Thai navy owned land, "Samaesan Bay" offers a fun weekend getaway just 2 hours from Bangkok. Nine bountiful islands, Koh Chuang, Koh Rong Khon, Koh Rong Nung, Koh Yung Kluea, Koh San Cha-lam, Koh Chan, Koh Rad, Koh Kham, and Koh Samaesan, dotted the bay, but only Koh Samaesan and Koh Kham are open to the public as the rest are reserved for turtle nesting. Being protected by the state, land and marine lives flourish around Samaesan Bay, making it one of the best diving spots to see the diversity of marine lives, from staghorn coral and sea fan to manta ray, clown fish, and parrot fish.
Hat Thian is the natural reception for Koh Samaesan visitors. The white sand beach stretches 500 meters along the east coast of the island with no sharp rocks obstructing your beach activities. This is a great place to hang out and relax by the beach.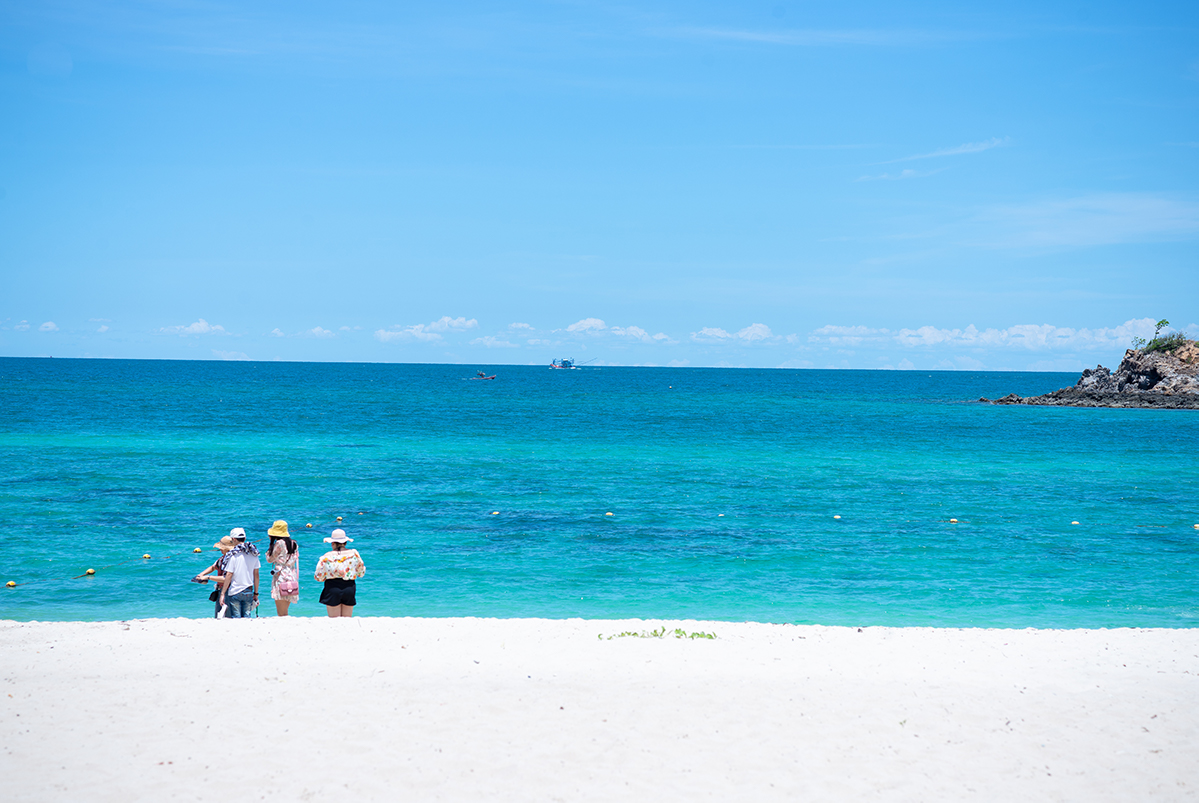 Travelers can buy a ticket to Koh Samaesan and Koh Kham at Thai Island and Sea Natural History Museum (Adults 300 Baht / Children 220 Baht). For more information and advance booking, visit www.tis-museum. org or call 038 432 471 (Koh Samaesan) / www.kohkham.com or call 033 124 848 (Koh Kham).
To the northwest of Koh Samaesan lies the heart of the island. Hat Luk Lom is undoubtedly the main stage where you will find all the facilities required for a great vacation, and all the tourists (of course!). The beach offers everything, from fun beach games and relaxing spots to kayaking, snorkel diving, and boats with glass-floor.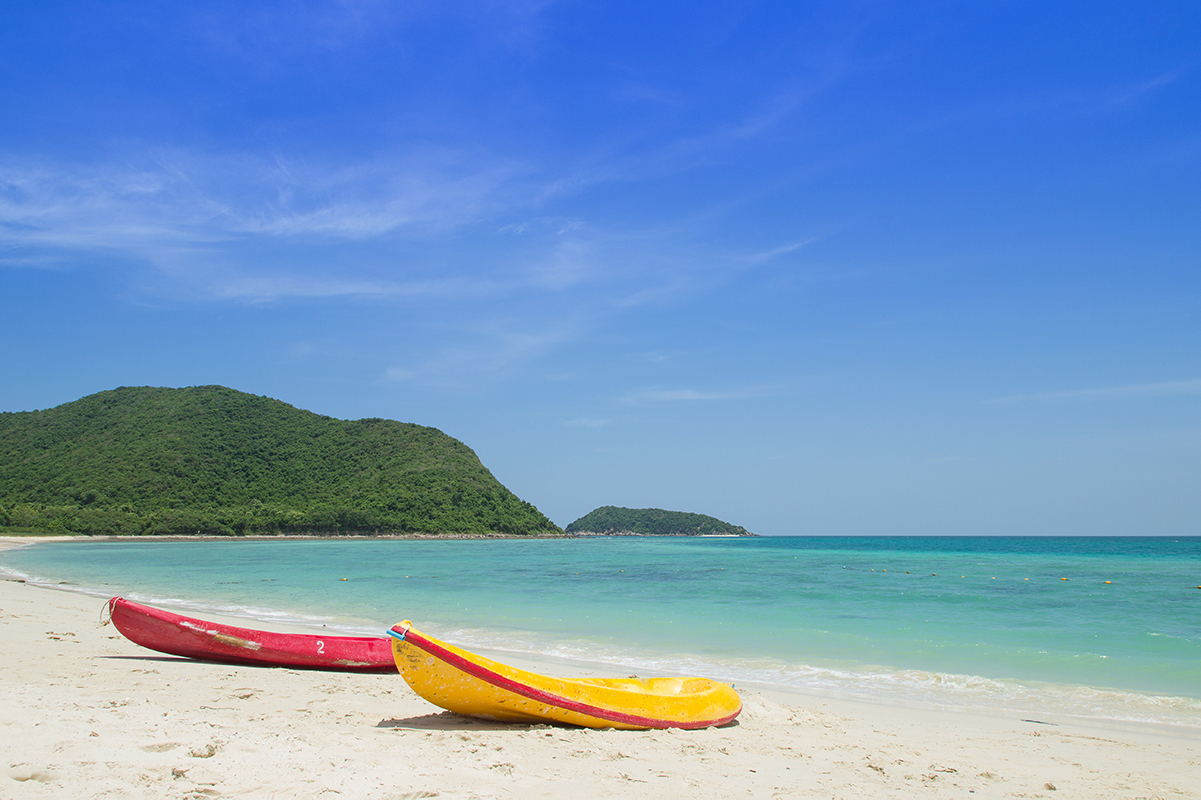 allowed to set foot on the island each day. The pristine beach to the north provides an excellent leisure spot to take a dip in the crystal-clear water while the rocky southern coast features a wooden bridge that stretches into the sparkling sea – the perfect setting for your Instagram profile! Koh Kham opens on Monday – Thursday at 9.00 – 10.00, and open all day on Friday to Sunday and public holidays. Make sure your checkout the island opening times before planning a visit.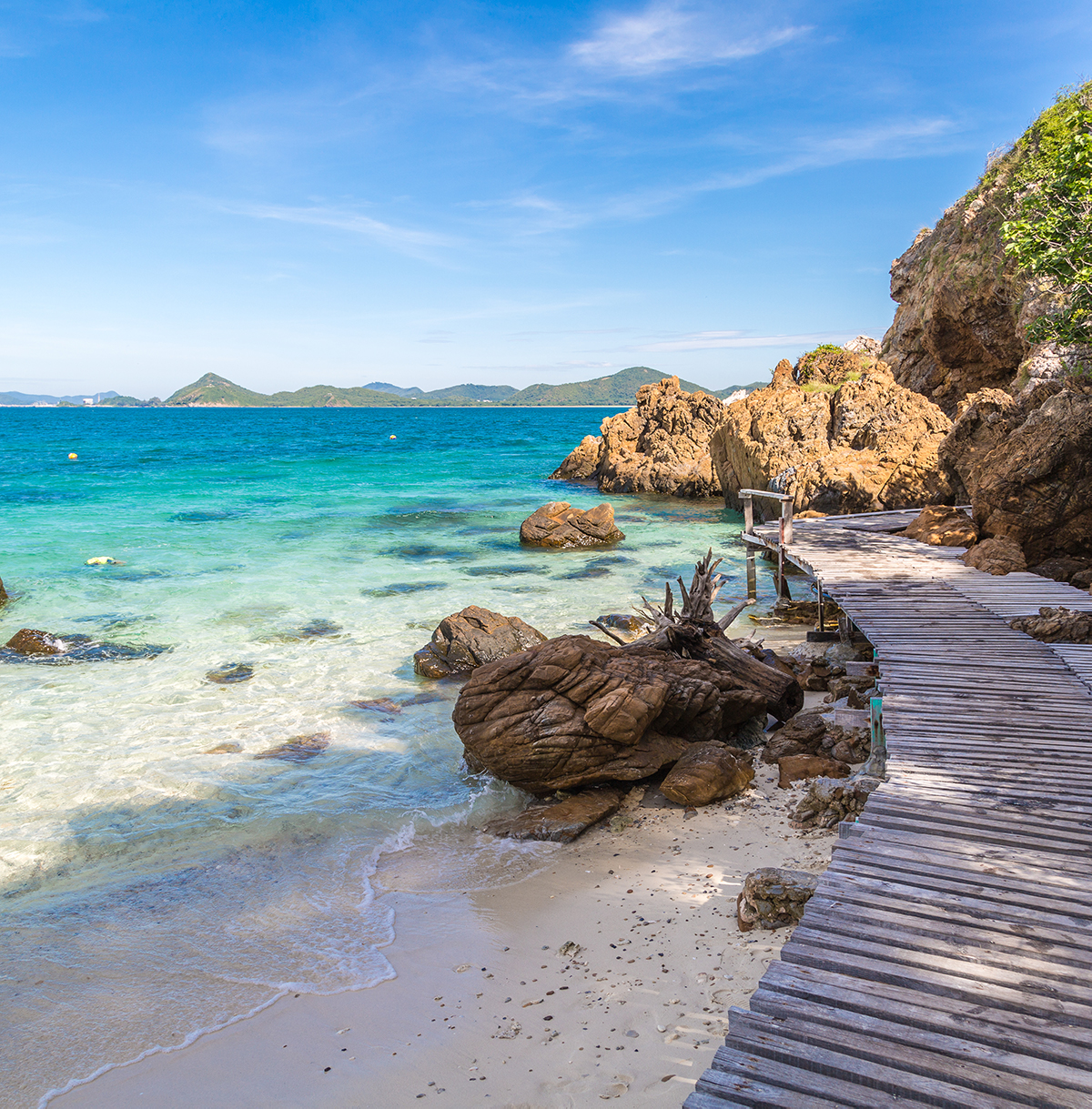 Chilling boat cruise and check out the underwater world of "Samaesan Bay"
You don't have to be on Koh Samaesan or Koh Kham to enjoy a breath-taking dive. Diving tours and private boats are available at Samaesan Pier for a memorable underwater experience. The whole day trip offers a chance to see beautiful marine ecology where turtles swim leisurely with schools of tiny fishes around the coral reef. Some diving tours also offer photo service, so you won't have to buy all the fancy waterproof equipment to get your new favourite photo. Keep in mind that you are not allowed to get on any island unless permitted. Diving spots change from Koh Chuang, Koh Rong Khon, Koh Rong Nung, and Koh Yung Kleau (Koh Yung Chang), depending on each season.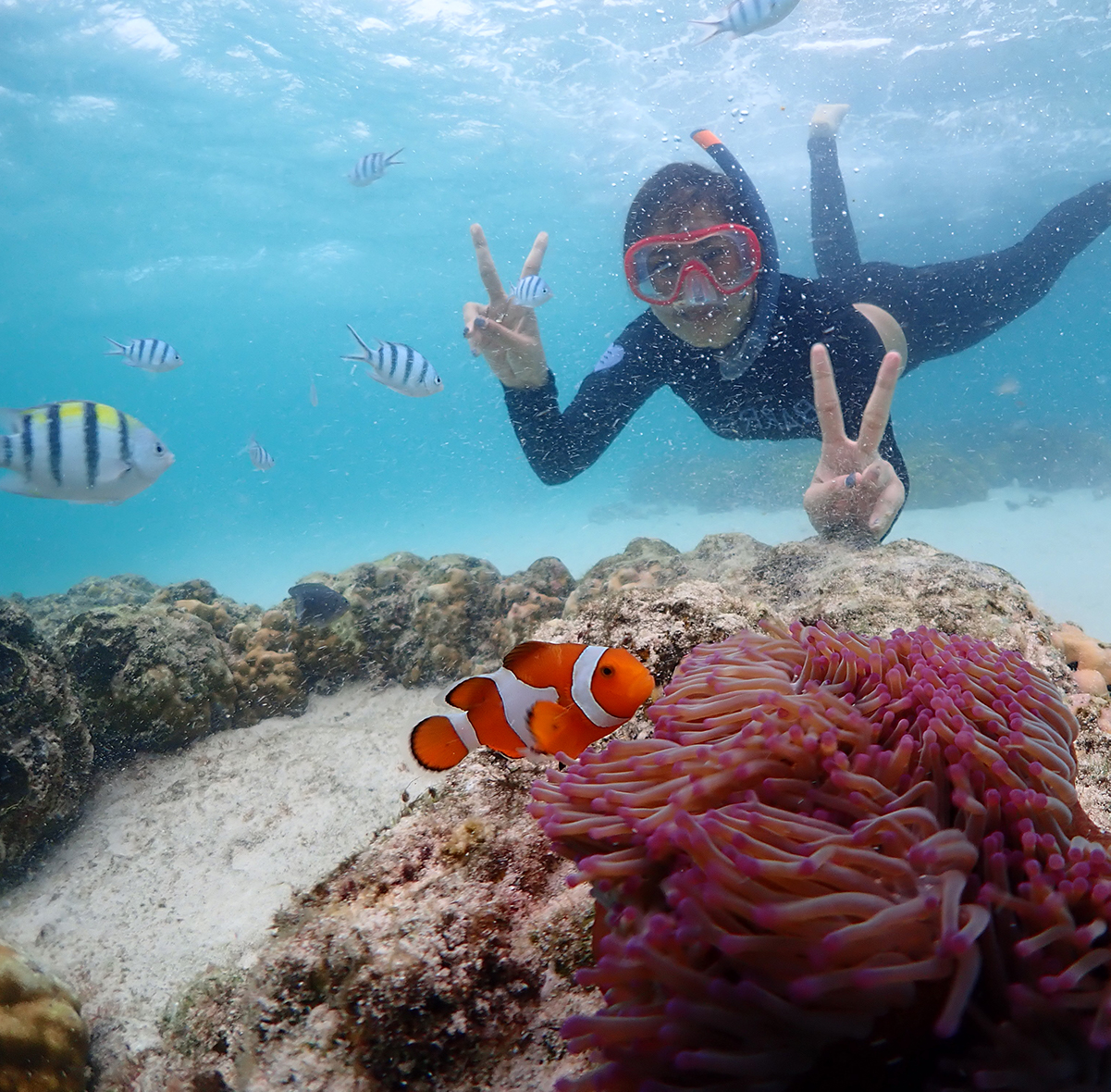 Wat Chong Samaesan Viewpoint
Wat Chong Samaesan is home to the statue of Venerable Luang Por Dum, the most venerated monk in Samaesan. It is accustomed for fishermen to pay respect to Luang Por Dum and ask for a safe trip before sailing off. The temple is majestically decorated with sculptures of angels and paintings of Buddhist history. Visitors can also climb up to the peak for the spectacular panoramas of Samaesan.
Address: Wat Chong Samaesan, Ban Chong Samaesan, Sattahip, Chonburi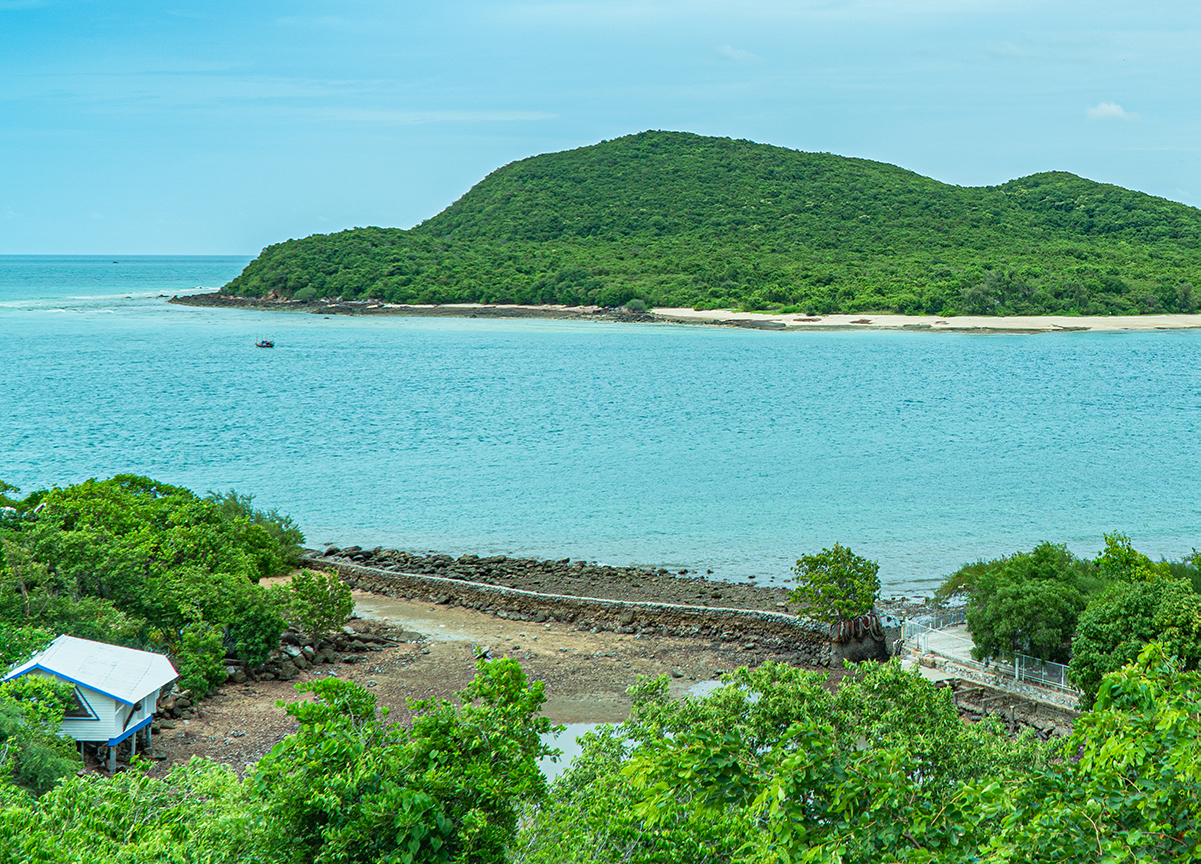 A seaside trip won't be completed without fresh and delicious seafood! Freshly caught seafood are expertly prepared into some of everyone's favourite menus like Stir-fried squid with salted egg, Seafood Tomyum, and Fried mantis shrimp with garlic. Complementing the dishes is the seaside atmosphere on the spacious and breezy terrace – a great way to relax and refill!
Address: Samaesan, Sattahip, Chonburi
Tel: 062 515 9922
Opening Hours: Everyday 9.00 -22.00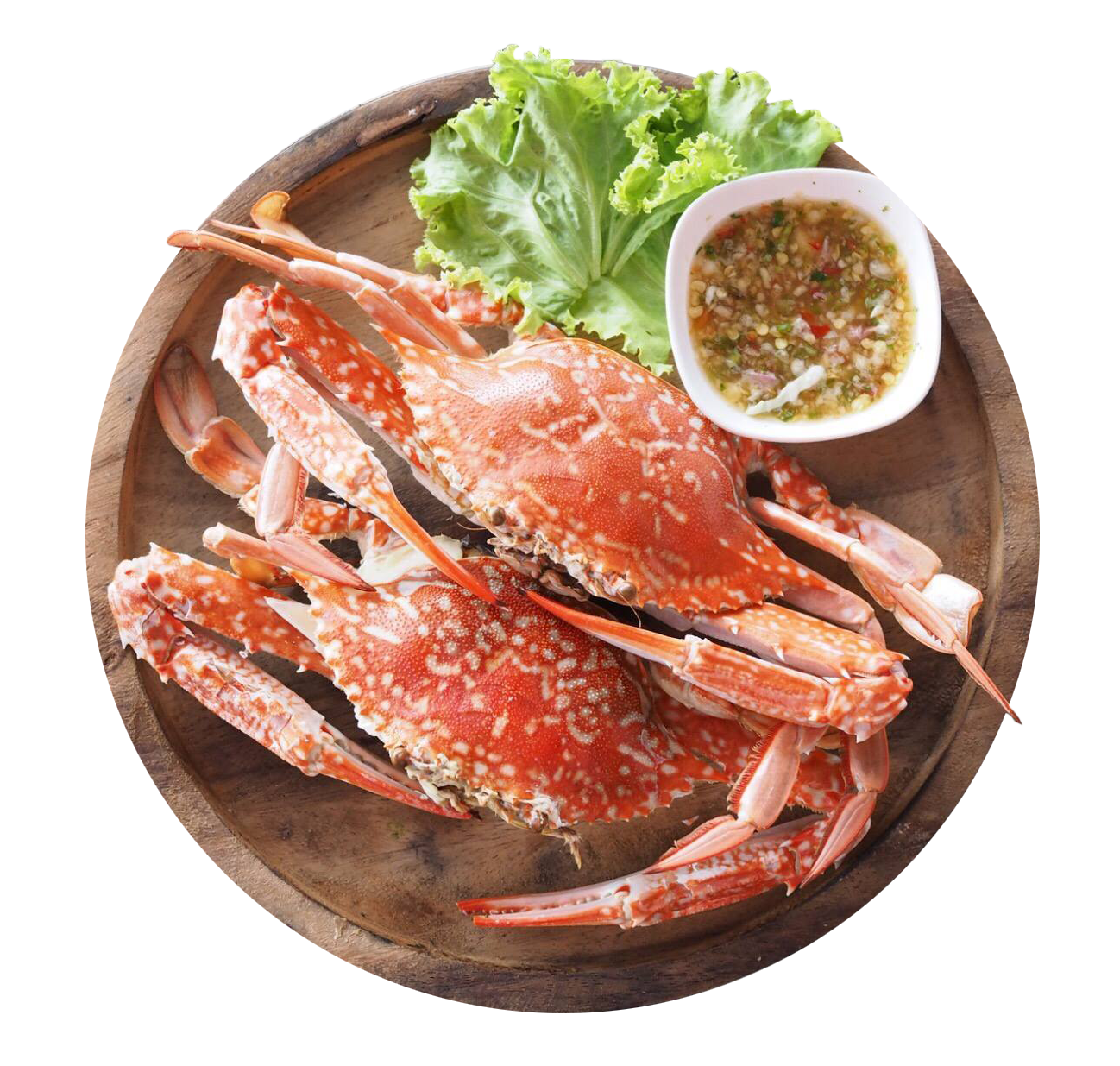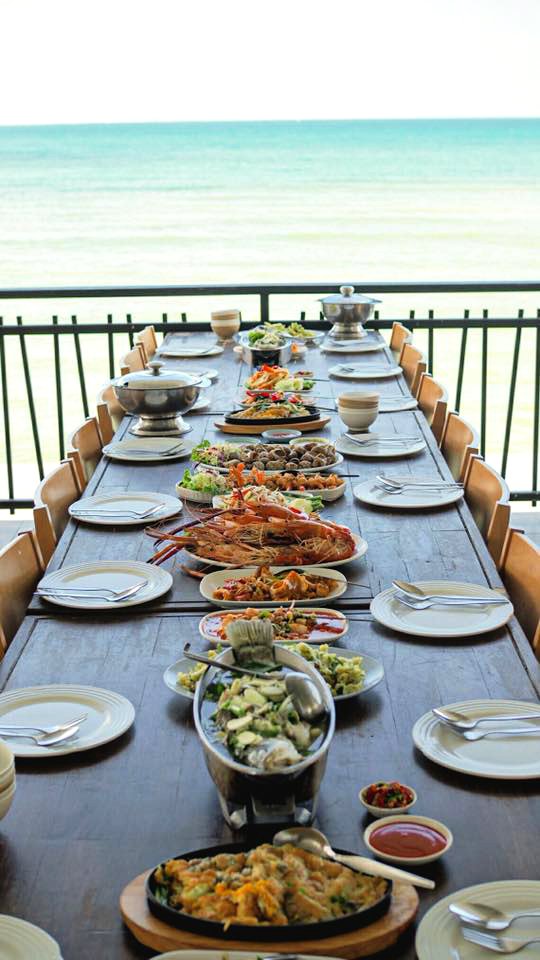 Chic and imaginative explains the style of Sea View Villa as the resort brings Dr. Slump to life. If you are a generation X, there is a good chance you will recognize, or even a fan of Arale, the little girl robot in Dr. slump manga. There are lots of spots to take a photo with Dr. Slump props and background. Offering a comfortable stay, the rooms and villas are well-appointed and come equipped with all the amenities for a relaxing stay. The resort also offers private diving tours and day tours around Samaesan Bay.
Address: 18/119 Samaesan, Sattahip, Chonburi
Tel: 090 001 2524