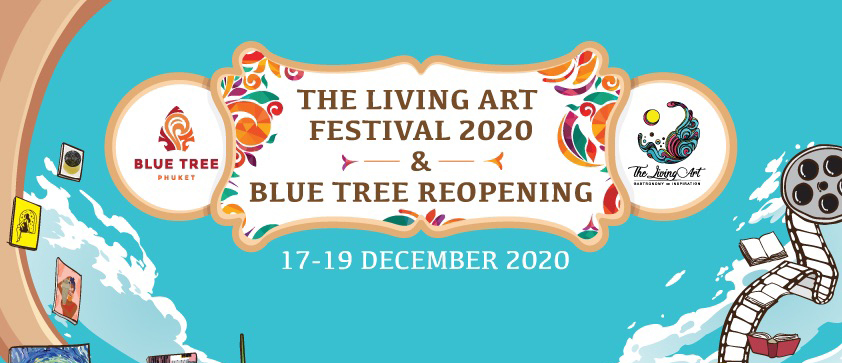 THE LIVING ART FESTIVAL 2020 & BLUE TREE REOPENING
THE LIVING ART FESTIVAL 2020 & BLUE TREE REOPENING
Blue Tree Phuket and The Living Art join forces for The Living Art Festival 2020, and Blue Tree Phuket's reopening. The three-day festival scheduled for the 17 – 19 December 2020 and will bring a combination of music, fashion, arts and crafts, food and more.
The aim is to drive domestic tourism to Phuket and highlight the arts and culture as well as to introduce Phuket to the world of contemporary art lovers with some of Thailand's most sought-after artists, that convey works of art through different perspectives. Blue Tree Phuket has also been positioned as a new Phuket landmark and must visit destination for locals and tourists alike.
The main objective is to promote Phuket as "Creative City Hub," and will feature works from top Thai artists such as Prateep Kochabua, Mueangthai Busamaro, Jarupong Juntarapech, Paretas Hutanggura, arts & crafts, ceramic works, home decorations, jewelry and more. Guests can also experience street art, street performances, workshops, art films, panel talks, and fashion shows from Jeab
Eaggamon Attagamon and Kai Buncha Chooduang. Music will include a collaboration of Piano (Western) and Koto (Ancient Japanese Harp) as background music for Nora Dance (Thai Southern Dance) as well as live concerts with performances from Mariam – Q Flure – and Cake from B5, Phum Viphurit, Tontrakul, Synth X Factor, EKA Soundz, DJ Nicola Vega and DJ Fen.
This promises to be an amazing community festival, for all ages to enjoy as well as the full reopening of all areas of Blue Tree Phuket that we all love from the Lifestyle Village, to the Arena, and of course the Blue Tree Lagoon!