Story & Photos by ChatonChokpattara

In 10 ASEAN member countries, Cambodia is one of the fascinating countries attracting tourists from around the world. Cambodia not only has beautiful natural attractions but also charming cultural attractions as it used to be a center of the great ancient civilization known as "Khom or Khmer". Khmer Empire had been influenced by religious beliefs and Theism governing systemin Brahmanism from India, which was adjusted harmoniously to its ethical identity. The power of the Khmer Empire had expanded throughout almost the Southeast Asia region, as there are some traces of Khmer civilization are found in many countries including Vietnam, Laos and Thailand. In Thailand, Khmer Empire had occupied covering the whole area of the Northeast of Thailand to the west in Kanchanaburi andfrom the North in Sukhothai to the South in Petchaburi. However, nothing lasts forever, the flourished Khmer Empire was collapsed when it was conquered by Siam and France in the 19th century. Since then, a civil war had occurred for many years, subsequently, millions of people died. Unfortunately, the brutal civil war had overshadowed the beauty of the amazing attractions of the country, which were almost depleted.
As, nowadays, Cambodia has just started to develop basic infrastructures within the country, it is not much convenient for visitors. Thus, for the one who loves adventure and exploring new experiences, Cambodia is highly recommended. Life style of Cambodian people is simple especially in rural areas. Even though, their ancestors had encountered civil war for a long period of time, at lest 1-2 generations, it makes some of them lack of smile sometimes, but in their pure mind, they are warmhearted and very friendly. They always welcome visitors and offer helps when needed, this could be witnessed at bustle morning markets or even walking on the road. Additionally, most Cambodian people are Buddhism. They eat rice as a staple food just the same as in Thailand. Also, Cambodia has similar traditions and customs to Thailand. All of these similarities help Thai people easily adjust themselves when visiting Cambodia. Some Thai people might not know before that the Royal Ploughing Ceremony, taking place every year to encourage farmer's morale in doing farming, is brought from Khmer's tradition, originated from India.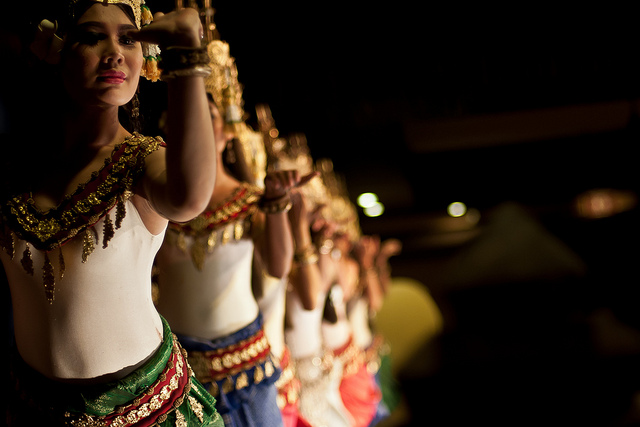 Unlike the previous history of conflict,Cambodia today becomes a peaceful country that fully opens itself to the growth of tourism industry. The road from Thailand's border stretching to Siem Reap is well constructed, which leads a number of tourists from all over the world to the center of "Angkor". In here, there are hundreds of stone temples scattered in the dense jungle. Some of them were disappeared and some have just been discovered and introduced to the world. Just like Angkor Wat, it had been abandoned in the jungle for hundreds of years. Until it was found by the French explorer, Henri Mouhot, the grandeur of the temple was first announced to people around the world.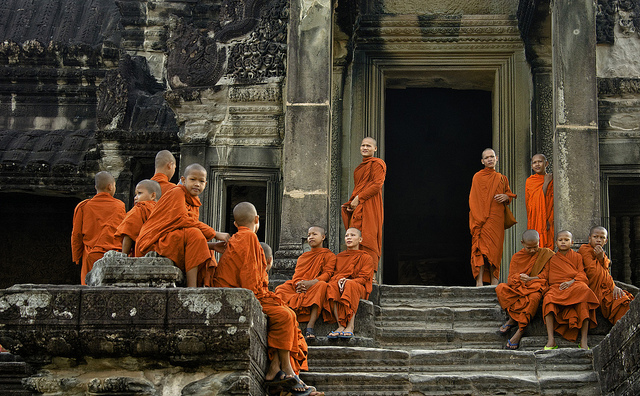 Our main destination of this trip is in Siem Reap, a popular tourist destination that is like a gateway of Cambodia welcoming visitors over 1,600,000 people from around the world in every year. Historic landmarks in Siem Reap are like a magnet attracting people to visit especially Angkor Wat, Angkor Thom, Bayon, Ta Prohm, Banteay Srei, Bakong, Lolei, Phnom Bakeng, Phnom Kulen, the West Baray and many more. This is not a coincidence but it is a vestige of civilization from ancient ancestors left behind to support Cambodian people today.
The best way to get to know the history of Cambodia is visiting Angkor National Museum in Siem Reap. This museum was newly opened in 2007 to collect precious treatures of the ancient Khmer Empire during 9 – 14 century, the golden era of Khmer, which are exhibited in 9 galleries. As, theses precious archaeological antiques are invaluable, they are preserved safely in this museum, otherwise some of them might be stolen and sold to the rest of the world. From the city center of Siem Reap, we rented a taxi to the world's largest stone city "Angkor Wat". It is reputed as one of the Wonders of the Ancient World. It was built from millions of stones piece by piece to a magnificent temple and a royal funerary temple of King Suryavarman II, the builder. The temple is oriented to the west surrounded by a huge baray (a moat). The temple layout was designed in a square shape to represent Mount Meru from the ancient belief. Seeing Angkor Wat, even just once, is such a great experience that worth doing. It instigates our wonder and makes us imagine that how many slaves of all kinds both people and animals were used to contruct the temple in the early 12 century. They had to live together as a big community for many years until pieces of stone became the great temple.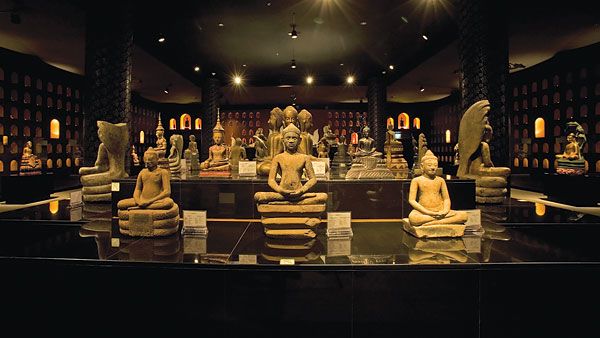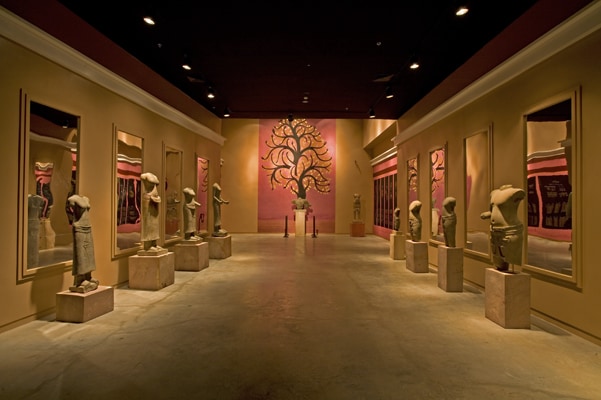 King Suryavarman II intended to build Angkor Wat as a virtual magnificent paradise. Even from a long distance, Angkor Wat loftily shows its incredibly enormous size that seems to exceed humam power to build it. It makes us wonder if it was magically created by an angle instead. When we walked closely, we were surprised by detailed bas-reliefs, which presents almost everywhere throughout the temple. Especially, prominent bas-reliefs, carved along the outer corridors surrounding the main tower, depicted the Hindu epics the Ramayana and historic events in successfully conquering other kingdoms. Accordingly, it could be said that Angkor Wat is a time machine that help us to travel back in time to Khmer Empire era. We can still experience mysteriousness of the ancient Khmer in every step on the city of stone, which is beyond our imagination. Only if we see with our own eyes, touch with our hearts and study some of Khmer's history, it would make our trip even more enjoyable.

"See Angkor and Die!" is a popular phrase among visitors that represents the importance of Angkor Wat as don't die before seeing Angkor Wat because you would feel regret to regain or to reincarnate just to see it then you die peacefully. Although there are many Khmer temples built before Angkor Wat such as Wat Phou in Champasak, in the south of Laos, that was built 300 years before Angkor Wat. However, Angkor Wat has a unique enormous size that makes it distinctive to other Khmer's temples. From a legend, this temple was built by faith in Brahmanism received from India, symbolizing towers of Angkor Wat as the center of the Universe. When the time had passed, Khmer Empire had gradually lost its power and eventually been occupied by Siam. Angkor Wat had abandoned in the deep jungle for 600 years. Until in 1860, Henri Mouhot, a French explorer, and his team found it. Since then, Angkor Wat had been restored and finally it was registered as the world heritage site.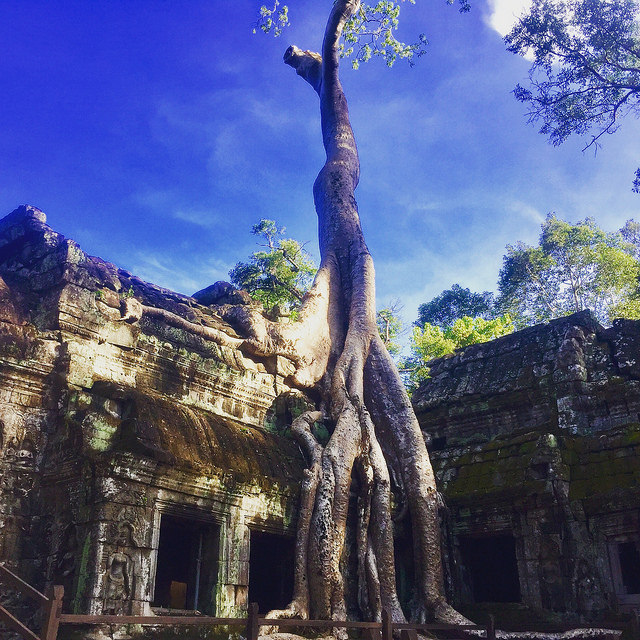 There are things that should not be missed out of your plan in Angkor Wat that are 2,000 graceful idols of the goddess Apsara, which were depicted on the temple's walls, arched gates and corridors around the main tower. If you superficially see each idol, they are look similar but if you look more carefully, they are all different in details such as some in their dresses, some in their smiles and some in their postures.
For example, some idols have a smiley face and some have a firm pair of breasts makes them look too sexy to touch. Many tourists rubbed her breasts until that part of the stone idols look shiny! Eventually, the Cambodian government prevents tourists to rub the idols by fencing around the idols. If the idols could talk, she would be so abashed. From Hindu mythology, the goddess Apsara is a beautiful fairy not an angle. Apsaras were born when giants and angles stirred the ocean until thousands of bubbles rose up and turned to Apsaras. In some stories said, there were more than 35 million Apsaras. Unfortunately, they were just partners of angles on the heaven. Even though, they were just in a mythology or sandstone idols in Angkor Wat, they still have a mysterious charm that hypnotizes many people to stop and stare just like they were alive.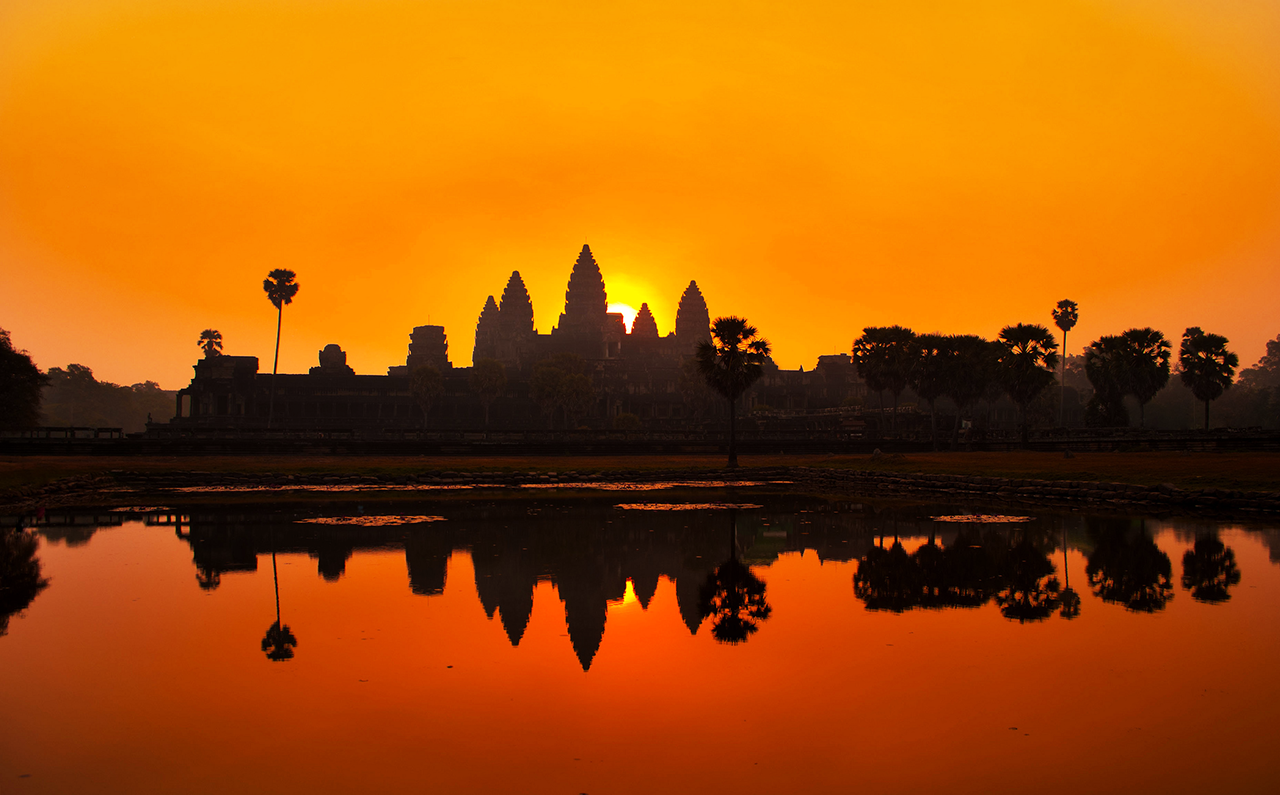 Then, we moved to "Angkor Thom". Most people would be familiar with the giant tower that has massive stone faces of Bodhisattva Avalokiteshvaraon on the top oreinted to the four directions to alleviate and end suffering of people. These stone faces are called "The Bayon", which appear on the top of 54 towers of Angkor Thom. When we entered to the Angkor, it seems like there was someone looking at us. This truly is a compassionate face of the Buddha that always watch over us from the top of the towers.
The area of Angkor Thom is not too big. It covers only 9 square kilometers. Angkor Thom used to be the center of a new capital of the ancient Khmer Empire, which was the last state temple to be built at Angkor, after the capital was moved from Nasotarapura since the 15th Buddhist era. Angkor Thom was built in the 18th Buddhist era in the reign of King Jayavarman VII with Bayon art influenced by Mahayana Buddhism (previously, Khmer had been influenced by Brahma-Hindu for 415 years.). By that time, it was the golden age of Khmer Empire. Angkor Thom served as the official state temple of King Jayavarman VII, as the kings of Khmer Empire had to built state temples in each reign.

After spending time at Angkor Thom, we, then, traveled to "Ta Prohm" that is not far from Angkor Thom. Ta Prohm is one of the world's most recognizable Khmer stone temples. Not only because it was used as a location in a Hollywood film "Tomb Raider, starred by Anglelina Jolie, but also it looks familiar with the picture of a gigantic tree growing out of the roof top of a stone tower. The trunk of the tree soars upright under a shady canopy branches. The roots run along stonewalls trailing the ground. It seems like the temple and the tree fused together. Luckily, this gigantic tree was not demolished when the temple was restored many years ago. It is conserved as an iconic attraction in Cambodia to attract many people around the world to visit. Even though Ta Prohm is not as elegant as Angkor Wat, its mysterious charm makes it distinctively interesting.

Ta Prohm was built in the reign of King Sayavarman VII same as Angkor Thom. The king intended to dedicate this temple to his mother, Queen Sri Jayarajacudamani. Thus, Prajnaparamita image, the personification of wisdom, was enshrined in the main temple.
Currently, this image is exhibited in a museum in France. Unfortunately, Khmer people do even not know if the image would have an opportunity to be presented in its homeland again, or not.
Ta Prohm formed a complementary pair Preah Khan that King Sayavarman VII dedicated to his father. Preah Khan has a special feature, as the northeast building of the main temple was twostories building supported by round stone pillars, which is incredibly similar to Doric columns of the ancient Greek. Even the best scholars still wonder about this and a clear answer is still a mystery.
The last but not least Angkor in Siem Reap that we visited is "Banteay Srei", a sandstone temple that has the most beautiful carving patterns in Cambodia! It was built from pink sandstone in 976 A.D. by a courtier named Yajnavaraha in the end of the reign of the King Sayavarman II, dedicated to the Hindu god Siva, under the name "Tribhuvanamahesvara"-great lord of the threefold world- (the heaven, the earth and the underwater world).
Although Banteay Srei is a small temple, it is praised as a precious gem of Khmer art, with reddish-pink sandstone makes it outstanding and powerful. When we looked more closely, we were amazed with the intricacy of its carvings, which are still perfect and clear just like they had been recently completed. The temple is also known for the delicate beauty of its sandstone lintels and pediments depicting the goddess Apsara in dancing posture.
Before going back to Thailand, we ended our trip at Tonle Lake, the largest freshwater lake in Southeast Asia, which covers about 7,500 square kilometers or 7 times bigger than Bangkok. At the lake, we enjoyed a range of water-base activities including having a boat trip to refresh ourselves with pure ozone, cruising through the floating villages to see how people live, taking pictures with children with snakes (they sailed to us and we had to pay for it, of course) and stopping over at crocodile farm. This must be scary, if some of them could escape into the water! Our long journey finished here at Tonle lake. Then, we caught a plane back to Thailand. However, we definitely believe that sooner or later we will come back to visit other interesting places in this country again because "we fall in love with Cambodia"!
Professional Guide
Best season : All year round; Hot season between March to August and Rainy season between September to February

Getting there : Several options to travel from Bangkok; taking an international bus service, a 38-seat bus for 7 hours, 424 kilometers Bangkok – Aranyaprathet – Poipet – Siem Reap route at 750 Baht/person Tel. 02-9362852-66 (http://home.transport.co.th/th/internationalroute/) or catching a plane directly to Siem Reap. We recommend Air Asia (www.airasia.com)
Overnight : In Siem Reap we recommend; Frangipani Villa Hotel (www.frangipanihotel.com) / Château d'Angkor La Résidence (www.chateauangkor.com) / Golden Temple Villa (www.goldentemplevilla.com)

Cuisine : Never miss to try Amok (Khmer Ho Mok),LokLak (hybrid food between Vietnamese-Cambodianfood, cubed beef served with fried egg and French fries ), Salaman (Khmer beef curry), Samlor Machu (Khmer sour soup), Prahok (Khmer pickled fish), Beef stir fried with lemongrass, eggdrop sweet with cold syrup and etc.
Shopping : Kroma or Khmer scarf, carved sandstone, handmade silk, silverware, Madam Sachiko Angkor cookies, pepper and other spices and etc.
More info : www.tourismcambodia.org, www.tourismcambodia.com