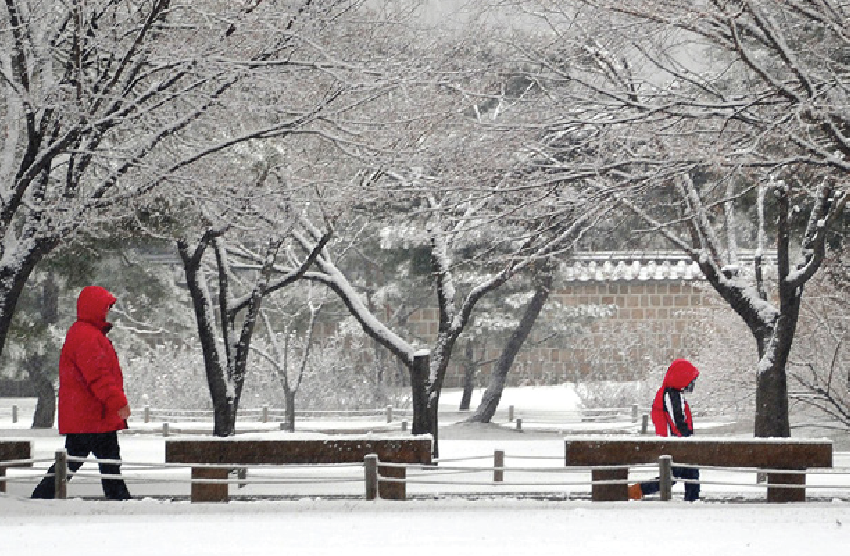 Korea A Heart Melting Trip
Korea A Heart Melting Trip
Have you ever daydreamed about your first snowfall? Catching snowflakes, building a snowman, having a snow fight with friends and love ones perhaps?
Korea is geographically situated in a temperate climate zone at medium latitude. As a result, it has four distinct seasons. Spring typically starts from March to May then comes the steamy summer from June to August. Cooling fresh autumn breeze flows from September to November, and the freezing, yet fun winter lasts from December through to February. Spring and autumn enjoy beautiful clear and dry weather while the summer tends to be steamy hot and humid.
As for winter, cool and dry weather invites visitors across the world travel to Korea to experience its romantic snowfalls and enjoy winter sports, as well as "Gimjang" or the winter kimchi making tradition.

The temperature during winter ranges between -6 oC to 3 oC so it can be very freezing for visitors from tropical countries. Despite the cold, there are plenty of activities to warm you up from skiing and snowboarding on snow-capped mountains, basking in hot springs, outdoor ice-skating in the middle of the city, and going on a romantic Christmas date in Seoul.

Seoul, the city of over 10 million people, isn't just the heart of Korea's culture, economics, and politics, but this vibrant city is also the destination that should be high on your list of places to explore once in a lifetime. The city is home to the country's finest historical museums, botanical gardens, nature reserves, and ancient palaces dated back to the 14th century, but Seoul is also one of the most advanced cities in the world with high-tech modern buildings and COEX Mall, Asia's largest underground shopping center. It's impossible to explore everything Seoul has to offer in one visit. so you might have to extend your vacation by at least a month to experience amazing sites and attractions of this stunning South Korean capital.
Must Know: Gimjang is the tradition of preparing large quantities of kimchi to eat throughout winter. It is a special event in Korean households that starts around late autumn and early winter. Kimchi made during this time is called gimjang kimchi.

The Places You Must Try for First Seoul Winter Everland & Everland Snow Sledding Slopes
Located in Yongin, Gyeonggi-do, around 2 hour drive from Seoul, Everland is the largest themed park in Souh Korea with over 7 million visitors flocking to experience its wonders. The park is divided into Everland, a themed park, and Caribbean Bay, a water park, each with its own exciting attractions and activities for a whole day or two!
walking into Everland. You'll be transported into the world of fun imagination at the Global Village zone where you'll find restaurants and food stalls to fuel you up before heading to the 4 connecting amusement zones.
Although Everland is fun throughout the year, but it gets extra exciting in winter when the Snow Buster opens! No matter what your age is, Everyland Snow Busteris the ultimate winter wonderland for everyone, from children to adults. Take the two-person sled and fly down the slopes with your lover one and comfortably get towed up the top again on the tube lift. If the weather ever gets too cold, you can always stop by the heaters placed around the area to warm up and get ready for another sled slide.
The Zootopia, European Adventure, Magic Land, and American Adventure. As the name suggest, Zootopia is a great start of a family trip or any trip. There is a petting zoo, pony rides, animal shows, and a small zoo with polar bears, sea lions, penguins, bears, tigers and primates. Join Zootopia's highlighted and venture aboard the world's first specialized convertible amphibian vehicle through a contained habitat where wild animals, including ligers and bears, roam freely. Moving clockwise towards the European Adventure, this zone brings the elegant European charm to Korea with European architectures and flowers gardens.

The N Tower
Located on Namsan Mountain in central Seoul, N Seoul Tower is where you should be to experience the panoramic views of Seoul from the highest point in the city.
The tower is a popular place to unwind for locals and tourists alike thanks to its mountain surroundings of Namsan Park and extraordinary facilities, including a digital observatory, a roof terrace, the HanCook restaurant, the n.Grill restaurant, and the Haneul (Sky) Restroom.
Although there are other observatory decks in skyscrapers around Seoul, N Seoul's digital observatory is unique asit doesn't just offer 360 degree views, but also features LCD screens that recount the 600 years history of Seoul.
Above the observatory, visitors are encouraged to try n.Grill, the tower's signature French fine dining restaurant with revolving floor. The restaurant revolves a complete 360 degree rotation every 48 minutes and allows diners to gaze a complete cityscape. With serene setting and romantic sceneries, N Seoul Tower is the destination for lovers looking for a sweet date. This is where the "Locks of Love" is located and thousands of lovers made their mark of undying affection by locking away a padlock to the fence and throw the key away.
However, the keys thrown away were starting to cause environmental problem and the tower now offers the Postbox of Love for lovers to leave their padlock key, and a part of the revenue made from the keys collected will be donated to underprivileged children. Another lover attraction are the heart chairs with leaning edges that slide you closer to that certain someone.