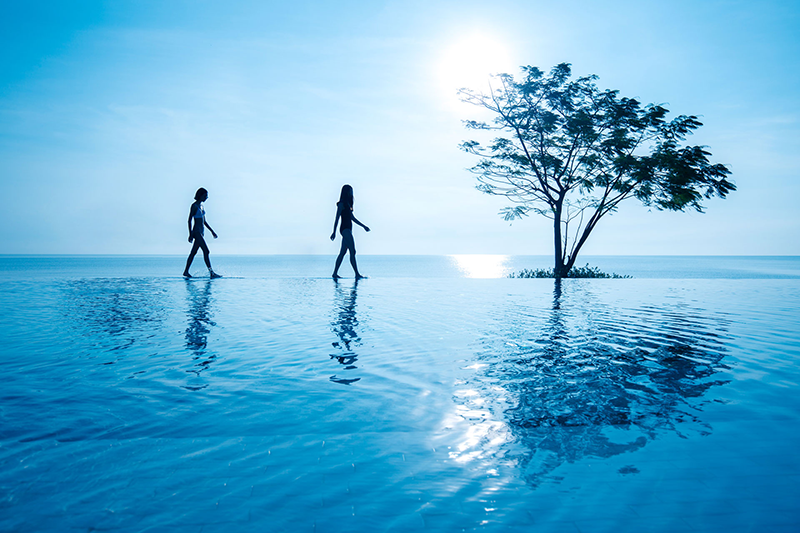 HUA HIN ASIA'S LUXURY BEACH HIDEAWAY
FOLLOW IN OUR FOOTSTEPS THROUGH 5-STAR HOTELS IN LUXURY RESORTS IN HUA HIN
HUA HIN ASIA'S LUXURY BEACH HIDEAWAY
Hua Hin is a popular resort destination not far from Bangkok. Relaxation is always in the air of this peaceful little town and the history, traditional Thai art & culture, and of course the sea and stunning sceneries just keep Hua Hin an ever-intriguing town to visit.
Luxury golf courses and clubhouses are easy to find in Hua Hin. The town frequently holds world-class competitions which see world leading golfers visit the town. Besides remarkable green, clubhouses, and facilities with renowned Thai hospitality and a splash of Thai accent, these golf courses also have amazing views of Gulf of Thailand and the surrounding mountains in the background. Golfing in Hua Hin will be an experience for all golf lovers and pros alike.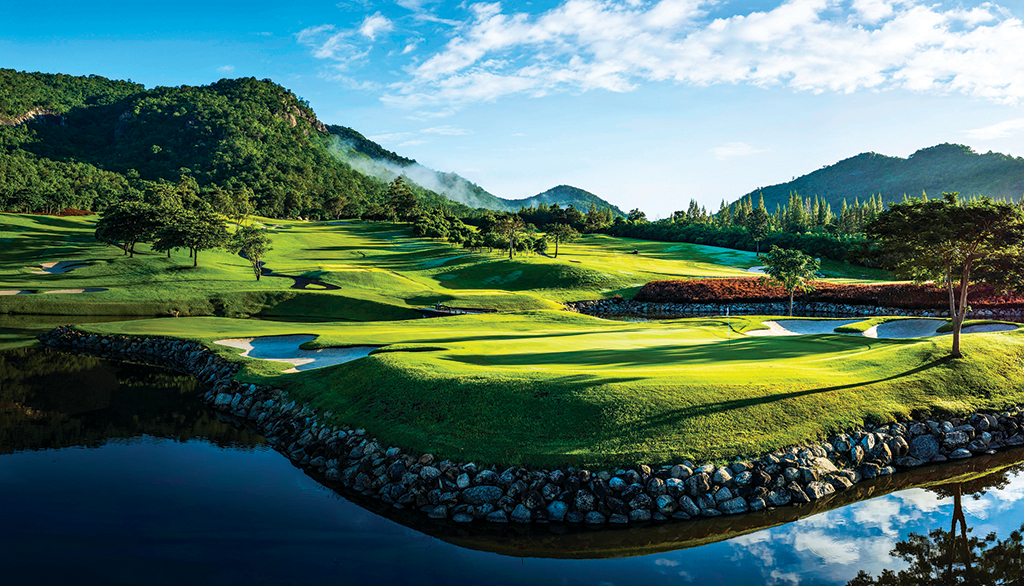 PLAYING GOLF IN SOUTH EAST ASIA IS A COMPLETELY DIFFERENT EXPERIENCE.
The Wildlife Friends Foundation Thailand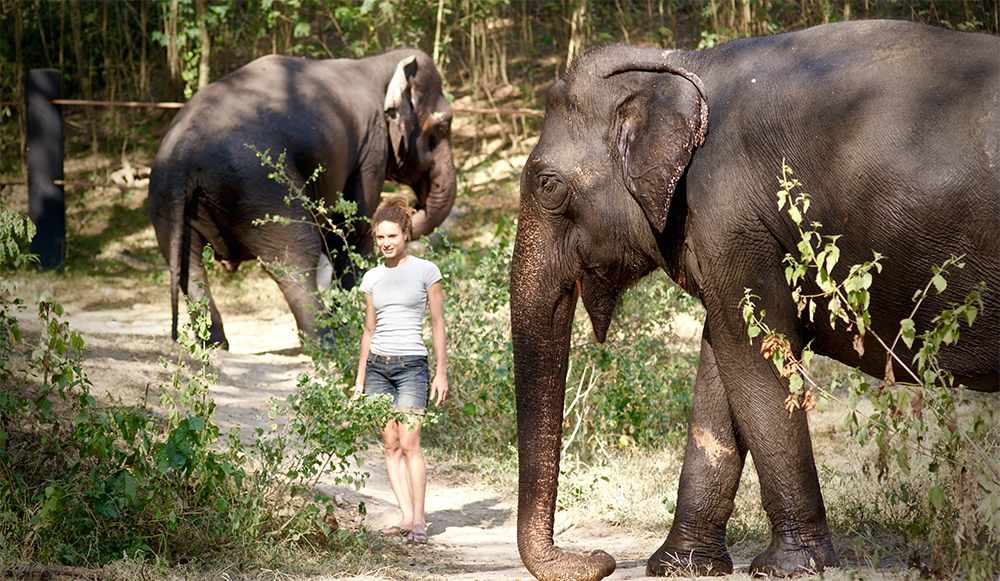 Be a part an effort to save wild animals! The Wildlife Friends Foundation's "Full Day Experience" activity is designed to give visitors an opportunity to help wild lives and learn about Thai national animal like elephant. There are many unethical tourist destinations that allow visitors to unknowingly harm animals such as elephant riding and holding baby apes and tigers for a photograph.
The foundation promotes responsible conservative tourism where you can meet and help rescued animals without further harm to them.
108 Moo 6, Tambon Tha Mai Ruak, Amphoe Tha Yang, Chang Wat Phetchaburi 76130
Treat yourself to an indulging time at Quan Spa, Hua Hin Marriott Resort & Spa, while you are in Hua Hin. The elegant luxury spa welcomes you into the aromatic sanctuary of wellness where art of wellbeing and wisdom meet. Quality spa ingredients are balanced together to offer variety of personalized treatment courses that release you from stress. Experience the oriental wisdom and beauty at Quan Spa.
107/1 Phetkasem Road, Hua Hin 77110 Thailand +66 32 904 666
LUXURY DINING EXPERIENCES
Taste variety of cuisine inspired by the diversity of visitors from every corner of the world. Hua Hin may have a laid-back vibe, but when it comes to food, its an exciting and vibrant scene to jump into.
Enjoy a casual lunch alongside pristine white beach and an upscale dinner as the sun goes down. Big Fish is separated into 2 main dining areas, a modern air-conditioned indoor and a tropical al fresco dining by the beach. You won't be dwelling on the menu so much, because instead of giving you an overwhelmingly wide variety of dishes, they have thoughtfully selected a list of dishes you'll love. Western cuisine with an emphasis on fresh seafood is the main theme here, so you should not miss Big Fish's seafood buckets of prawns, clams, and mussels from the restaurant show kitchen.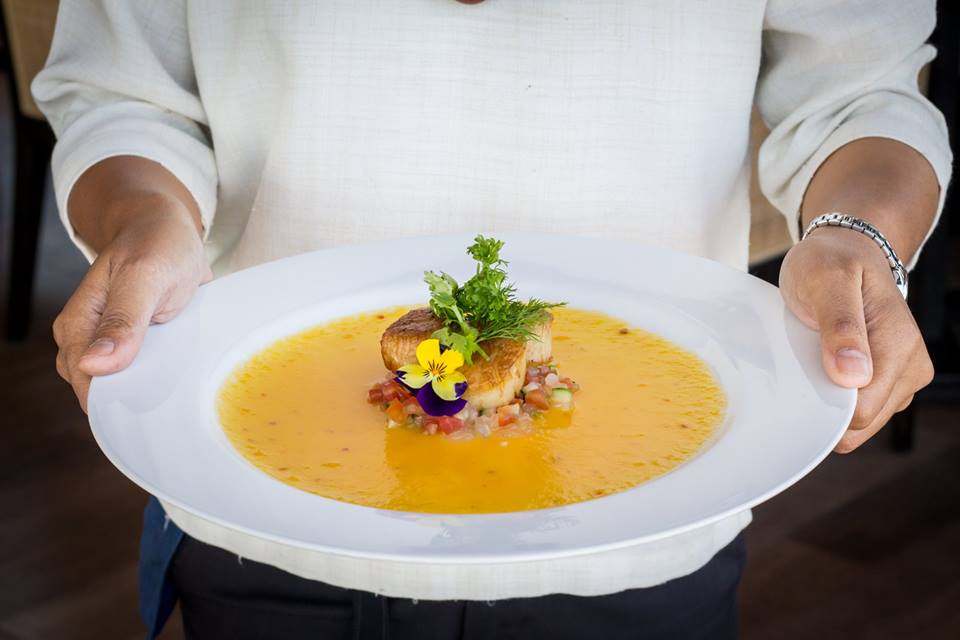 ADDRESS:
HUA HIN MARRIOTT RESORT & SPA, 107/1 PHETKASEM ROAD, HUA HIN, THAILAND TEL: +66 32 904 666
BEACH SOCIETY, SO SOFITEL HUA HIN
Dine barefooted on the beautiful shore of Cha-Am at Beach Society, SO Sofitel Hua Hin. The casual, yet sophisticated beachfront restaurant excels in western comfort food using fresh Thai and quality imported ingredients. Local born Chef Puwasa combines her experiences in the Mediterranean with her Thai root to create delicious simple menus like Squid with polenta, mushroom, and sun-dried tomato, as well as assortments of BBQ seafood, and rich choco lava cake – all served to the oceanfront views, relaxing beach party vibe, and chill out background music
A STYLISH VENUE FOR TALK-OFTHE-TOWN SO BEACH PARTY.
ADDRESS:
SO SOFITEL HUA HIN, 115 MOO 7, BANGKAO, CHA-AM, PHETCHABURI, THAILAND TEL: +66 32 709 555
Considering Hua Hin's close proximity to Bangkok and the beautiful seaside setting, it's not a surprise to see a list of luxury hotels and resorts in Hua Hin. Be amazed by the modern design and the famous Thai hospitality service delivered to a laid-back vibe of this peaceful town.
ENJOY A WEALTH OF RECREATIONAL OPTIONS TO COMPLEMENT THE SCENIC TROPICAL SURROUNDINGS
Overlooking an idyllic beach on the Gulf of Thailand and surrounded by lush greenery, Dusit Thani Hua Hin provides the ultimate resort experience in a historic destination steeped in Thai royal heritage. Dusit Thani Hua Hin combines classic Thai design with modern amenities, offering guests a serene and lavish getaway that echoes Dusit Thani Hua Hin's past as a summer retreat for the Thai royal family. In addition to the natural beauty that surrounds, it contains an ornamental lake, lily pond,tropical gardens and two magnificent swimming pools.
This self-contained oasis also provides a range of recreational options, including watersports venues, tennis and squash courts and fitness facilities. When guests want to wind down, they can take their pick from a number of dining and entertainment options, visit the tranquil Devarana Spa to rejuvenate or simply retreat to the comfort of their well-appointed guest rooms.
Contact
Locate: 1349 Petchkasem Road, Cha-am, Petchburi 76120, Thailand.
Tel: +66 (0) 3252 0009
Fax: +66 (0) 3252 0296
E-mail: dthh@dusit.com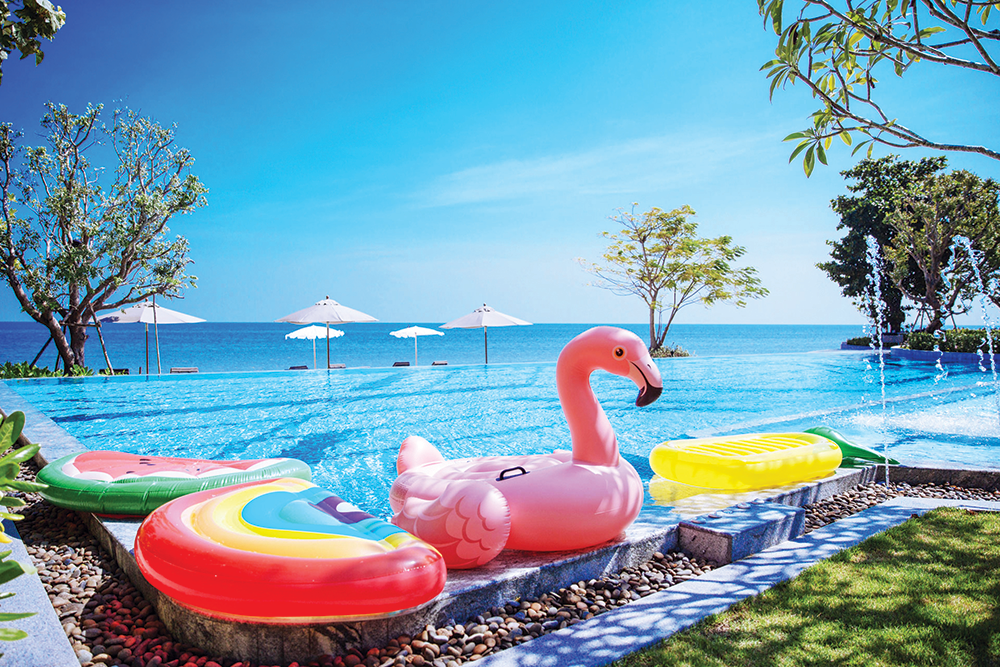 Managed and developed by the splendid team behind the internationally acclaimed Sri Panwa Phuket, Baba Beach Club, Hua Hin, guarantees to be your ultimate beachfront villa experience. Baba Beach Club sets on a 12 rai beachfront land with 160 meters stretch of sandy beach, and its neo-colonial inspired suites and pool villas are some of the best in town with private balconies and infinity pools that look out onto the stunning sea views.
Allow yourself to be pampered at Cool Spa or the in-room spa service and just let the professional therapist work her magic. And if you crave Thai or international food, Baba Beach Restaurant serves a Thai and international breakfast buffet as well as a la cart lunch, and dinner.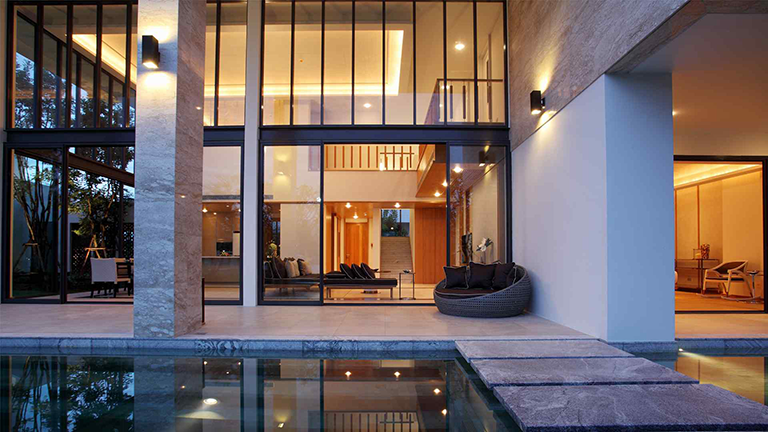 Sheraton Hua Hin Resort & Spa
"FEEL THE COOLING BREEZE OF AN EXTRAORDINARY VACATION IN THE GULF OF THAILAND"
Hua Hin is the perfect destination to take a romantic trip or a family vacation. Embraced by the lagoon style swimming pool, Sheraton Hua Hin Resort & Spa lets you indulge the stunning sceneries of Hua Hin's beautiful skylin e and relax to the cooling breeze of the Gulf of Thailand on the balcony of your luxury spacious room.
PROFESSIONAL ASSISTANCE FROM EXPERIENCED TEAM WILL ALSO BE THERE TO HELP YOU IN EVERY DETAIL IN EVERY STEP ALONG THE WAY TO GUARANTEE A SUCCESSFUL EVENT
One of only 5 recipients of the ASEAN MICE Venue Standard Award in Thailand, Sheraton Hua Hin Resort & Spa will inspire an event beyond your expectations. Count on everything you need to make your vision a reality across some 2,800m2 of indoor space and 2,200m2 of vibrant, tropical outdoor space. The jewel in our crown, "The Chandelier" ballroom, can be comprehensively accessorized and configured according to your theme or brand, as can all the original function rooms. At Sheraton Hua Hin Resort & Spa we have the perfect space to suit every formula for success
V VILLAS HUA HIN, MGALLERY BY SOFITEL
A SOPHISTICATED LUXURY RETREAT, THE AWARD-WINNING V VILLAS HUA HIN,
MGALLERY BY SOFITEL IS DESIGNED FOR DISCERNING GUESTS IN SEARCH OF
ROMANCE, REVIVAL AND RECREATION.
V Villas Hua Hin, MGallery by Sofitel is the creative vision of renowned French architectural design company, J+H Boiffils. Drawing inspiration from the geometric patterns of terraced rice paddies and the sophistication of Italian villazzos, the result is a refined contemporary lifestyle resort for well-travelled and sophisticated individuals.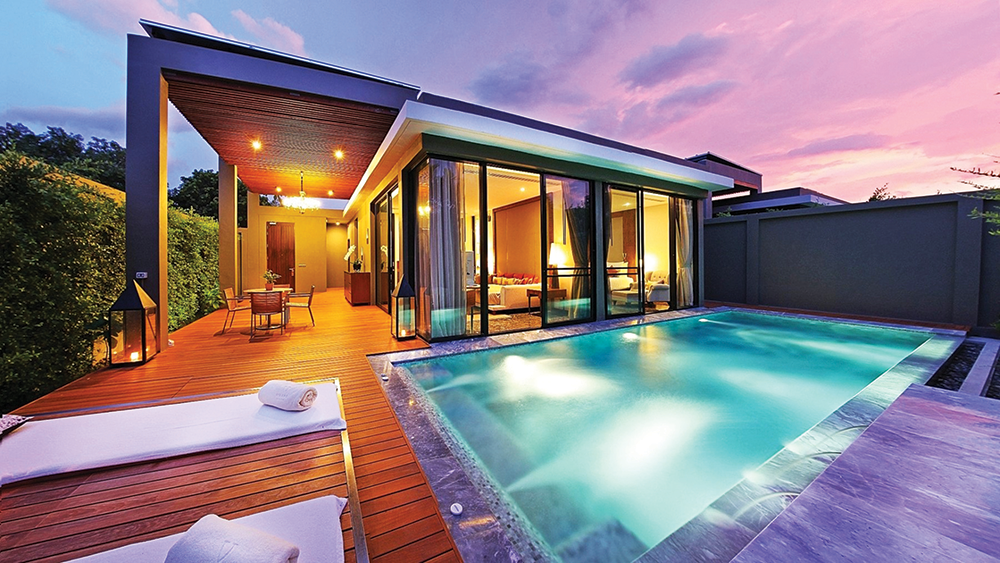 The 28 exclusive pool villas have been created to tailor to every stay, whether a couple who appreciates intimate privacy, a small get-together of friends and families, or a glad reunion. Drawing inspiration from the geometric patterns of terraced rice paddies and the sophistication of Italian villazzos, V Villas Hua Hin is a private haven where guests can enjoy a life of secluded luxury in a serene natural setting. Each villa's outstanding facilities and amenities include welcoming bedrooms, spacious en suite bathrooms fully equipped with world-class luxury amenities by Hermès, a large private pool, an iPad, complimentary Wi-Fi coverage throughout the whole resort and butler service.
InterContinental Hua Hin Resort
InterContinental Hua Hin elevates the lazy coast of Hua Hin with its style and sophistication. The luxury low-rise resort combines Western design and charming Thai accent to create the resort's bold design and classic East Asian- inspired décor which Hua Hin is known for. The Beach Wing and BluPort Wing, the resort's 2 separate wings, offer for an alluring setting along a prime stretch of pristine beach, spacious rooms and suites, swimming pools, the signature Spa InterContinental, a fitness center, and 8 food and beverage venues that serve a range of authentic flavours of fresh, local dishes as well as seafood and imported international specialties.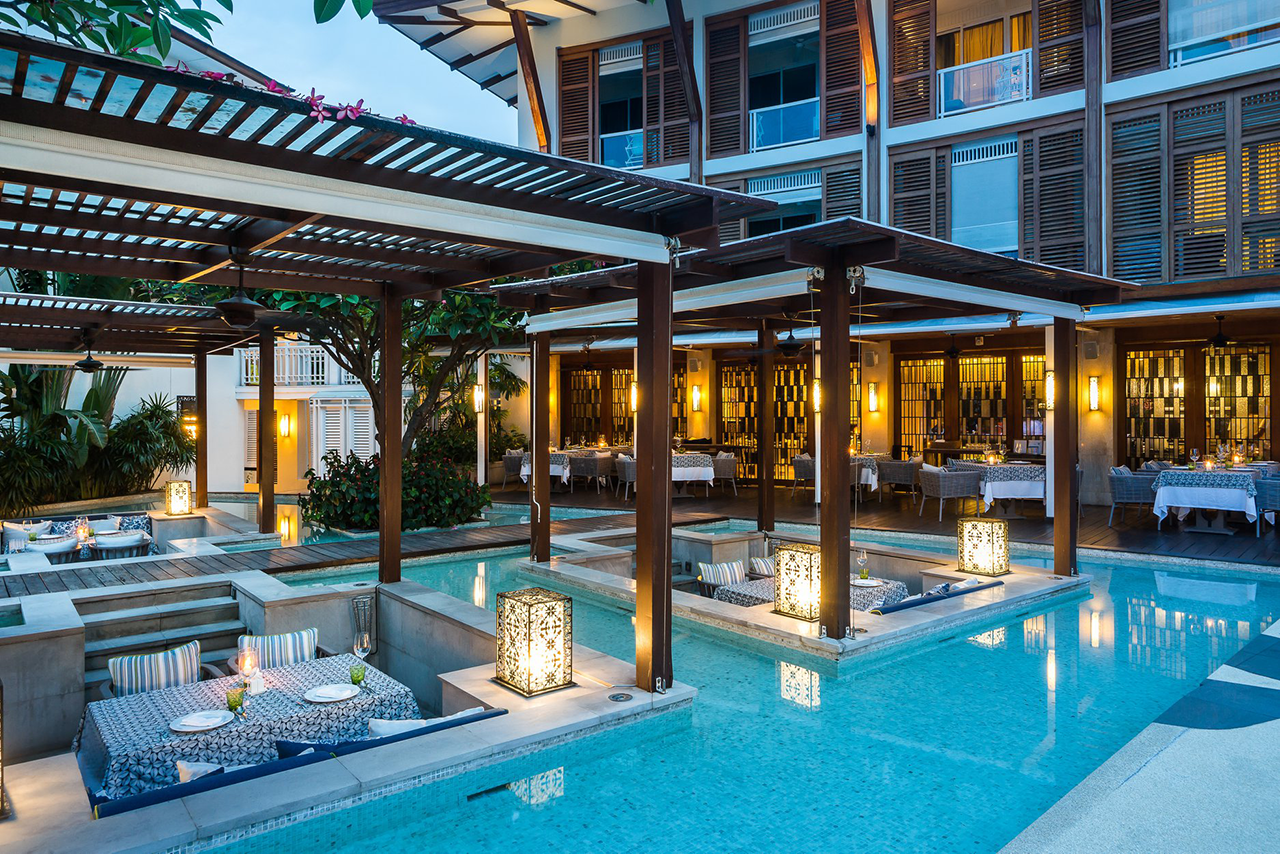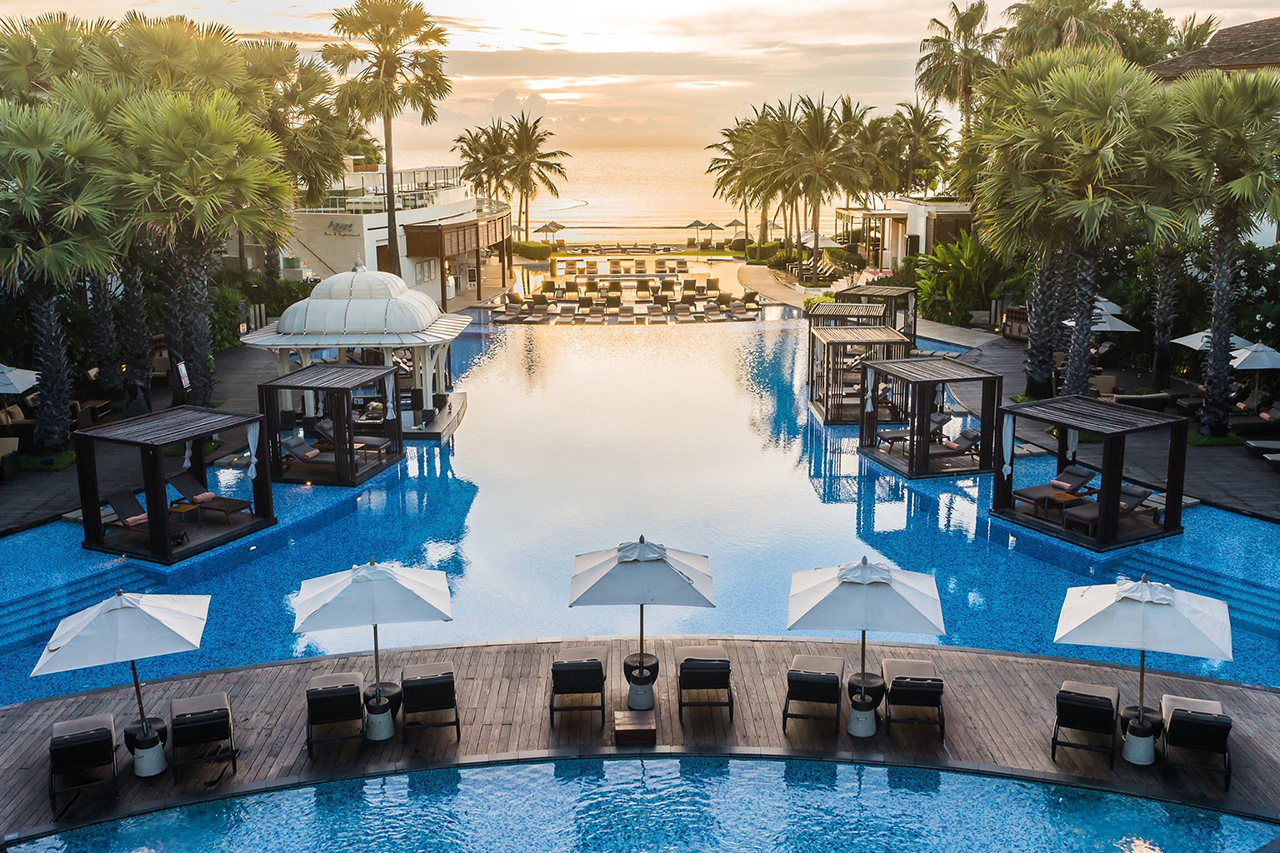 ADDRESS:
33/33 PETCHKASEM ROAD, HUA HIN, PRACHUAB
KHIRIKHAN, THAILAND
TEL: +66 32 616 999
Hua Hin Marriott Resort & Spa
Hua Hin Marriott Resort & Spa sits on the main Phetkasem Road in the heart of Hua Hin town and within a walking distance to Hua Hin Market Village and the famous Hua Hin night market. Despite its central location, the resort is a true sanctuary with a serene beachfront setting. The rooms and suites are perfect to relax and recharge after a day of exploration. The resort's signature Big Fish restaurant is a destination on its own as chef Xavier Charest-Réhel serves innovative international cuisine with a hint of Asian influence to the azure water of Gulf of Thailand.
ADDRESS:
107/1 PHETKASEM ROAD HUA HIN, THAILAND
TEL: +66 32 904 666
EXPERIENCE A UNIQUE LIFESTYLE WITH A PERSONAL TOUCH OF LUXURY
On Hua Hin's quiet shore, Putahracsa blends its owner's personal touch in the design of urban living lifestyle, allowing guests to relax in this heritage beach residence, in harmony with the heartbeat of this charming historic town. Unveil quality and architectural beauty in natural design elements within a total of 67 rooms and villas in three different zones of privacy.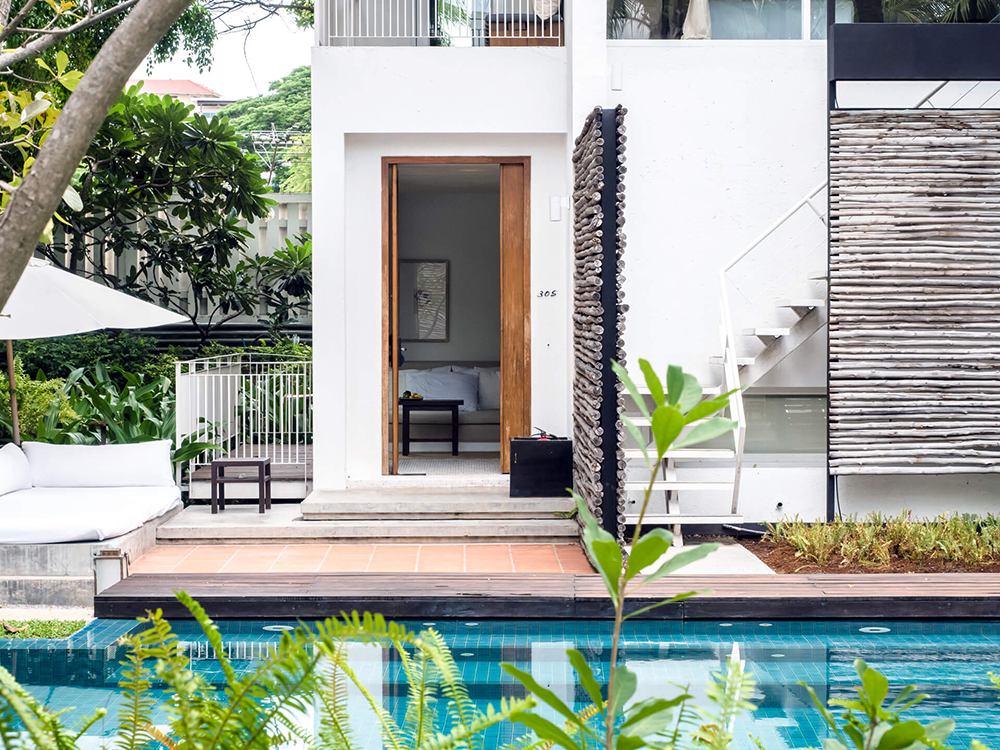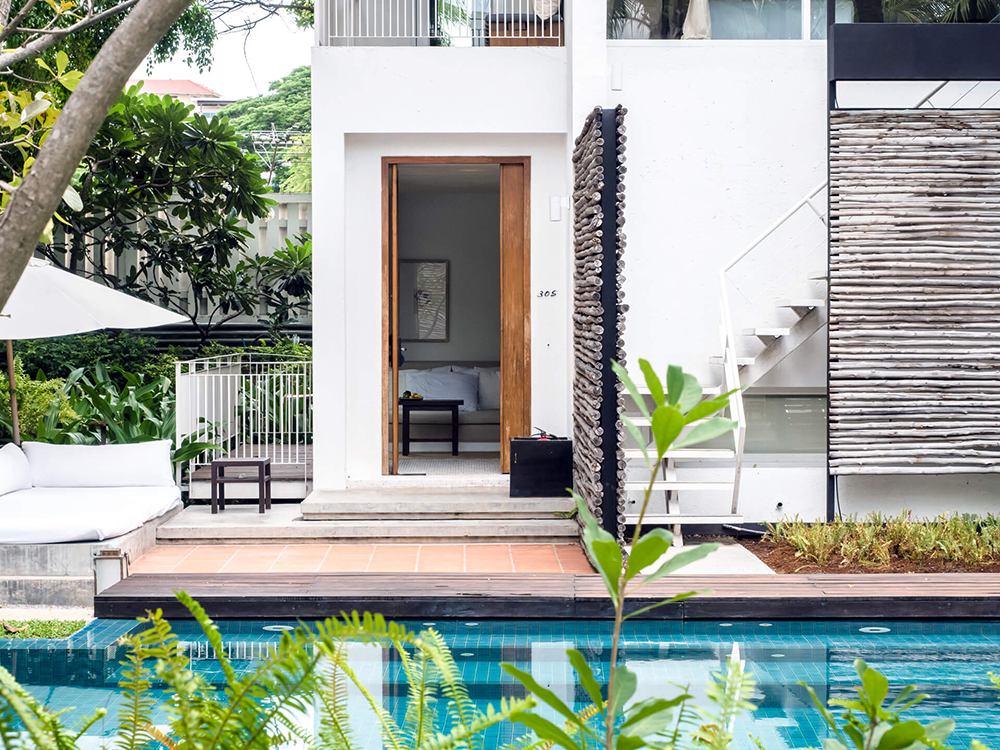 Offering uninterrupted views of the sea and sounds of waves crashing right at the foot of the restaurant providing the perfect atmosphere for an ideal beachside dining experience. Seating options at the restaurant are in the dining room or bedsides.

Putahracsa DaySpa focuses on locally sourced ingredients to create the balance between the effectiveness of the fresh product and the relaxation of the treatments. The fine balance between traditional spa theories of mind, body, and soul combining with the modern techniques to create the Putahracsa spa experience.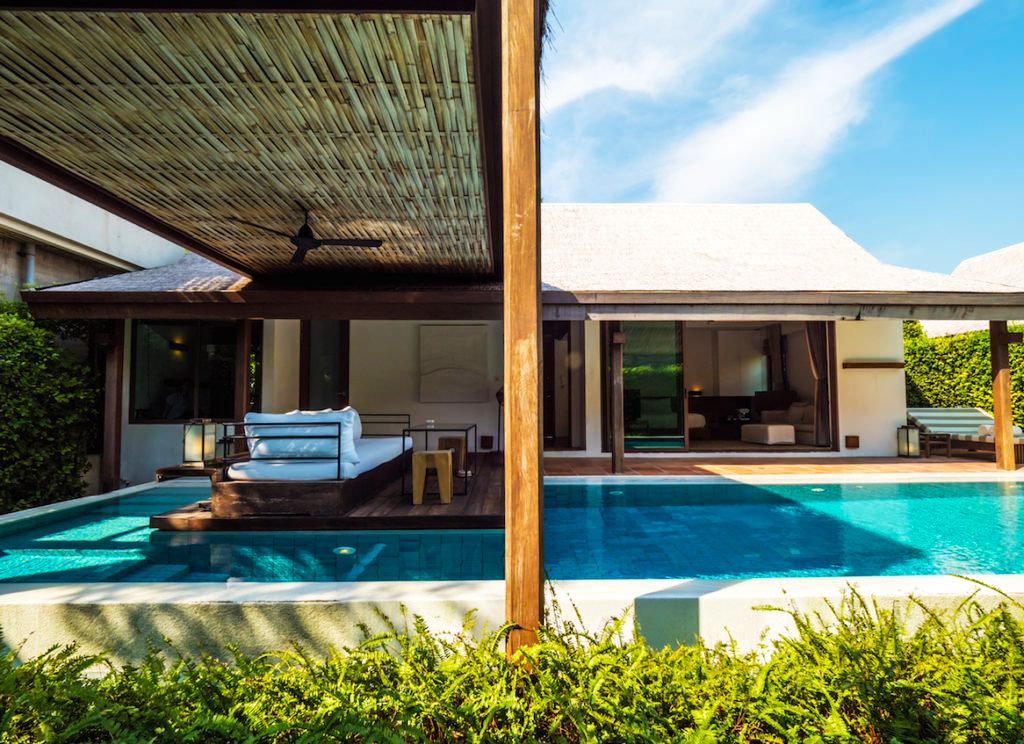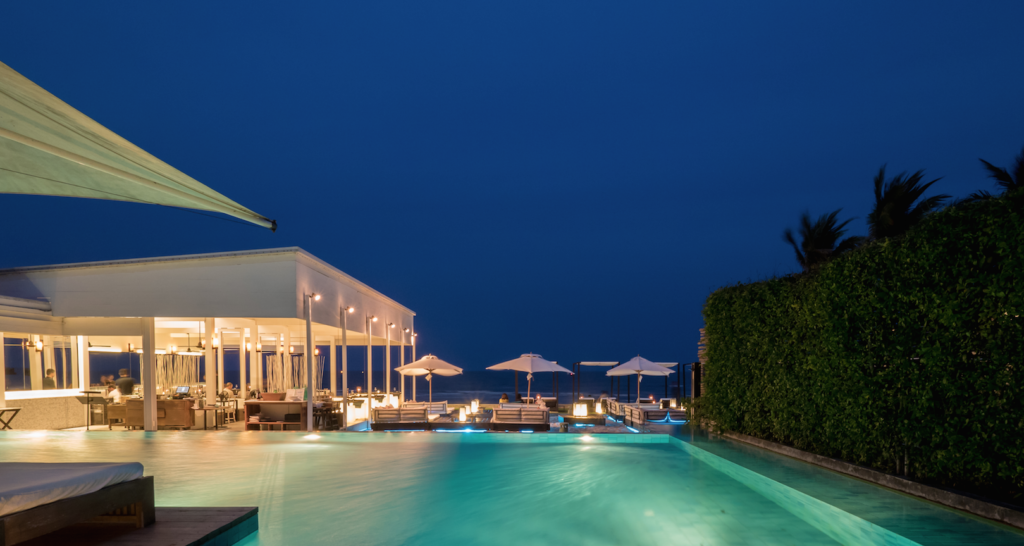 ADDRESS:
22/65 NAEB KAEHAT ROAD, HUA HIN, PRACHUAB
KIRIKHAN 77110
TEL: +66 32 531 470
WWW.PUTAHRACSA.COM