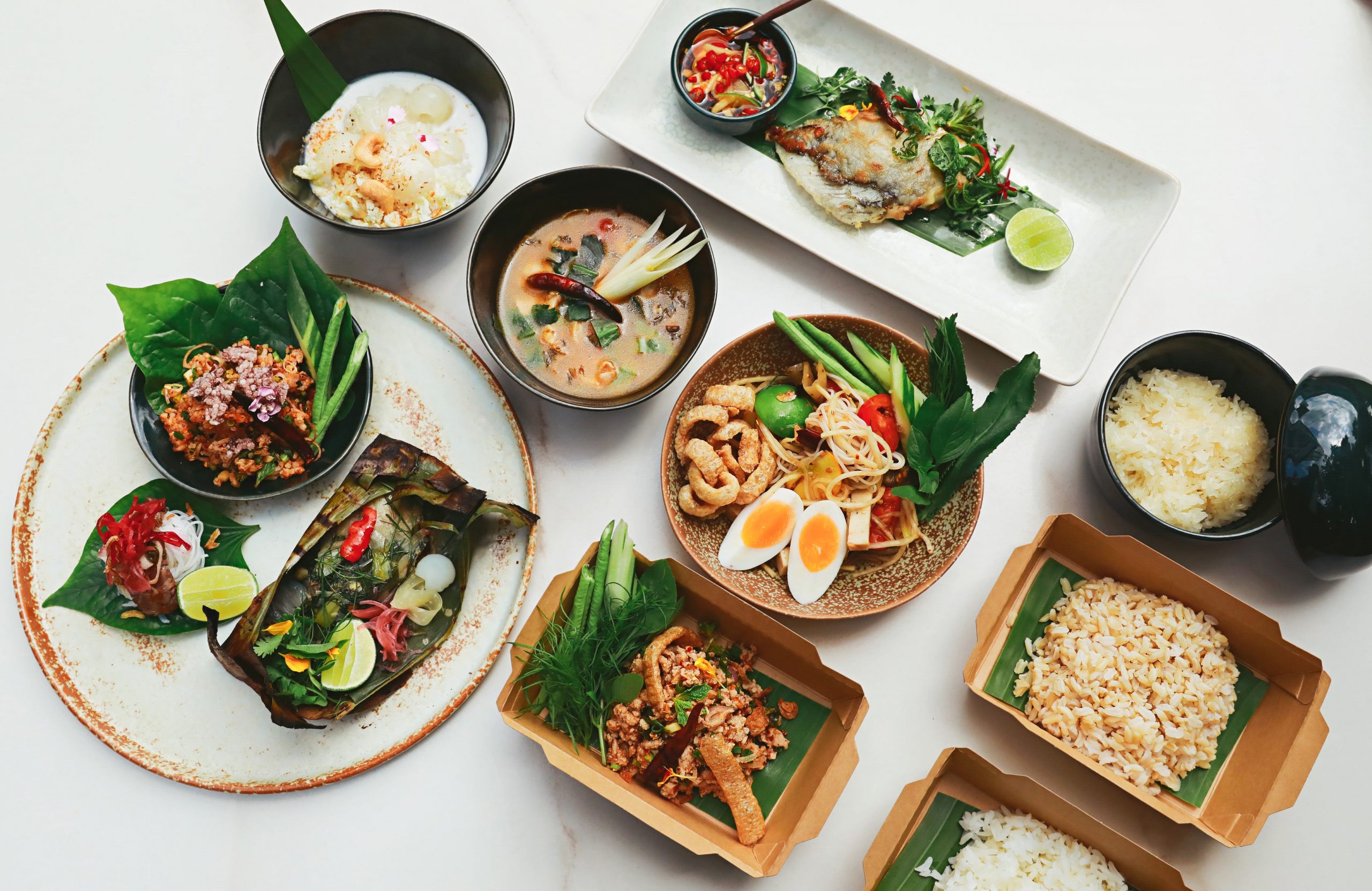 'CAPELLA AT HOME' FOOD DELIVERY BY PHRA NAKHON INTRODUCES THE 'LONG CHIM' SIGNATURE THAI SET MENU
'CAPELLA AT HOME' FOOD DELIVERY BY PHRA NAKHON INTRODUCES THE 'LONG CHIM' SIGNATURE THAI SET MENU
Missing the authentic flavors from Capella Bangkok's signature Thai
restaurant? You no longer have to. Phra Nakhon restaurant, led by Thai Chef de Cuisine Wichian 'Lek' Trirattanavatin, now offers the 'Capella at Home' experience with two 'Long Chim' set menus designed for delivery at home. Named after the Thai phrase for 'Try it', the menus draw on specialities from Thailand's northeast (E-san) and the fiery flavors from the Kingdom's South.
Spicy, punchy and full of flavor, there is nothing quite like an E-san feast. Phra Nakhon's Long Chim E-san set menu is a table-spanning spread of seven delectable E-san dishes and a dessert – perfect for a shared lunch or dinner at home. The menu includes:
❖ Mieng Nua Yang (Grilled beef tenderloin on betel leaves, peanut, crispy shallot and herbs)
❖ Mok E-san Pla Talay Yarng (Char-grilled marinated fish of the day with lemongrass, galangal, shallots, turmeric, and chili wrapped in banana leave)
❖ Yum Nem Yarng Kluk (Northern style grilled house-made fermented pork, crispy rice, fresh ginger, shallot and herbs)
❖ Tom Som Gai Bai Makarm On (Hot and sour soup with free-range chicken, young tamarind leaves, mixed mushroom and Thai basil)
❖ Larb Moo (Minced Kurobuta with pork liver, sliced pork skin, toasted rice powder, lime juice, chili flakes and herbs)
❖ Pla Gra Pong Ob Tra Krai (Rattanakosin old school baked sea bass served with herbs and spicy lemongrass dressing)
❖ Tum Zua (E-san green papaya salad with vermicelli, Yor sausage and pork crackling)
❖ Khao Niew Piak Lum Yai (Sticky rice pudding, coconut milk, palm sugar and longan)
If you're in the mood for southern Thai curries and their typical fiery kick, try our Long Chim Pak Tai set menu with home-style secret recipes including:
❖ Goong Tod Grob Bai Cha Plu (Deep-fried baby shrimps, betel leaves, and homemade sweet chili sauce)
❖ Yum Hua Plee (Poached shredded free-range chicken and banana blossom salad, dried shrimps, chili paste and spicy coconut dressing)
❖ Pla Muak Yarng Kamin (Grilled marinated squid with turmeric, kaffir lime leaves and herbs)
❖ Goong Phad Sa Toh Ga Pi (Wok-fired banana prawn with stink beans and shrimp paste)
❖ Gang Som Pla Yod Ma Praw On (Hot and spicy yellow curry with fish, heart of palm and Phuket pineapple)
❖ Moo Grob Pad Phrik Glua (Wok-fried roast Kurobuta pork belly with mix hot chili and herbs)
❖ Galum Plee Pad Nahm Pla (Wok-fried cabbage with fish sauce and dried shrimps)
❖ Loy Kaew (Preserved seasonal fruits in palm sugar and Somza syrup)
Each set menu consists of seven Thai delicacies and a dessert, priced at THB 1,400++ per set (subject to 17% vat and service charge). Diners can also choose jasmine rice or brown rice. The 'Capella at Home' deliveries are available for lunch and dinner, daily from 10AM – 7PM.
For orders, call 02-098-3888, 02-098-3817 or chat with the Phra Nakhon Reception via their LINE Official Account @hostesspnk or Capella Bangkok's LINE Official @capellabangkok.