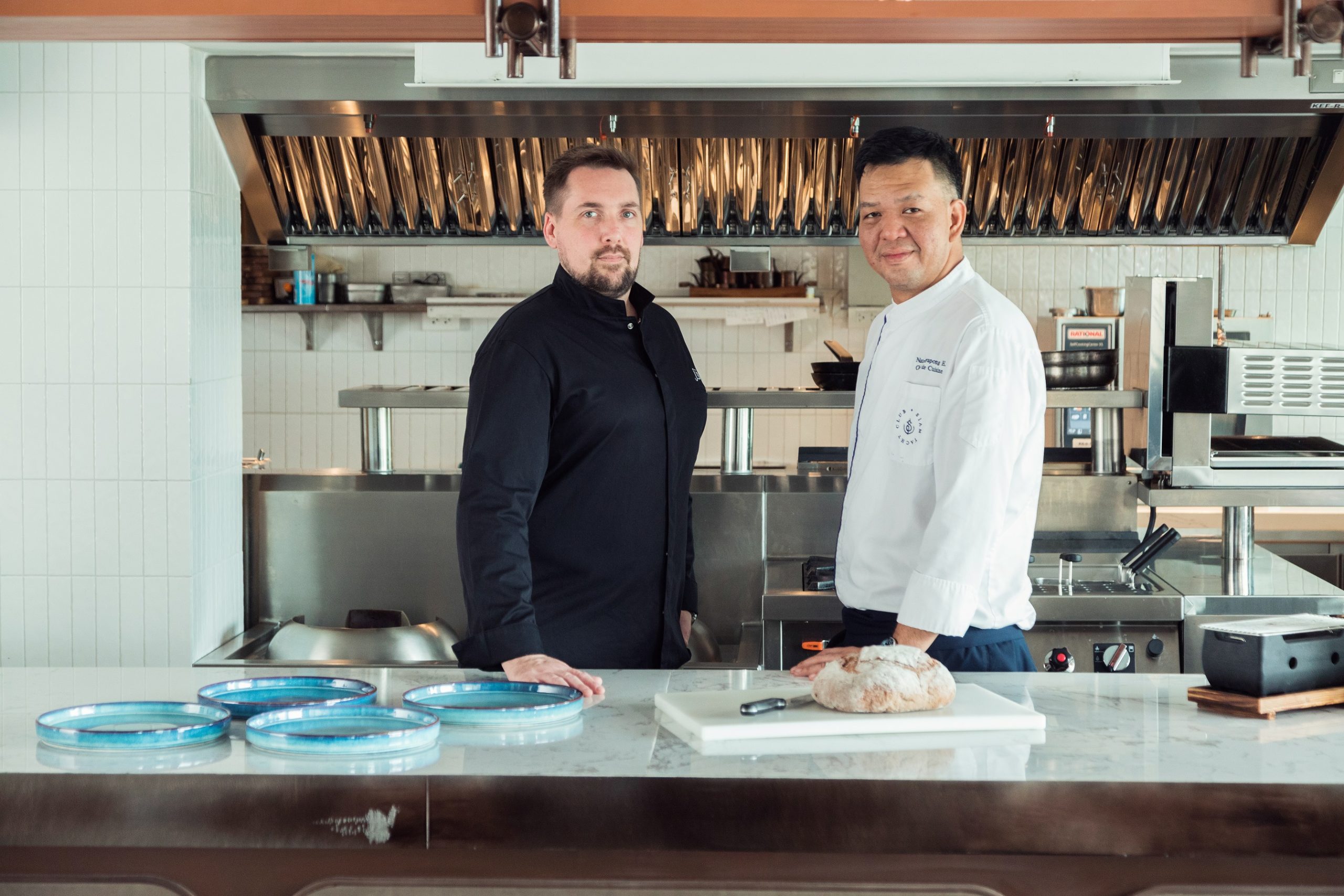 All hands on deck at Siam Yacht Club — for fantastic dining!
Riverside venue presents collaborative four-hand dinner events with two talented chefs at the helm.
Siam Yacht Club at Royal Orchid Sheraton Bangkok has quickly become known for its diverse and wide-ranging menus promising an exciting culinary voyage every visit.
In June, SYC's already accomplished kitchen crew will have even more wind in their sails: on two Thursday nights during the month, they'll be collaborating with a Winning Challenger of Iron Chef Thailand while preparing an exquisite five-course set dinner menu.
On 8 June, SYC's own chef de cuisine, Natchayapong Homsombutchoti or Chef Nu, will be joined by a winning challenger of Iron Chef Thailand contestant Chef Julien Lebreton. In 2020 Chef Julien won the competition and is currently executive chef at Klongpai Farm.
Two weeks later on 22 June, Chef Freddy Loaec teams up with Chef Nu to display more four-hand kitchen magic. A challenger on Iron Chef Thailand, Chef Freddy now rises to the challenge as executive chef at Victoria by Cocotte.
Five-courses dinner set menu feature dishes specially created by Chef Nu and each visiting chef. On Thursday 8 June, among highlights start with amuse by SYC of Smoked Trout Beignets with lemon grass, caviar, and ginger and citrus gel, and appetizer by chef Julien of Ravioli, follows by Main Surf by SYC 'Monk fish and Foie gras torchon and "Main Turf" course by Chef Julien of Klong Phai Farm Green Label Chicken Breast with tamarind glaze, butternut and lime berlingot, lemon grass, confit garlic cream and chicken jus, end up with dessert by SYC of Tropical Pavlova.
Wine pairing option available by Pete's Pure of Australia including the maker's Prosecco, Sauvignon Blanc, Cabernet Sauvignon and Moscato wines complementing each course.
Price: THB 2,500++ per person, food only, for wine pairings add THB 1,000++ per person.
Special for online purchase:
– THB 2,000 net per person when purchase through LINE MyShop
– Purchase 4 persons on regular price from Megatix to receive complimentary wine pairing for each person.
All Club Marriott members are limited to 20% off and apply to food only.
Available for sale from now until 7 June 2023. Four hand dinner collaboration is served only on 8 June and 22 June only. Dinner served from 6:00 p.m.
Siam Yacht Club at Royal Orchid Sheraton Hotel & Towers is open every day from 5.00 p.m. to 1.00 a.m.
For inquiries and reservations
Tel: 02 266 0123
Website: https://www.sycbangkok.com/
Email: siamyachtclub@sheraton.com.